India hopes for sovereign, independent Palestine co-existing with Israel: Modi
Prime Minister Narendra Modi told Palestine President Mahmoud Abbas that India continued to offer "unwavering support" to the Palestinian cause.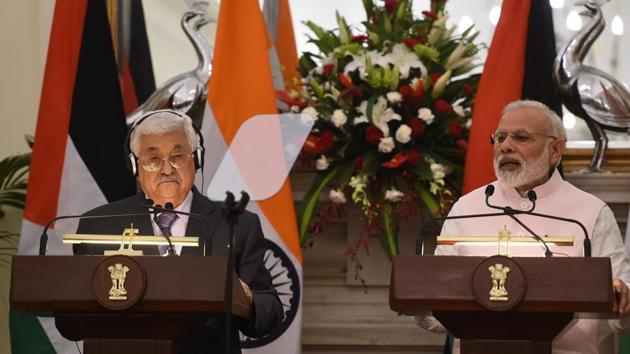 Updated on May 16, 2017 06:18 PM IST
Prime Minister Narendra Modi on Tuesday said Indian support to the Palestinian cause is "unwavering" as he hosted President Mahmoud Abbas ahead of his visit to Israel in July.
Modi said India hopes to see a sovereign, united and an independent Palestine, co-existing peacefully with Israel and urged for early resumption of talks between Palestinian and Israeli representatives.
"The relationship between India and Palestine is built on the foundation of long-standing solidarity and friendship since the days of our own freedom struggle", Modi said addressing a joint press conference with Abbas.
"We hope to see the realisation of a sovereign, independent, united and viable Palestine, co-existing peacefully with Israel. I have reaffirmed our position on this to President Abbas", he said.
Modi's remarks come ahead of his scheduled visit to the Jewish state, the first Indian prime minister to visit Israel. His government has been stepping up ties with Israel, and this year marks the 25th anniversary of India-Israel ties.
President Abbas said Palestine appreciates the solidarity India extends to its cause.
"India is a friend. It has influence at the international level. India can play an important role (in the resolving Palestine Israel crisis)," Abbas said.
Abbas also said that he recently had meetings with US President Donald Trump and Russian President Vladimir Putin and discussed possibilities of an early resolution to the long-pending dispute with a two-state solution.
Modi and the Palestine President had an extensive exchange of views on West Asia and the Middle East peace process, with the Prime Minister saying the challenges in West Asia should be addressed through sustained political dialogue and peaceful means.
Abbas also condemned terrorism in all forms.
The two sides signed agreements for visa exemptions for diplomatic passport holders, in the fields of agriculture cooperation, IT and electronics, health sector and cooperation in the field of youth affairs and sports.
"We would continue to support development and capacity of the Palestine. The agreements concluded today are reaffirmation of our intent to strengthen cooperation in this direction," Modi said.
Close Story
Personalise your news feed. Follow trending topics