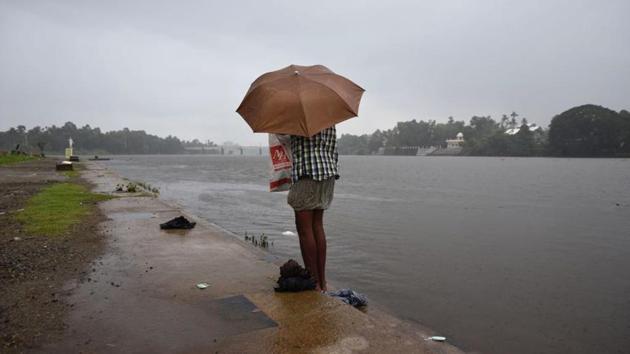 Rainfall to be below normal in south, northeast India: IMD
The monthly rainfall over the country as whole is likely to be 101 per cent of its Long Period Average during July,which is considered as "normal".
UPDATED ON MAY 30, 2018 09:24 PM IST
South and northeast India are likely to receive below normal rainfall this monsoon, the India Meteorological Department (IMD) said on Wednesday in its second long-range forecast, but confirmed its original prediction of normal rainfall for the country as a whole in the June-to-September season.
The agency said in its April forecast that rainfall will be normal across India, defined as 96-104% of the Long Period Average (LPA), which is 89 cm.
"Quantitatively, the seasonal rainfall for the country as a whole is likely to be 97% of the long period average (LPA) with a model error of ±4%," IMD said.
In terms of forecast probability, though, chances of a deficit and below normal rainfall are lower compared to the April forecast.
The second long-range forecast, usually issued in June, is important because it predicts regional distribution. For the entire monsoon from June to September, northwest India can expect good rainfall and central India will receive normal rainfall, which is 99% of its LPA.
"We received the information from global organisations earlier than expected so we released the forecast earlier," KJ Ramesh, director general of IMD, said. "After taking stock of May conditions globally, there has been an upward revision of the quantum of rainfall," he added.
The forecast of 100% of LPA rain for the northwest will bring relief to farmers in the region, which received rainfall much below normal in 2017.
Good rains are also crucial for the fortunes of the incumbent Bharatiya Janata Party governments in Madhya Pradesh, Chhattisgarh and Rajasthan, where state elections are due later this year.
The forecast of below normal monsoon rainfall for the south is bad news for farmers in the region. Rainfall has been erratic and uneven in recent years, leading to a water scarcity.
Actual rainfall in 2017 was within the error range of the IMD's forecast. However, the model uncertainty for the regional forecast is ± 8%.
July will receive bountiful rainfall, according to the forecast, but August may see a deficit. The prediction is for rainfall to the tune of 94% of the LPA for the month. The onset of the monsoon was declared by the agency on Tuesday, in line with its forecast.
The monsoon heralds the start of the summer-sown or kharif agricultural season that accounts for half the country's annual food output.
The monsoon is critical for agriculture because 60% of India's crop area lacks access to assured irrigation.
Close