India records nearly 1.80 lakh fresh Covid-19 cases; active cases cross 700,000-mark
Jan 10, 2022 10:01 AM IST
This is the fourth consecutive day when India's daily tally has stayed above the 1 lakh mark.
In yet another huge spike, India reported 1,79,723 cases of the coronavirus disease (Covid-19) on Monday, as the Omicron variant continues to spread rapidly in the country, according to the data published by the Union ministry of health and family welfare (Mohfw). The number of active cases breached the 700,000-mark, the updated data also showed.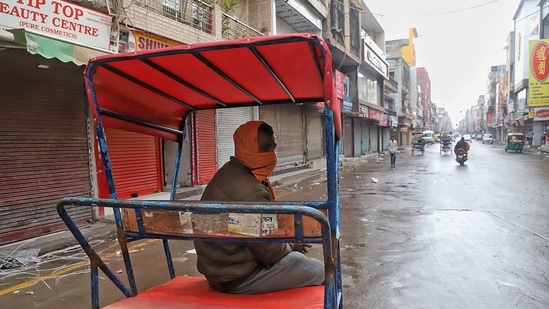 India is witnessing the third wave of the Covid-19 pandemic as the virus is raging across states, leading to a spike in daily infections. This is the fourth day when India's daily tally has stayed above the 1 lakh mark.
The number of Omicron also surged and now stands at 4,033, with Maharashtra recording the maximum number of infections (1,126). It is followed by Rajasthan (529), Delhi (513), Karnataka (441) and Kerala (333), according to health ministry.
The ministry also reported 146 new deaths, taking the total death toll to 483,936. After Monday's fresh infections, the cumulative cases stand at 3,57,07,727.
The daily positivity rate soared to 13.29 per cent, while the weekly positivity rate was recorded at 7.92 per cent, according to the ministry.
The national Covid-19 recovery rate decreased to 96.98 per cent, the ministry data also showed. As many as 46,569 people have recovered in the last 24 hours, taking the cumulative number to 3,45,00,172.
As cases rise exponentially, Union health minister Mansukh Mandaviya will chair a meeting on Monday to review the pandemic situation in five states and one Union territory (UT), news agency PTI reported.
The meeting will be attended by the health ministers of Rajasthan, Maharashtra, Goa, Gujarat, Madhya Pradesh and the Union Territory of Dadra and Nagar Haveli and Daman and Diu.
On Sunday, Prime Minister Narendra Modi held a high-level meeting to review the Covid-19 situation across the country where he directed the officials to speed up vaccinations.
Meanwhile, India began administering the 'precaution dose' of the Covid vaccine to frontline workers and senior citizens with comorbidities. Eligible beneficiaries can walk-in to their nearby vaccination centre and get the third dose, according to the Centre's guidelines.
The guidelines also mandate the same vaccine to be administered to the beneficiary and no mix-match is allowed as of now. This means those who were administered with Covaxin as their first and second dose will receive the same as their 'precautionary dose', and people who received Covishield will be given the same vaccine again.