India's first cow sanctuary opened in MP's Malwa
Updated on Sep 27, 2017 11:24 PM IST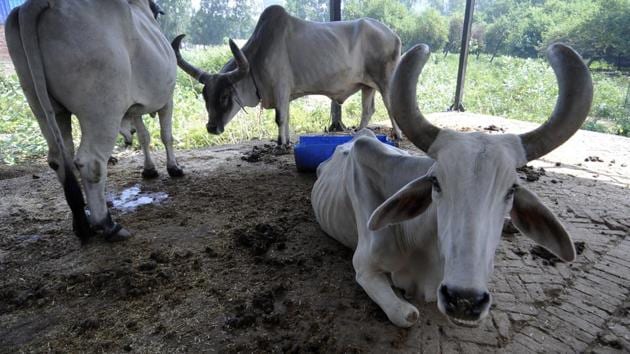 The country's first cow sanctuary, set up by the government, was inaugurated on Wednesday in Madhya Pradesh's Agar Malwa district.
It was inaugurated by Madhya Pradesh Gau Samvardhan Board chairperson Swami Akhileshwaranand Giri and RSS Kshetra Sanghchalak Ashok Soni by worshipping 11 cows.
The sanctuary, also called Kamdhenu Gau Abhyaranya has been developed by the MP Gau Samvardhan Board in Salaria village, nearly 50 kms from the district headquarters.
Spread over 472 hectares, the sanctuary has the capacity to house 6,000 cows. It was built at a cost of Rs 32 crore. The Samvarddhan Board runs over 600 registered gaushalas in the state in which over 1.4 lakh bovines are reared.
Speaking on the occasion, Swami Akhileshwaranand Giri said that a small gaushala, like Gangotri, in a remote village of the district has now taken the shape of mighty Ganga and emerged as Asia's first cow sanctuary.
"We had to face many challenges in establishing it, but we overcame them and now it is ready to serve", he said.
Swami Akhileshwaranand went on to say the cow could play an important role in uplifting the economy of the country and leave behind other major economies like US.