India to vaccinate all citizens against Covid-19 by December 2021, says Union minister Javadekar
May 28, 2021 03:00 PM IST
Union minister Javadekar criticised Rahul Gandhi during his press conference and said that he should take note that India will vaccinate at least 108 crore people by December this year.
Union minister Prakash Javadekar said on Friday all Indians will be vaccinated against the coronavirus disease (Covid-19) by the end of this year as he criticised Congress leader Rahul Gandhi for saying that only 3 per cent of India's population is inoculated.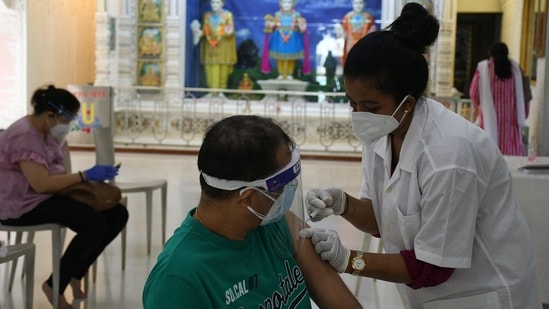 "The health ministry last week made it clear that within December the nation will produce 216 crore doses of Covid-19 vaccines which means that at least 108 crore people will be able to get their jabs. So, Rahul Gandhi should understand that India will vaccinate all by December 2021," Javadekar said during a press conference.
Stay tuned with breaking news on HT Channel on Facebook. Join Now
Click to join.
Earlier in the day, Rahul Gandhi criticised the Centre during his press conference and claimed the current pace of its vaccination drive will further lead to multiple waves of Covid-19 and India will be able to vaccinate everyone only by May 2024.
The Wayanad parliamentarian's press conference led to a war of words between the Congress and the Bharatiya Janata Party (BJP) after he held Prime Minister Narendra Modi responsible for the damage caused during the second wave of coronavirus pandemic in the country. "He is responsible for the second wave of Covid-19," Gandhi said. The Congress leader also called PM Modi an 'event manager'.
Javadekar also attacked Rahul Gandhi for using the word nautanki or drama in Hindi during his press conference. The Union minister said that using such terms while the nation faces a crisis is akin to insulting the efforts of the government to contain the pandemic.
"India has administered 20 crore vaccines so far and ranks second in terms of jabs administered. If Rahul Gandhi is indeed worried about vaccination rates, he should concentrate on how Congress-governed states are conducting their respective vaccination drives. Those states have not been able to vaccinate people aged between 18-45 years even though quotas were assigned to them," Javadekar added.
Javadekar, who is the Union minister of environment, information and broadcasting, also took a jab at Gandhi over a document, which the BJP claims was made by Congress in a bid to defame PM Modi and attack the government over its handling of the second wave of Covid-19, an allegation which Congress has denied.
"Vaccines are being produced and by December 216 crore doses will be administered, but one thing is clear and one does not require proof that the 'toolkit' is created by you," Javadekar said.
Javadekar also said that the Covid-19 vaccination programme is robust and will successfully vaccinate every citizen.