India, US to use TPF meet to focus on 'big picture' of trade ties
Jan 13, 2023 01:56 PM IST
he big focus in the relationship now includes deepening partnerships on semiconductor manufacturing and defence production, where Union minister Piyush Goyal said that India, unlike other countries, "did not steal technology"
Washington: Union minister for industry and commerce Piyush Goyal has said that India and the United States (US) have decided to use the Trade Policy Forum (TPF) ministerial meetings to focus on the big picture of the trade relationship, and not get bogged down by squaring off item-by-item market access related details.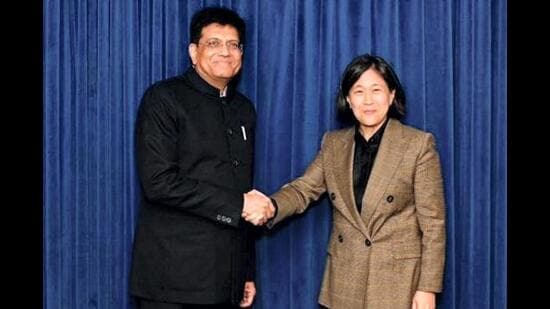 The big focus in the relationship now includes deepening partnerships on semiconductor manufacturing and defence production, where Goyal said that India, unlike other countries, "did not steal technology", in what appeared to be a reference to China. He added that given the political decision in the US not to sign any free trade pacts with any country, an India-US FTA was not a part of the discussions.
Responding to a question from HT on whether, even as the intent and nature of discussions were positive, the TPF outcomes had been incremental and therefore disappointing, Goyal said that the two countries now envisioned the forum in a different framework.
"There are market access issues which don't come into the TPF in terms of the detailing. Both (US Trade Representative) Katherine Tai and I decided that we should leave those details to the officials to work on and continuously expand," Goyal said.
He added that they had decided "to move on" from the "one is to one, we will open table grapes for you, you open mangoes for me...level of the discussion" that was in the mini-trade deal once envisaged between the two countries or in earlier discussions.
"Katherine Tai and I decided that this is not the age and day to look at I give you one item, you give me one item, and we square off issues. We both agreed we should look at the big picture, what's good for both countries, and at the ministerial level, we set the context in which the officials then find the day-to day solutions. We did not believe that at the ministerial level, we should be putting down on paper, going forward, that on mangoes, I do this, on grapes, you do this, on pork, you do this. Those are for officials to work out."
Goyal said that on specific issues, progress has happened on many of these items and there was ongoing work between different agencies and departments.
"We focus on the big picture. Let's respect each other's sensitivities, and while respecting those sensitivities, let's move forward and fast-track our on-the-ground outcomes. Let's move out of this one is to one ratio-based outcomes."
Giving examples of what he termed the big picture, Goyal cited semiconductor manufacturing and defence and contrasted India's credentials with others.
"We are looking at much deeper engagement with the US on semiconductor manufacturing. Several American companies are looking at the big Indian opportunity on defence production, making it competitive, giving an opportunity to tap into the large Indian market where we are encouraging make in India products. They feel comfortable working with India because unlike other countries, we don't steal technology."
The minister said India respected the sanctity of technology, allowed companies to keep technology, didn't demand technology transfer and pointed out that while India allowed 74% ownership in the automatic route in defence production, it even allowed 100% ownership on a case-by-case basis in an expedited manner.
"Our effort in both meetings — with both Tai and commerce secretary Gina Raimondo — has been on the big picture. And, therefore, I would disagree that it is more about intent and less about substantive outcomes. I think there is a greater substantive outcome this time around than the last because we have set the principles on which this engagement can go on a fast-track."
Responding to a separate question on the fate of a mini trade deal — which was a subject of discussion with the earlier Trump administration — Goyal said that it was "too mini" to merit any great effort on both sides. "We have even forgotten most of these issues and are looking at much bigger ambitions in our trade with the US."
The minister pointed out that India has recently signed a set of free trade deals but the US is not looking at any free trade deals with any country "as a matter of their political policy". "So that's not on the table. We are focusing on greater market access, ease of doing business and looking at much larger footprint for trade, investment and business and small mini trade deals have lost relevance today."
Enjoy unlimited digital access with HT Premium
Subscribe Now to continue reading
Topics