Indian Navy outgunned 1 to 4 as China steps up presence in Indian Ocean
Indiaspend |
Abheet Singh Sethi
Jul 07, 2017 03:34 PM IST
China's People's Liberation Army Navy (PLA-N) has 283 major surface combatant warships, four times more than those under the control of the Indian Navy (66), according to an IndiaSpend analysis of publicly available data.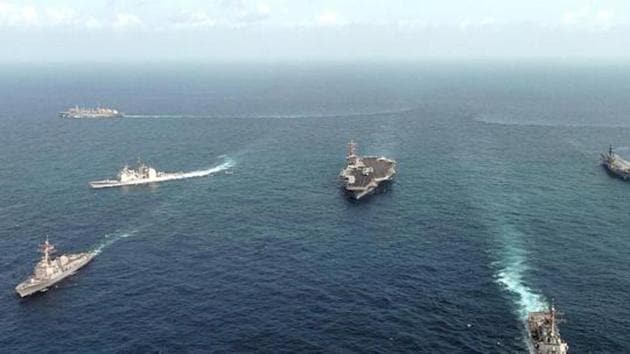 Source: US Office of Naval Intelligence, Indian Navy
China's widening naval capabilities compared to India can be seen in the context of the PLA-N's growing presence in the Indian Ocean region.
"Chinese activity in the Indian Ocean has touched a new high in recent months," according to an Indian Navy official, The Hindustan Times reported on July 5, 2017.
The Indian Navy has sighted over a dozen PLA-N warships, submarines and intelligence-gathering vessels in the Indian Ocean in the last few months.
These sightings come as the Indian and Chinese troops are locked in a three-week long standoff at the India-China-Bhutan tri-junction near Sikkim, leading to increasingly belligerent rhetoric between New Delhi and Beijing.
Comparing inventories
The PLA-N has 26 destroyers, more than twice as many as India (11). Destroyers are both the PLA-N and IN's frontline warships that possess powerful radars, can travel long distances and are capable of fulfilling land attack, missile defence, and surface and anti-submarine warfare. This makes them very powerful tools for power projection.
China recently launched its indigenously developed 12,000-tonne Type 55 destroyer, which "is considerably larger and more powerful than India's latest … destroyers which have still not been commissioned", according to NDTV Defence Editor Vishnu Som.
China's Type-55 will eventually have around 120 missiles of various types. India's most powerful destroyer, the yet-to-be commissioned Project 15-B "Visakhapatnam" class destroyers, will have 50 missiles.
The PLA-N has 52 frigates, nearly four times as many as India (14). Frigates are not as heavily armed as destroyers but can fulfil similar roles and can operate in open oceans.
India has 25 corvettes and missile boats, around one-fourth as many as China (106). Corvettes and missile boats are lightly armed as compared to frigates and provide coastal protection.
India's aircraft carrier advantage no more?
So far, both India and China each have one aircraft carrier. The carrier is a sign of its growing military prowess.
In April 2017, China launched a new aircraft carrier, its second after the Liaoning, but the first to be indigenously manufactured. The Chinese aircraft carrier is scheduled to be operational by 2020.
The development comes as India's own homemade aircraft carrier, INS Vikrant, faces several delays. The Vikrant has been in development since 2009 but is unlikely to be completed before 2023, The Hindu reported on July 28, 2016.
For decades, India has enjoyed a naval advantage over China by possessing at least one aircraft carrier in its inventory while the PLAN had none.
China now possesses the Liaoning, a Soviet-era warship it purchased from Ukraine and commissioned in 2012 following refit. After four years of testing, the Liaoning conducted its first ever live-fire drills on December 16, 2016. It also conducted similar drills in the disputed South China Sea on January 3, 2017, a sign of its increasingly aggressive posture.
The Liaoning was getting ready to expand its operations to other regions, including the Indian Ocean, a Chinese naval expert told the Chinese government-owned newspaper Global Times in December 2016.
"Ultimately, Beijing will likely build at least a half-dozen carriers to meet its requirements," wrote defence expert Dave Majumdar in the National Interest, an international affairs publication, on February 22, 2017.
The Indian Navy has finalised the specifications for the construction of INS Vishal, an indigenous successor to INS Vikrant. The Vishal will be nuclear-powered, weigh 65,000-tonne and carry more aircraft than Vikrant and Vikramaditya. India is collaborating with the US to fit it with advanced "electro-magnetic aircraft launch system" (EMALS) for the aircraft.
Maritime doctrine
Indian Navy's force structure is aimed at providing it with the capability to project power in 'blue waters' as envisioned in the Navy's revised 2015 maritime doctrine.
"In theory, a blue-water Navy is a maritime force capable of operating in the deep waters of the open oceans," noted Abhijit Singh, a Senior Fellow and Head, Maritime Policy Initiative at Observer Research Foundation, in The Diplomat, a current-affairs magazine.
The navy's doctrine defines India's areas of maritime interest as the wider Indian Ocean, which includes the Arabian Sea, Bay of Bengal, Andaman Sea, South-West Indian Ocean, Persian Gulf, Gulf of Oman, Gulf of Aden, Red Sea and chokepoints such as the Strait of Hormuz.
The PLA-N's growing area of operations in this region places it in direct competition to India's defined interests. However, it's important to note that the PLA-N and its current force structure is aimed at securing the South China Sea and East China Sea, which it claims as its territories and is embattled in a bitter dispute with neighbouring countries as well as the US.
(Sethi is a Mumbai-based freelance writer and defence analyst.)