Indian Railways upgrades train toilets but chained mugs are here to stay
Jul 30, 2018 07:09 AM IST
Toilet mugs are among the items frequently stolen from trains, according to official data.
The Railways has undertaken a mammoth drive to upgrade lavatories on trains, including 'health faucets' and the installation of over 200,000 bio toilets, but an age-old edifice — a metal mug secured with a chain to prevent theft — is set to remain, according to officials familiar with the matter.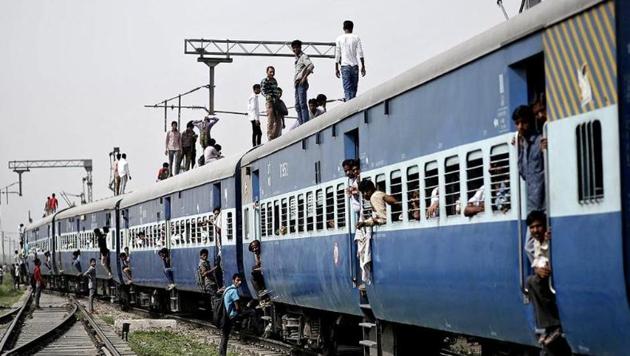 Toilet mugs are among the items frequently stolen from trains, according to official data. They were among moveable property worth ₹2.97crore that the Railway Protection Force recovered in 2017-18 — far ahead of other frequently stolen items, including ceiling fans, bed linen, blankets, shower heads and iron grilles.
"The upgradation of toilets on trains is one of our focus areas. Though we are installing health faucets in every toilet... they (may) get stolen. So chained mugs will be there as a backup option. Even if some theft takes place, we will replace them. It will only increase the cost of maintenance a little bit," said the official cited above on the condition of anonymity.
The Railways is gearing up to install 80,000 bio toilets in 2018-19 as the last phase of its lavatory upgradation drive.
About 125,000 bio-toilets have already been installed on trains until March 2018, according to information given by the government in Parliament on in April. The entire process had started in January 2011 when 57 bio toilets were fitted on Gwalior-Varanasi Bundelkhand Express.
"Till, March we have covered 34,500 of the 55,000 coaches with bio toilets. About 80,000 bio toilets will be installed this year to finish the project," the official said. The railways had installed 15,000 bio-toilets in 2015-16, 34,000 in 2016-17 and 56,000 in 2017-18, he said.
A bio-toilet decomposes human waste using bacteria and converts it into methane and water while health faucets are hand-held devices designed to save water. The faucets have triggered nozzles like a hand shower for cleaning after toilet use.
The official said bio toilets require a lot of maintenance. "We have facilities for bio-toilet maintenance at every depot. If people use them correctly, they will not require regular maintenance. For this, we will have an information guide in every coach," the officer said.
The Indian railway is now operating 27 sections as part of green corridors under which all trains are equipped with bio-toilets. There is no direct discharge of human waste from these trains running in the corridor. The railway is testing airline like bio vacuum toilets to reduce consumption of water.
"We are conducting a trial on 500 coaches and will monitor it for six months. If performance is good, then we intend to move in a big way," said another railway official.
The official said the railways is making new coaches and also working towards improving the condition of existing ones.
Former railway board chairman R K Singh praised the drive, calling it a good step towards maintaining hygiene and sanitation. "Though it has taken a long time, but once fully implemented, the cleanliness on tracks and overall on trains will improve."