India's oil purchases will be decided to ensure energy security: Foreign secretary
Jun 28, 2022 06:13 PM IST
In recent weeks, India has pushed back against pressure from the US and other Western partners not to accelerate the purchase of discounted Russian crude
The Ukraine crisis has made energy security a very challenging issue and India's position on oil purchases will be decided with the aim of ensuring the country's energy security, foreign secretary Vinay Kwatra said on Tuesday.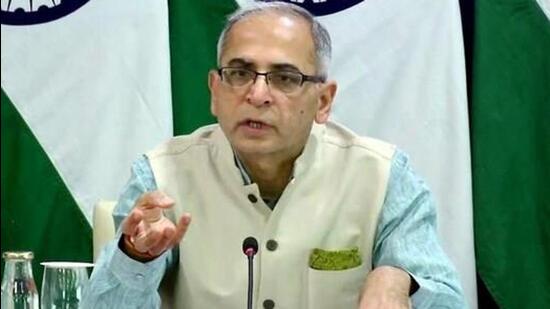 This was the position articulated by Prime Minister Narendra Modi during interactions with world leaders at the G7 Summit in Germany, and it was "well understood" and "appreciated" by his counterparts from other countries, Kwatra told a media briefing in Munich early on Tuesday.
Kwatra was responding to a question on whether India can face acute pressure because of further actions being taken by G7, which brings together seven of the world's largest economies, against Russia for its invasion of Ukraine. G7 leaders are looking at more sanctions and an oil price cap to tighten the financial squeeze against Russia.
"Prime minister did also mention that energy security has become a very challenging issue in the wake of the Russia-Ukraine conflict. But India would continue to do what it thinks is best in the interest of our own energy security when it comes to the question of global oil trade," Kwatra said.
In recent weeks, India has pushed back against pressure from the US and other Western partners not to accelerate the purchase of discounted Russian crude. Analytics firm Kpler recently said India has become a key market for Russian crude, with imports of Russian oil jumping from 840,000 barrels a day in May to one million barrels a day in June. Till last year, Russia accounted for less 2% of India's energy imports.
Modi had also raised the issue of energy security while addressing an outreach session of the G7 Summit on Monday on climate, energy and health. He said that at a time when energy costs are sky high due to geopolitical tensions, "energy access should not be the privilege of only the rich".
Kwatra further said the Ukraine crisis was an important part of discussions at the plenary session of the G7 Summit, and the prime minister, in his interventions, made India's position on the situation very clear – an immediate end to hostilities and a return to dialogue and diplomacy to resolve the matter.
Modi also "very strongly put forward" his views on the consequences of the Russia-Ukraine conflict, including the crisis of food security, especially for vulnerable countries, the challenge of fertiliser security, and issues related to energy security, Kwatra said.
"And the prime minister made it very clear that India has been in the forefront of contributing, to ensure...that we are upfront in addressing [the food security situation of vulnerable economies] to the best extent possible," he added.
In terms of climate action and green technologies, Modi pointed out that India can provide the scale to make for every new technology affordable globally. India has also underlined the potential of digital technologies in the health sector and played a key role in keeping value chains for fertilisers smooth and running, Kwatra said.
This was the third time India was invited to outreach sessions at G7 Summits and this shows the country's presence and contributions are valued by all global partners. "India is looked upon as a solution provider and part of any sustained effort to solve the challenges which are currently being faced by the world," he said.