'Islamic State module' targeted PM's Lucknow Dussehra rally but failed: NIA
Updated on Mar 31, 2017 04:25 PM IST
Interrogation reports of Mohammed Danish and Atif Muzzafar say the duo planted a bomb at the Ramleela ground in Lucknow where the Prime Minister was scheduled to address a rally on October 17 last year.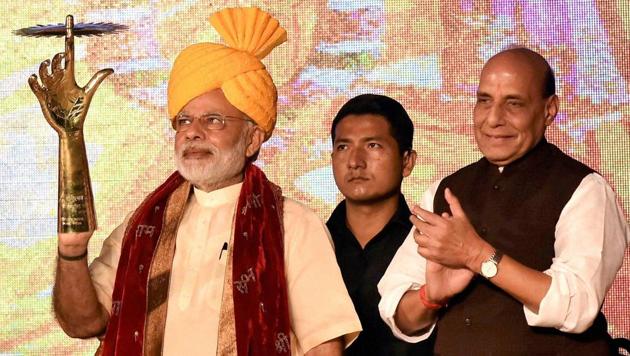 The Islamic State-inspired terror module that was allegedly behind the March 7 blast on an Ujjain-Bhopal passenger train had made a failed attempt to target Prime Minister Narendra Modi last year, NIA sources said.
Two of the arrested accused -- Mohammad Danish and Atif Muzaffar -- have told interrogators that they planted an IED near the venue of Modi's rally at the Ramleela ground in Lucknow on October 17, the sources said.
Both accused are in the custody of the anti-terror investigation agency.
Sources said in the NIA said the IED had exploded but it was weak and didn't do any damage as it was planted in a garbage bin in a grassy area near the venue.
"It seems that nobody noticed any IED blast. But still we will verify the version provided to us through forensic means," said an NIA source.
Danish and Muzaffar were among seven persons arrested from Madhya Pradesh and Uttar Pradesh following the blast on the Ujjain-Bhopal passenger train.
They have told interrogators that Muzaffar had made the explosive device using steel pipes and chandelier bulbs. According to Danish, Muzaffar procured two packets of splinters (iron ball bearings) from a cycle shop and also did a recce of the venue before planting it. He told interrogators that Muzaffar had learnt to make IEDs from the al Qaeda's online propaganda magazine 'Inspire'.
It was timer-based device and Atif had planted the IED the night before the rally and they waited to hear about the explosion from media.
"But they didn't hear anything. Two days later Atif went to check the garbage bin and found only few wires. It seems that the bomb exploded but didn't not with the intended intensity and no one noticed it," added the source.
Personalise your news feed. Follow trending topics