Isro successfully launches 2 earth observation satellites for UK
NovaSAR is intended to be used for forest mapping, land use and ice cover monitoring, flood and disaster monitoring. The S1-4 will be used for surveying resources, environment monitoring, urban management and disaster monitoring.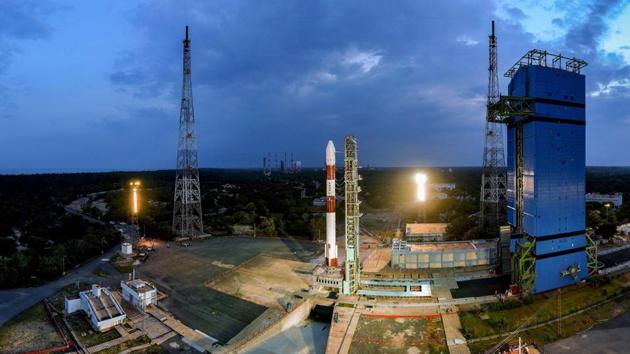 Updated on Sep 17, 2018 10:17 AM IST
India's PSLV C42 lifted off from the Satish Dhawan Space Centre in Sriharikota on Monday and injected two UK satellites into "a very precise" orbit" after 17 minutes 44 seconds.
"I am extremely happy that the PSLV-C42 precisely launched two of our customer satellites at 583 km orbit. This was a unique night mission executed for the first time by us.The PSLV has proven yet again as a user-friendly vehicle in all aspects," said K Sivan, chairman of Indian Space Research Organisation.
Prime Minister Narendra Modi congratulated the team on the fully commercial launch. "Congratulations to our space scientists! ISRO successfully launched PSLV C42, putting two UK satellites in orbit, demonstrating India's prowess in the competitive space business.@isro," he tweeted.
The satellites were injected at a distance of just 1 km and 3 km from the plotted apogee and perigee (the satellite's furthest and closest points to the earth) and at the exact inclination.
"The satellites were injected at a very precise orbit with only a 1 km and 3 km difference, whereas missions usually allow for a difference of 20 kms. This shows the prowess of the PSLV which has had 42 successful flights," said R Hutton, the mission director.
The mission carried two small earth observation satellites developed and to be used by UK, NovaSar and S1-4, weighing a total of 889 kgs into a 583 km sun-synchronous orbit.
A satellite is said to be in a sun-synchronous orbit when it changes its orientation throughout the year to ensure that the angle of sunlight is the same every time it passes over a particular geographical area on the surface of the earth.
S1-4 is a high-resolution optical earth observation satellite used for disaster monitoring and monitoring of the environment and resources. NovaSar is a Synthetic Aperture Radar that will be used for mapping forests, land use and ice cover and floods and disasters.
There were four stages in the mission, with two solid and two liquid fuel, and the core only version of the PSLV vehicle without the six strap-on motors was used.
After a lull of five months, ISRO is gearing up for a launch every two weeks, with 18 more launches planned before March. The next PSLV C43, which will carry aboard Indian satellites as well as 31 other customer satellites. The launch of the communication satellite GSAT 11, which ISRO had recalled from French Guiana earlier this year, is likely to happen on December 4 and the much awaited Chandrayaan- 2 mission on January 3, said Sivan.
Close Story