J-K governor Satya Pal Malik orders inquiry into killing of BJP leader in Kashmir
The Governor spoke to K Vijay Kumar, Advisor, and directed him to ensure early arrest of those responsible for the killing and spare no one who tries to create fear and panic among the people, the spokesperson said.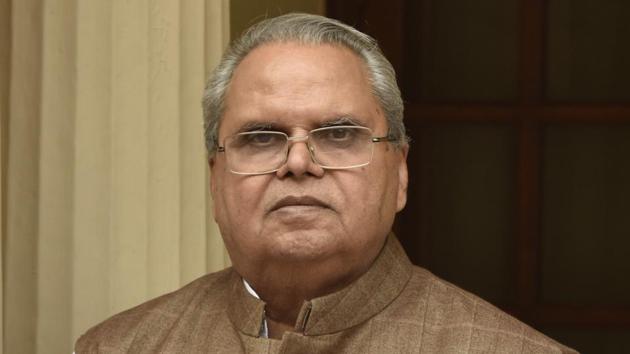 Updated on May 05, 2019 05:49 PM IST
Hindustan Times, Srinagar |
Ashiq Hussain
A day after a Bharatiya Janata Party (BJP) leader was killed by suspected militants; Jammu and Kashmir governor Satya Pal Malik on Sunday ordered an enquiry into killings of various political leaders in the past few months and assured protection to all politicos
Pal directed Chief Secretary BVR Subrahmanyam to conduct the enquiry and asked for identifying any lapses on part of security agencies.
"Satya Pal Malik is pained about the killing of Gul Muhammad Mir, a veteran political leader," an official spokesperson said in a statement.
"The Governor has directed BVR Subrahmanyam, Chief Secretary to get an enquiry conducted into the killings of political people belonging to various political parties in the state in the last few months," the spokesperson said.
Militants had shot dead Mir, district vice president of BJP in Anantnag district late on Saturday night. Mir, 55, who had contested assembly elections on a BJP ticket from Anantnag, was killed inside his house at Verinag.
BJP leaders said that Mir was without any security which was withdrawn by the government recently.
The governor has asked for identifying "any lapses" on the part of security agencies regarding ensuring security of political people and has emphasized that from now onwards, all politicos should be "protected at every cost".
The Governor conveyed that immediately after the opening of his Secretariat in Srinagar, he will call a high level meeting to review the safety and security aspects of all political leaders and sarpanches in the state.
He directed advisor K Vijay Kumar to arrest those responsible for the killing and "spare no one who tries to create fear and panic among the people".
This is the second attack on any political worker in South Kashmir. On Thursday militants shot and injured a civilian, Abdul Rashid Bhat, of Kuchmulla Tral. Bhat was a former member of a political party.
National Conference leader and former JK chief minister Omar Abdullah condemned this "dastardly act of violence" but castigated the BJP for "bragging' when security of political workers was withdrawn.
"Not long ago senior BJP leaders were bragging about how undeserving people had had their security withdrawn in J&K. I'd warned against the decision then & yesterday's assassination of Gul Mohd Mir only confirms what I'd feared - it was a foolish decision disconnected from reality," Abdullah tweeted.
"Questions need to be asked but they can't be answered by the person who was responsible for the actual order to withdraw security. The security withdrawal had been opposed by state and central intelligence agencies so who overruled them and went ahead regardless?," he questioned.
Pulwama and Shopian districts will go for polls on Monday in the third phase. Due to security reasons, election to the Anantnag Lok Sabha seat is being held in three phases.
Close Story
Personalise your news feed. Follow trending topics