'Depressed, aggressive' domestic help held for J&K cop's murder
Updated on Oct 05, 2022 12:58 AM IST
Hemant Kumar Lohia, 57, was found dead at his friend's home with burn injuries and his throat slit late on Monday.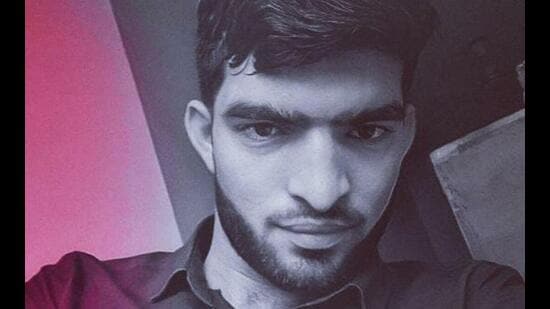 A 23-year-old domestic help was arrested near Jammu on Tuesday for allegedly murdering Hemant Kumar Lohia, director general of prisons in Jammu & Kashmir, a day earlier, investigators said. Lohia, 57, was found dead at his friend's home with burn injuries and his throat slit.
Yasir Ahmed allegedly entered Lohia's room and bolted it before attacking him repeatedly with a sharp-edged weapon, J&K Police chief Dilbag Singh said. Lohia was about to go to sleep after having dinner when Ahmed attacked him, he said. "Ahmed later tried to burn Lohia's body with a pillow cover."
A broken ketchup bottle was used for the murder, the police chief said. He cited clues and said they suggested Ahmed was not "in a right state of mind and was also of aggressive nature".
He dismissed as propaganda the claim of a little-known group, Peoples Anti-Fascist Front (PAFF), that it was behind Lohia's murder. "All such propaganda outfits shamelessly own everything, but there is no such clue as of now with us," Singh said. "We rule it out for the time being, but it has to be seen if it comes up during the probe."
PAFF claimed its special squad carried out an "intelligence-based" operation to kill Lohia. It called Lohia "a high-value target" and said the murder was just the beginning of such high-profile operations to "warn this Hindutva regime and its collaborators that we will strike anytime and anywhere with precision".
Also read: Mobile data services snapped temporarily in Jammu & Rajouri
"This is a small gift to visiting home minister (Amit Shah) amid such a security grid," the group said in a purported note circulated on social media. "We will continue such operations."
Lohia was murdered on the day Shah arrived in Jammu for the three-day visit to the Union Territory.
Lohia returned from Srinagar a day earlier and stayed at his friend's home as his residence was being renovated, investigators said. They have seized documentary evidence, including a diary that suggested Ahmed was depressed.
"Dear death, come into my life... I am sorry I am having a bad day, week, month, year, life," he wrote in his diary. "...Forget me...I hate my life...Life is just grief." He drew a phone battery and wrote: "My Life 1%, Love 0%, Tension 90%, Sad 99%, Fake Smile 100%."
The murder appears to be a lone wolf attack for which long-term planning was done, said a person aware of the matter. "From his phone and diary, he appeared to be radicalised," the person said, seeking anonymity. "He spoke against police action and appreciated jihadis. Let us wait for the probe."
Ahmed had been working for Lohia for around six months. He earlier worked for home secretary Shaleen Kabra for two years, but was sacked over his aggressive behaviour, investigators said.
Also read: Bank manager in J&K, a non-local, attacked by terrorists, escapes
CCTV footage collected from the incident site showed Ahmed running away after committing the crime, additional director general of police Mukesh Singh said. Lohia was first suffocated before the broken ketchup bottle was used to slit his throat, he added.
The guards at Lohia's residence saw the fire inside Lohia's room and broke open the door as it was locked from the inside.
Lohia was appointed director general of prisons on August 3. He was earlier on deputation to the Border Security Force for five years and returned to J&K seven months ago.
Personalise your news feed. Follow trending topics