Journalist Abhijit Iyer-Mitra arrested for 'derogatory remarks' on Konark temple, released on bail
Updated on Sep 20, 2018 08:22 PM IST
A case was lodged following Abhijit Iyer-Mitra's tweets on September 16 mocking the erotic sculptures of the 13th century Sun temple at Konark as well as another disparaging post on the 12th century Jagannath temple.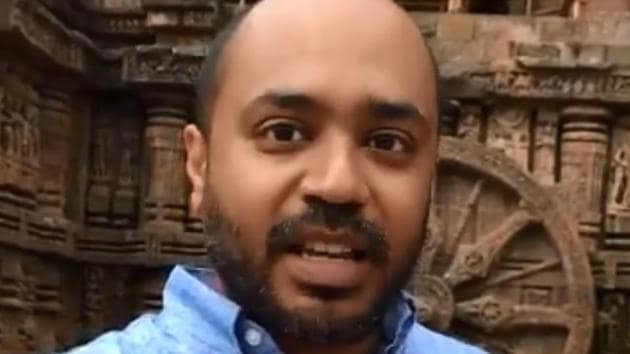 Hindustan Times, Bhubaneswar |
Debabrata Mohanty
Days after his allegedly derogatory tweets on the Sun and the Jagannath temples created a storm in Odisha Assembly and outside, the Odisha police arrested political commentator Abhijit Iyer-Mitra from Delhi on Thursday.
However, Manish Khurana, chief metropolitan magistrate of Delhi's Saket court, granted Iyer-Mitra bail on a bond of ₹1 lakh, directing him to join investigation in Konark police station by September 28.
A Odisha police team from Konark arrived at Delhi's Nizamuddin police station this morning with an arrest warrant against Iyer-Mitra, a friend of former Biju Janata Dal MP Baijayant Panda, accusing him of deliberate and malicious acts intended to outrage religious feelings, using words, deliberately intended to wound the religious feelings of any person, promoting enmity between different groups on grounds of religion under the Indian Penal Code and under section 66 of Information Technology Act.
The case were lodged following his tweets on September 16 mocking the erotic sculptures of the 13th century Sun temple at Konark as well as another disparaging post on the 12th century Jagannath temple, which is one of the four major Hindu pilgrimage sites. Panda has been accused of the same offences, while another case under the same charges lodged against Iyer-Mitra at Bhubaneswar's Sahid Nagar police station, sources said.
No senior Odisha police official was ready to be quoted on the matter.
Iyer-Mitra, who is also senior fellow of Delhi-based Institute for Peace and Conflict Studies, has been in the eye of controversy ever since he flew over Chilika lake with Panda and a journalist on September 15, and then posted a vlog (video blog) of his trip to Konark the next day.
In the video posted on Twitter, he said the temple was a humple (a slang for sex). "Here people are seen having sex. You see all these statues where the women, men and the animals are having sex. Can this temple be an auspicious place? Never. These statues are against the tradition of the Hindu community. It is the conspiracy of the Muslims who want to denigrate us. All I want to say is Jai Shree Ram. At least such statues will not be found in our new Ram temple," he said.
In a subsequent tweet, he sought clarify that these remarks were meant jokingly. "Jokes aside this temple is just mindblowing. The sculptures are exquisite & it has a great sense of symmetry & gravitas."
But the tweet added fuel to the furore over Panda's alleged low-flying over Chilika lake. The former MP's chopper was impounded at Bhubaneswar airport after Arakhakuda Marine police station lodged a case that the low-flying aircraft made the waters of Asia's largest brackish water lake foul with its fumes. While Panda claimed the impounding was a brazen attempt to restrict his movements after his resignation from the party in May this year, the Odisha police have now called for the cockpit data recorder of the chopper for determining its course when it flew over Chilika lake.
While Biju Janata Dal MLAs staged protest inside the assembly on Wednesday calling for arrest of Panda for his low-flying and Iyer-Mitra for his disparaging comments on Sun temple, the outrage became intense this morning when the assembly moved privilege motion against the latter's tweets.
MLAs cutting across party lines also took offence to one of Iyer-Mitra's tweets in November 16 last year in which he claimed that the state was discovered by Bengali explorers. "Odisha was discovered by Bengali explorers, who called it "OriShala!!! And it was named Orissa. No such thing as Orissa, just the wild southern provinces of undivided Bengal", he had tweeted.
He had also said that the Jagannath temple was built by the Gangas, who were disgraced retainers of the Pallava dynasty.
Moving the motion in the assembly after suspension of Question Hour on Thursday, leader of opposition Narasingha Mishra, of the Congress, said Iyer-Mitra should be given exemplary punishments for making nasty comments on MLAs as well as Jagannath temple and Sun temple which may trigger communal tension.
Mishra took offence to Iyer-Mitra's tweet which ridiculed the "abysmal intellectual calibre of BJD MLAs" and said terming the MLAs as fools mean condemning the people of Odisha. "He is a non-Odia. A non-Odia who feels that Odisha has no existence. How could he give such derogatory remarks against MLAs and the Speaker should secure his attendance in Assembly," he said.
Congress MLA Tara Bahinipati also attacked him. "I don't want to take his name. He may be Jay Panda's friend. But the Odia race would not tolerate one who has denigrated it," he said.
BJD member Arun Sahoo said Iyer-Mitra's comments have hurt Odisha's ancestors too. "The souls of people who fought for Odia language would have been hurt. If we are silent today, then history would not forgive us."
His party colleague Atanu Sabyasachi and law minister Pratap Jena also demanded action against him for comparing Odisha to North Korea.
The MLAs also trained their guns at Panda for bringing Iyer-Mitra to Odisha. Panda, who has emerged a rival of chief minister Naveen Patnaik had however said he did not agree with Iyer-Mitra's video. "The video was made when they went on a road trip & I was not present with them, but I condemn it. We should be sensitive about our religious places, heritage, tradition and history. So making parody on such subjects is unwarranted. I am proud of our history & heritage," said Panda through a YouTube video last evening.
Political analysts say the cases against Panda is an attempt by Patnaik to not allow much freedom to ally with other anti-BJD forces in the state ahead of the Lok Sabha and Assembly polls next year. Patnaik is seeking a record 5th term as chief minister in next election.
Close Story
Personalise your news feed. Follow trending topics