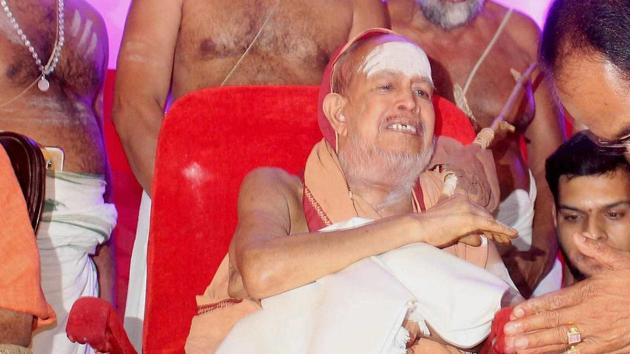 Kanchi Sankaracharya Jayendra Saraswati passes away at 82
Jayendra Saraswati, pontiff of one of the oldest Mutts in the country, had been heading it for a very long time.
UPDATED ON FEB 28, 2018 11:23 AM IST
Shankaracharya Jayendra Saraswathi, the 69th pontiff of the Kanchi Kamakoti Peetham, died on Wednesday following a cardiac arrest at a private hospital in Tamil Nadu's Kanchipuram, sources said. He was 82.
The Kanchi Shankaracharya was admitted to the hospital after he complained of breathing problems at 7.45am and could not be revived, sources at the hospital added.
He was in and out of hospitals over the past few months and suffering from low sugar levels. He also kept away from religious activities at the Shaivite mutt for the past few days.
Born in July 1935, the pontiff was made the head of the peetham by his predecessor Chandrasekarendra Saraswathi in March 1954.
Known for his modern outlook, the Kanchi seer was also among the first religious pontiffs to speak about the construction of Ram Temple in Uttar Pradesh's Ayodhya, saying it would lead to communal harmony.
The Shankaracharya was arrested in 2004 for his alleged role in the murder of a manager of the temple trust. He was acquitted by a trial court citing lack of evidence in 2013.
Tamil Nadu governor Banwarilal Purohit called on the seer, revered by countless followers in the country and outside, to seek his blessings Tuesday.
Close