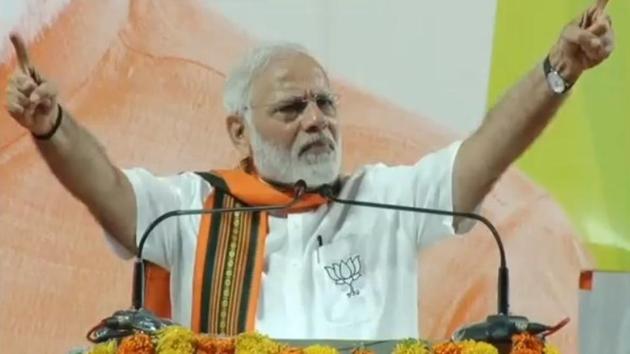 Karnataka elections Highlights: Opposing me is the only agenda of Congress, says Modi
Karnataka Assembly Elections 2018: Prime Minister Narendra Modi begins his third tour of the poll-bound state with a public rally in Tumakuru. Check out the live updates here:
Hindustan Times, New Delhi | By HT Correspondent
UPDATED ON MAY 05, 2018 08:30 PM IST
Prime Minister Narendra Modi addressed a rally in Tumakuru on Saturday where he alleged that the Janata Dal (Secular) and the Congress were pretending to be fighting the Karnataka assembly elections in parts but were in tacit alliance.
After Tumakuru and Gadag rallies, Modi addressed public meetings at Shivamogga and Mangaluru on Saturday, his third tour of the state to campaign for the BJP candidates. The state goes to polls on May 12 and the results will be declared on May 15.
On Friday, Congress president Rahul Gandhi, who is in the poll-bound state holding corner meetings, addressed rallies in Kalgi and Shiggaon, where he hit out at Modi for not addressing farmers' issues.
Here are the live updates:
7:39pm: "A safe Karnataka is our commitment. We have approved ordinance for death penalty for those convicted of raping children," says PM Modi.
7:35pm: Through Direct Benefit Transfer, we stopped leakages, eliminated corruption: PM.
7:30pm: "Our Government is devoted to serve the poor and the marginalised. We empowered them by opening their bank accounts, says Modi.
7:25pm: "Our (BJP) workers were brutally murdered just because of political differences. Is this the democracy that Congress practices? People will give a strong reply to the Congress on May 12," PM Modi says.
7:22pm: Modi says Congress spreads lies and hence is unable to digest if anyone speaks the truth. "People are well aware of their tactics," he says in Mangaluru.
7:16pm: "Result of Karnataka election is clearly written on the walls. BJP will form government in the state with absolute majority," says Modi.
7:14pm: Congress has no agenda left, except to oppose Modi: PM Modi. "Whatever is Modi involved in, Congress has to oppose that."
7:13pm: "Congress that once ruled from Panchayat to parliament is now confined to few states only. Due to their ego, they lost elections one after the other," says Modi.
7:12pm: Congress even opposed the Swachh Bharat Abhiyan and made fun of it, says Modi in Mangaluru.
7:00pm: Modi addresses public meeting in Mangaluru.
6:05pm:
5:04pm: "After coming to power at the Centre in 2014, our government provided free gas cylinder connections to around four crore people, out of which 9 lakh people are from Karnataka. In Shivamogga, 17,000 people got free gas cylinder connections, out of which 6,000 are Dalits and tribals," says PM Modi.
5:00pm: The Congress doesn't have any solutions for the problems, but have the habit of rubbing salt into wounds: Modi.
4:59pm:
4:57pm: "I am a worker, I work for the poor people of this country," says Modi.
4:56pm: The Congress party also makes fun of the cleanliness drive, saying how the PM talks about toilets and brooms: Modi.
4:55pm: "I ask the people of Shivamogga to take revenge from the people who insulted Yeddyurappa (BJP's CM face in Karnataka)," says Modi. "He was visiting the poor of the state and the Congress made fun of that. It was not Yeddyurappaa's insult, but the insult of poor people of the country."
4:43pm: Modi says Karnataka people will witness a new government in the state on May 15. "The dream of a new riverfront will also be fulfilled."
4:47pm: "Who supported those who killed the BJP workers in Karnataka. Who gifted PFI and SIMI and other violent organisations to Karnataka?" PM Modi asks during a rally in Shivamogga.
4:45pm: There is no difference between the 'C' of Congress and 'C' of corruption: PM Modi. "Even now they cry fowl of demonetisation."
4:43pm: Modi asks people of Shivamogga to question the Congress when the party comes asking for votes. "Ask them who are the sand mafias. And who are those sheltering these sand mafias?"
4:42pm: "Congress doesn't know how to give answers. They just know how to make false allegations. Spreading lies has become the character of Congress.. Spreading lies has become a business for the Congress," says Modi.
4:39pm: Modi says Congress has been following the footsteps of the British and also their divide and rule policy. "They have always been engaged in dividing different parts of India on the basis of religion and caste," he adds.
4:35pm: "I have a special connection with Shivamogga. I had been in politics for over a year when in 1991, I took part in a Tiranga Yatra which was taken out from Kanyakumari till Kashmir. After stopping over in Shivamogga, I got my first opportunity to address a public rally. I will never forget the love I got from the people of Shivamogga that day," says Modi.
4:30pm: Modi addresses public rally in Shivamogga in Karnataka.
2.50pm: Congress president Rahul Gandhi demands answers from Prime Minister Narendra Modi over the BJP giving tickets to those allegedly involved in corruption, including its chief ministerial candidate BS Yeddyurappa.
2.22pm: Congress is misleading people in the name of Mahadayi. What the Congress is doing is showing its true character and people should know about it, says Modi.
2.21pm: I wish the Karnataka CM would have asked Sonia Gandhi Ji about her 2007 promise on Mahadayi. If he would know of that promise he would not be misleading the people: PM
2.20pm: In 2007 in Goa, while seeking votes, the Congress incited the people of Goa. There, Sonia Gandhi had made a speech that Karnataka doesn't get Mahadayi water. The CM would not even know which party he was in, in 2007. After all, changing parties is a habit of the Karnataka CM, says the Prime Minister.
2.18pm: Modi alleges that internal tender system working in the Congress delayed its ticket distribution process.
2.16pm: After the Karnataka election results, the Indian National Congress will be renamed as PPP party that , Modi says, stands for Punjab Puducherry and Pariwar Party.
2.15pm: The Congress can only loot Karnataka, they cannot do any thing else for the state: PM
2.12pm: Congress has set up a Mafia network across Karnataka. They excel in 'Vasooli.' Once Karnataka defeats the Congress, what will happen to the 'Vasooli mafia' : PM
2.11pm: Why the Congress is more scared now because its leaders and ministers here have made a huge tank that stores money leading to Delhi. If Karnataka goes, what will happen to the leaders in Delhi, says PM.
2.10pm: The Congress has lost in Madhya Pradesh, Maharashtra, Goa, Gujarat, Chhattisgarh, UP, Uttarakhand, Himachal Pradesh, Tripura...people across India have rejected the Congress. But they are more worried to face the loss here.
2.08pm: Congress has been telling lies and dividing society here in Karnataka. Everyday they do a new drama: PM.
2.07pm: The Congress is not bothered about the depletion of natural resources here. As long as the pockets of their leaders are full, Congress is happy. Congress sees corruption opportunities in the forests of Karnataka. Corruption is key to the existence of the Congress, says Modi.
2.05pm: The PM alleges that the Khadi and handloom sector has suffered in Karnataka under under the Congress government.
2.04pm: The Congress government in Karnataka is working only for 'Naamdaars' and not for 'Kaamgaars', says the PM.
2.03pm: Prime Minister Narendra Modi begins address at Gadag in Karnataka.
12.05pm: Our government has started a battle against corruption and black money. There is no way we can tolerate corrupt practices, says PM.
12.03pm: The Centre has allocated fund for Tumakuru's development under Smart Cities project, but the state government prefers to loot money rather than work for people's welfare, says Modi.
11.55am: The Centre is working on water conservation, micro-irrigation and linking our waterways, which was a dream of former prime minister Atal Bihari Vajpayee: PM
11.52am: Our government at the Centre has worked on irrigation projects on which no work had happened for 30 years. Some of these key projects are also in Karnataka, says PM.
11.48am: The Congress government lacks any concern for the farmers. Why are the people of Tumakuru not getting water from the Hemavati River, asks Modi.
Read | Gowda says JDS will not back Congress, BJP in hung House
11.47am: People of Karnataka need to know the Congress-JDS alliance. They pretend to fight in parts of Karnataka but in Bengaluru the JD(S) supported a Congress mayor, who is sitting in office. What is the deal between these two parties? asks PM Modi. The BJP is coming to power in the state, he says.
11.46am: Former PM Deve Gowda Ji said so much during the 2014 campaign about me, made several personal attacks. After the elections I said that he need not remember all that he said. Right now, the JD(S) is working towards saving the Congress in Karnataka, says the PM.
11.41am: Modi says the Congress is trying to offer false rhetoric and empty promises to the famers. The Congress' neglect of the agriculture sector is very well known. I wish they were serious about the welfare of the farmers, he says.
11.40am: The problems the farmers are facing now are due to the wrong policies of the Congress governments in the past.
11.37am: The Congress has now stopped saying 'Gareeb' because the people of India have elected a person belonging to a poor family as their Prime Minister, says Modi.
11.36am: From the time of Indira Gandhi, the Congress has been fooling the poor to win elections, says Modi.
11.35am: Modi says saints, seers and mutts have played a strong role in the development of our nation. We are deeply inspired by them: PM
11.34am: This land of Tumakuru is home to several greats. After becoming PM, I had come here to Tumakuru and sought the blessings of Sri Sri Sri Sivakumar Swami Ji at the Sree Siddaganga Mutt, says Modi.
11.26am: Prime Minister Narendra Modi addresses a rally in Tumakuru.
Close