Karnataka Floor Test Highlights: Govt lives to fight another day as Speaker adjourns house after marathon discussion
Updated on Jul 23, 2019 12:54 AM IST
Karnataka speaker KR Ramesh Kumar met chief minister HD Kumaraswamy hours before the trust vote was slated to take place in the state assembly on Monday, a deadline sternly issued by the speaker last week, to cease the discussion. For the third day running, the Karnataka assembly debated the confidence motion moved by Chief Minister H D Kumaraswamy with the Congress insisting that it not be put to vote till the chair decides on the resignations submitted by the rebel MLAs to the House.The Assembly, already missed two deadlines set by the Governor Vajubhai Vala for the floor test and the BJP has termed it as "delaying tactics". Kumaraswamy has accused the BJP of setting a benchmark for "immoral politics".Meanwhile, the speaker has also summoned 12 rebel Congress MLAs on Tuesday. The lawmakers were issued notices after the Congress-JD(S) coalition filed petition seeking their disqualification. The state's political crisis also reached the doors of the Supreme Court on Tuesday as two independent MLAs -R Shankar and H Nagesh, filed a petition asking the top court to order a floor test by 5 pm today. However, a bench headed by Chief Justice Ranjan Gogoi on declined to hear the plea during the day.Read highlights here: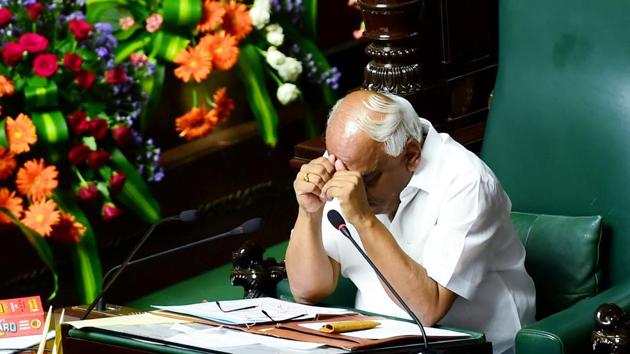 11:48 pm IST
House adjourned till 10 AM on Tuesday
After a long day of back and forth on trust vote, the Karnataka Assembly was adjourned till 10 AM on Tuesday. The adjournment came amid a lot of ruckus between the ruling coalition members and the Opposition party.
10:15 pm IST
BJP trying to convince rebels MLAs, promises of ministerial role: DK Shivakumar
Congress leader DK Shivakumar stepped out of the Assembly and said that the speaker has served notice to rebel MLAs and has given them time till 11 AM tomorrow. "BJP is trying to convince them that they won't be disqualified and they will be made ministers. As per Constitution of India, you can't be made a member once you're disqualified."
10:13 pm IST
Even if it takes time till 2 am, we're ready: Yeddyurappa
Asking the speaker to make arrangements for food, BJP leader BS Yeddyurappa said that if conducting trust vote takes time till late in the night, his party is ready. "Even if it takes to 1 or 2 am we are ready. Please arrange for food," Yeddyurappa said, to which Congress MLA replied, "Opposition leader is asking for a dinner break why don't we adjourn till tomorrow then?"
9:40 pm IST
Reports of my resignation false: Kumaraswamy slams rumours
Kumaraswamy snubbed the rumours of his resignation in the assembly and said, "I got information that I have tendered my resignation to the Governor. I don't know who is waiting to become CM. Someone has forged my signature and spread the same on social media. I'm shocked at the cheap level of publicity."
9:28 pm IST
Shouldn't we give MLAs time to reconsider their decision, asks Congress
Addressing the assembly, Home Minister HK Patil said, "The rebel MLAs were confused about their status. With your ruling that has changed. Shouldn't we give the MLAs time to reconsider their decision?"
9:20 pm IST
Karnataka Speaker summons rebel Congress MLAs for hearing
Speaker KR Ramesh Kumar summoned the 12 rebel Congress MLAs who resigned from their Assembly seats for a hearing in response to a notice by their party disqualifying them for defying the whip, an official said on Monday.
"Individual notices were sent to all the 12 Congress rebel MLAs under rule 7 of the Karnataka Legislative Assembly (disqualification of members on ground of defection) Rules 1986," said Speaker's Secretary M.K. Vishalakshmi
9:12 pm IST
BJP appeals to Karnataka Governor to "save democracy"
Alleging that democracy was being murdered in Karnataka in the wake of the continuing standoff over the trust vote, BJP General Secretary Muralidhar Rao Monday urged the Governor of that state to protect the principles of democracy. "People who talk about democracy, people who talk about moral politics, those who talk about due process... we are warning them all, the system of democracy is being murdered in Karnataka," Rao said.
9:11 pm IST
Congress-JD(S) clinging to power: BJP leader Madhuswamy
Madhuswamy tore into the present dispensation of Karnataka and said, "Siddaramaiah said on the floor of the house that the confidence vote would happen on Monday at all costs. The whole state knows they don't have confidence, the whole state knows they are clinging on to power. We want nothing else but division."
9:10 pm IST
We are becoming a laughing stock: BJP leader Madhuswamy
BJP leader Madhuswamy said that the question is if the ruling coalition of Congress and JD(S) have confidence of the House or not. "The Supreme Court knew very well that the motion had been moved, which is why it said the MLAs couldn't be compelled. You (speaker) have also ruled on this. We are becoming a laughing stock," he said.
9:04 pm IST
BJP presses for the trust vote to be concluded today
BJP leader Madhuswamy has reiterated his party's demand for the trust vote to be concluded today.
8:59 pm IST
Need 15 rebel MLAs in the house for trust vote: Home minister Patil
H K Patil has reiterated that the 15 rebel MLA's must be present in the house for the trust vote to happen. Till then, trust vote should be postponed.
8:56 pm IST
You might have urgency, we don't: HK Patil tells BJP
Home minister HK Patil has said that while there was a promise to put motion to trust vote, there has been some changes including the Speaker's ruling that whip will be enforced and that the Supreme Court has rejected the appeal of the two independent MLA's. "All that needs to be discussed and thus additional time is required," Patil said.
8:56 pm IST
BS Yeddyurappa demands trust vote be conducted tonight
BS Yeddyurappa has said that whatever time the trust vote consumes, the speaker must conduct the exercise today. Yeddyurappa has also said that except for Madhuswamy from BJP, nobody else will speak.
8:55 pm IST
Don't let emotions take over: Speaker tells MLAs
Amid demands for trust vote by Opposition and request to wait for Surpreme Court's word on the petition by the ruling coalition MLAs, Speaker Kumar has said that it is unfortunate that leader of the house and opposition leaders are not being heard with respect in the house. Don't let emotions take over. It is not just you, even i have emotions," Kumar told the MLAs.
8:35 pm IST
Ruckus in Karnataka Assembly
Shortly after the house reconvened, the Assembly witnessed massive ruckus. Minitser Sa Ra Mahesh has said that unless Supreme Court gives its decision, vote would be not correct.'We want justice', 'save the government' 'save constitution' slogans are being raised in the house by the ruling coalition members.
7:34 pm IST
Karnataka speaker violating constitution, says Muralidhar Rao
BJP General Secretary Murlidhar Rao accused Karnataka Assembly speaker of violating the constitution by not concluding the business of trust vote in time.
"In Karnataka Assembly discussions are being held on other issues rather than vote of confidence motion. Upon witnessing this, Governor reminded the Speaker that in the interest of Karnataka and its people the vote of confidence motion should be completed without delay. The Speaker is violating the constitution. Karnataka Governor should save the democracy and system in Karnataka", he said.
7:11 pm IST
Speaker meets BJP and JDS leaders in his chamber
Speaker KR Ramesh Kumar holds a meeting with BJP leaders Sunil Kumar, Basavaraj Bommai, CT Ravi and JDS leaders Sa Ra Mahesh, HD Revanna, Bandeppa Kashempur, in his chamber in Vidhana Soudha, reported ANI.
7:05 pm IST
'We want justice, we want discussion' chants mar Assembly proceedings
A pandemonium broke out in the Assembly as the speaker adjourned the House for 10 minutes. The coalition members raised slogans saying, "we want justice, we want discussion." JDS and Congress members said the Supreme Court itself had not shown urgency on the issue as it had refused urgent hearing of pleas by two Independent MLAs for floor test forthwith.
7:02 pm IST
Need more time for debate on confidence motion: Congress-JD(S) MLAs
The Karnataka assembly was adjourned briefly Monday as Congress and JDS members demanded more time to discuss the confidence motion moved by Chief Minister H D Kumaraswamy.
Speaker K R Ramesh Kumar's demand to the ruling coalition members to conclude their speeches quickly so that the trust vote process could be completed Monday itself was met with protests.
7:00 pm IST
SC to hear on Tuesday plea of 2 independent MLAs for immediate floor test
The Supreme Court will hear on Tuesday a fresh plea of two Independent Karnataka MLAs seeking holding of the floor test "forthwith" in the state Assembly on the trust motion moved by Chief Minister H D Kumaraswamy.
6:48 pm IST
CM unlikely to speak today, trust vote likely to be delayed again
According to sources at the CM's office, CM HD Kumaraswamy unlikely to speak on Monday. This means that the trust vote is likely to be delayed, at least by another day.
06:37 pm IST
Karnataka assembly adjourned for some time
Karnataka assembly adjourned for some time amid din as Congress and JD(S) members demand more time to debate confidence motion, reports news agency PTI.
5:28 pm IST
Kumaraswamy meets Assembly Speaker
Chief minister HD Kumaraswamy is meeting the speaker KR Ramesh Kumar in the speaker's room.
4:53 pm IST
Governor spoke to police commissioner directly: Patil on zero traffic protocol issued by Vajubhai Vala
Adding to the allegations by JD(S) on the protocol issued by the Governor, Karnataka's home minister MB Patil said that the Governor had told the police commissioner directly.
4:47 pm IST
Strengthen Schedule 10, protect this house: JD(S) MLA
JD(S) MLA Ramaswamy has demanded that Schedule 10 should become stronger. "You (speaker) should protect this house and keeping this in mind you should take a historic decision before the vote," AT Ramaswamy has told the speaker in the Assembly.
4:29 pm IST
JD(S) questions Governor's role
Flagging the issuance of order for zero traffic for the movement of rebel MLAs upon their return from Mumbai, Ramaswamy said, "I was told the order went from the Governor. I've already said nobody is above constitution. The governor sent three messages to this House. I respect the post. Was his notice acted upon, if not he should've taken action." He went on and said, "There is an allegation against this government for delaying through discussion. It might be partially true. Then what strategy were the Governor's letters? If not, is it a strategy for him to keep quiet now? As politicians we can indulge in this, but can a person in a constitutional post do this?"
4:12 pm IST
BJP cannot speak with conscience in mind: JD(S) on BJP's involvement
"You (BJP) say you are not involved in this. Can you speak with your conscience in mind? No you cannot. Can you only help the people only while in power? If you only want to serve can't you sit in opposition to do that?" Ramaswamy said targeting BJP.
4:10 pm IST
Have they not bartered Karnataka's image?: JD(S) on Rebel MLAs
Remarking on the 15 MLAs who have given the session a miss, Ramaswamy said, "They say from Bombay that they have not gone there on the basis of promises or threats. I ask them, if that's really true, if you have no greed for power, then say it clearly. I will then appeal to the chief minister and Siddaramaiah on your behalf. They say they've gone there out of self respect, if that was true they should've stayed in Karnataka. Have they not bartered Karnataka's image?"
4:00 pm IST
JD(S) MLA flags BJP's responsibility as Opposition party
Ramaswamy charged at the Opposition and said, "The BJP is the biggest party in the assembly. Why this hurry? Doesn't the opposition have more responsibility than the government in ensuring administration is running smoothly?"
"I won't say only you are at fault. Even the government has failed in addressing issues. I said at a public rally in Hassan during the Lok Sabha elections that the coalition isn't working well, and if this continues we should sit in opposition," Ramaswamy said.
3:55 pm IST
Where are we living? In resorts: JD(S) MLA retorts
A riled JD(S) MLA AT Ramaswamy has said that democracy has been missing from all three parties. "Democracy doesn't exist in all three parties. Where are we living? In resorts. Isn't this a collapse of democracy. There is a drought in 156 of the 176 taluks, there is a deficit in rainfall, drinking water is scarce and there is a shortage of fodder. Instead of discussing this, talking about a trust isn't right according to me," Ramaswamy said.
3:49 pm IST
Those who want can come to BJP, we will induct them: CT Ravi
BJP's MLA initiated a clarion call and said the party is willing to induct MLAs who want to join BJP. "I call them through this public platform, those who want to can come to BJP and we will induct them into our party and give them ministerial berths," BJP's four-time MLA CT Ravi said.
3:30 pm IST
House re-assembles
Karnataka assembly reconvenes as the D-day for floor-test nears an end.
3:05 pm IST
Siddaramaiah hails Speaker's ruling about whip
"I welcome the ruling of Hon. Speaker Shri. Ramesh Kumar on my point of order.
This has upheld & protected the rights of political parties to fight against undemocratic disturbance orchestrated by BJP4 leaders", Congress's Siddaramaiah tweeted.
2:23 pm IST
House adjourned till 3:30 pm
Vidhana Soudha has been adjourned till 3:30 pm.
2:22 pm IST
Blood of democracy on BJP's hands: Congress
"Second, I appeal to MLAs. We are fighting an ideological battle for constitutional rights. They are trying to kill the Constitution. This is nothing short of an assault on democracy. I appeal to my friends (BJP), the blood of democracy is on your hands," said Congress's Krishna Byregowda.
2:17 pm IST
Today there's undeclared emergency: Byregowda
"Is there any freedom in our country? At one time there was a declared Emergency, today there is undeclared Emergency.
Whatever is happening here, operation lotus in Karnataka and elsewhere, is a systematic effort to eliminate political opposition in this country," said Congress's Krishna Byregowda.
2:07 pm IST
No sanctity to floor test if decision on disqualification plea is not taken: Cong
"Only after you decide on this (petition to disqualify rebel MLAs) can there be sanctity to this floor test. It will be incomplete if the decision is not made and if it's incomplete it will be null and void. The Supreme Court cannot protect us here. There are three possible solutions, either resignations are accepted or rejected or they're disqualified. If you go ahead I will be a conscientious objector to this process," said Congress's Krishna Byregowda.
2:00 pm IST
Petition for disqualification of rebel MLAs before you: Congress
"I appeal to you (Speaker). There is a petition for disqualification before you, if you do not decide on that, there is no meaning to this floor test," said Congress's Krishna Byregowda.
1:47 pm IST
Rebels MLAs lied to Supreme Court: Byregowda
"The rebel MLAs told the Supreme Court that the Speaker did not meet them, but when they met the Speaker they admitted they had not submitted resignations to him or sought an appointment with him. This is the speaker's affidavit in the court. So they lied even to the Supreme Court," said Congress's Byregowda.
1:35 pm IST
Yeddyurappa's PA seen with independent MLA who withdrew support: Cong
"Maharashtra BJP leader met the rebel MLAs but they say they are not involved.
A report says the special flight that flew rebels belongs to a company owned by a BJP MP.
A BJP MLC met the rebels, MLA Aswath Narayan met the rebels, but they say they're not involved. Yeddyurappa's PA is seen with the independent MLA, but they're not involved," Congress's Krishna Byregowda tells the Vidhana Soudha.
1:25 pm IST
Trust vote being delayed deliberately: Advocate files PIL in Karnataka high court
An advocate Anand Murthy has filed PIL in the Karnataka high court alleging that trust vote is being delayed deliberately.
1:15 am IST
Will stop debate if BJP agrees they're behind the crisis: Shivakumar
"We're not influencing you, but let them (BJP) agree that they are behind this, then we'll stop this discussion. But we must know why this trust vote is being held," said DK Shivakumar.
1:05 pm IST
Why aren't they here: Speaker
BJP's Madhuswamy said that the rebel MLAs are not in the Vidhana Soudha to defend themselves.To this, the Speaker replied saying "why aren't they here?"
"The Constitution has already apportioned responsibilities to different wings of the state, why discuss it here," said Madhuswamy.
"I will not allow them to speak about officials. But when it is a question of MLAs it has to be decided here. If you (BJP) have information then please place it before the house," the Speaker replied.
1:00 pm IST
Byregowda mentions another leaked conversation
Congress's Krishna Byregowda mentioned before the House another instance of telephone conversation where he said "an MLA was heard saying there is a case against him, and another person says that he'll take the responsibility. A second person says we'll solve everything, we'll even get them ticket for by election."
Byregowda said that a "a leader was heard saying if you want only cash we'll give you Rs 15 crore, but if want to be a minister we'll give you only Rs 5 crore".
12:45 pm IST
Is it ethical to trade MLAs: Congress's Byregowda
"None of what I'm speaking is secret, it is all in public domain. I will give you the evidence by evening. However, what I'm reading out here has been aired on TV channels.
In our society there is no selective amnesia, there is collective amnesia. The people who are in a hurry say it's unethical to prolong debate but is it ethical to trade in MLAs?," said Congress's Krishna Byregowda as Jagdish Shettar of the BJP asked for evidence of Ramesh Jarkiholi and BC Patil being involved with the BJP.
12:45 pm IST
Has all the rights to come and defend himself: Speaker on allegations against BC Patil
"Generally if allegations are to be made against ministers then a notice has to be given, not MLAs. The second point you made, people have elected them to come here, has this person sent a message to me expressing inability to come? He has all the rights to come defend himself. He has the right to come here, but hasn't. We can stop if allegations involve those not part of this house. That is not the case here," the Speaker replied to BJP's Jagdish Shettar.
"On documentary evidence, I'm requesting you to pass it on to me. If you don't have the evidence then I'll have to rethink this," he added.
12:40 pm IST
Give evidence before making allegations: BJP's Jagdish Shettar
"There is a procedure here that evidence has to given before allegations are made. Besides, BC Patil isn't here so is it fair to make allegations against him?," said BJP's Jagdish Shettar as Krishna Byregowda accused BC Patil of being in contact with the BJP.
12:34 pm IST
Ramesh Jarkiholi in touch with BJP, claims Cong's Krishna Byregowda
Congress's Krishna Byregowda told the Vidhana Soudha that there is evidence to show Ramesh Jarkiholi, one of the rebel MLAs, has been in touch with the BJP, even during the Lok Sabha elections.
"Next is BC Patil. He aspired for a ministerial post but didn't get it. I want to submit a conversation to the House. Patil says 'no amount was set'... The other person says quote the price, and he says '25, but I have to clarify with others as well'", Byregowda said referring to a leaked conversation between BC Patil and B Sreeramulu.
12:30 pm IST
Need to speak about who the rebel MLAs are : Krishna Byregowda
"The Opposition is pressing for an immediate division of votes and the MLAs are behaving as if this isn't related to them. I want to speak about who these MLAs are and why they've resigned. The media isn't discussing this. The opposition says it's not related, but let's see," said Congress's Krishna Byregowda.
12:25 pm IST
Giving the whip is up to you: Speaker
"Giving the whip is up to you, and abiding by it or not is the MLAs' prerogative. If there is a complaint I will act accordingly. I cannot send a message to those who are in Mumbai," the Speaker said reply to Shivalinge Gowda 's query.
12:20 pm IST
Will you take action, if MLAs don't attend: Shivalinge Gowda to Speaker
"The MLAs are under the impression that the whip will not apply to them if they don't attend. Will you take action against them or will it be an order like the Supreme Court's. The whip has been issued and we have to come to you. Please tell us if you will take action," Shivalinge Gowda of the JD(S) asked the Speaker.
12:18 pm IST
SC won't interfere in my functions: Speaker
"The Supreme Court has very clearly said that it will not intervene in my functions. There is a different section that says the MLAs cannot be compelled. Since the LPs were not party it appears that they referred to compulsion from other entities. Hence, it is not related to the LPs," the Speaker told the Vidhana Soudha.
12:15 pm IST
'This should be finished today': Karnataka Speaker on trust vote
"I have already said that this (the Congress-JDS trust vote) should be finished today," said Speaker KR Ramesh Kumar.
12:10 pm IST
'Please finish it today': JC Madhuswamy
"Siddaramaiah and chief minister HD Kumaraswamy have promised to finish this today. We believe them. Even we wanted to speak on this matter but haven't done so. We hope it will be finished today. Let any number of people speak but please finish it today," said JC Madhuswamy.
12:07 pm IST
No Legislature Party involved in Supreme Court plea: Speaker
"This is a peculiar situation. In the Supreme Court petition no Legislature Party is involved. The SC direction asking MLAs not to be compelled to attend doesn't involve me", said Speaker KR Ramesh Kumar
12:02 pm IST
Proceedings begin
Proceedings in Karnataka's Vidhana Soudha have begun. Speaker KR Ramesh Kumar apologised for the delay.
He explained that the CM and coalition leaders had come to meet him, and before that BJP MLA Madhuswamy and a colleague met him, which is what caused the delay in proceedings.
11:30 am IST
Two deadlines missed
The Karnataka governor had twice before set deadlines for the floor test, but both were missed. The BJP called it "delaying tactics."
11:10 am IST
Yeddyurappa arrives at Vidhana Soudha
Former Karnataka chief minister and BJP leader BS Yeddyurappa along with BJP MLAs arrived at the Vidhana Soudha.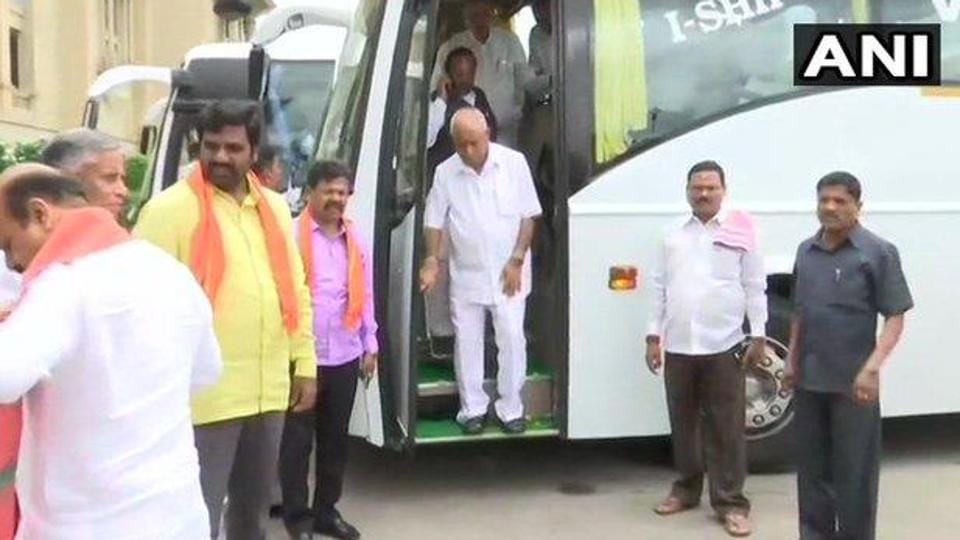 10:50 am IST
12 Congress MLAs asked to appear before Speaker on Tuesday
Twelve Congress lawmakers have been asked to appear before the Speaker Ramesh Kumar on Tuesday with regard to the disqualification petition.
10:40 am IST
SC refuses early hearing
The Supreme Court has refused to urgent hearing of petition of two independent MLAs seeking immediate floor test.
10:20 am IST
Mayawati instructs BSP lawmaker to back Kumaraswamy
BSP supremo Mayawati on Sunday instructed BSP's lone lawmaker in Karnataka to back the Congress-JD(S) government in the state.
10:00 am IST
Security around Vidhan Soudha heightened
The security around the Vidhan Soudha in Karnataka has been heightened ahead of Congress-JD(S) coalition government's trust vote in the assembly today.
9:40 am IST
JD(S) ready for Congress heading coalition govt: Shivakumar
Congress minister DK Shivakumar on Sunday said that the party's alliance partner in Karnataka JD(S) was ready for Congress to head the coalition government, reported news agency IANS.
However, JD-S spokesman Ramesh Babu dismissed the claim saying that no such decision has been taken yet, according to IANS.
"I am not aware of this development. We are busy preparing for the debate and vote on the confidence motion tomorrow (Monday) to save our government first," Babu told IANS.
9:20 am IST
I'm not unwell: Kumaraswamy
Karnataka chief minister HD Kumarswamy on Sunday dismissed the report of his being unwell and that he was being admitted to a hospital. He said that the rumors were being spread by those who want the coalition government to collapse.
"The news of Kumaraswamy being unwell and getting admitted in a city hospital is fake and based on rumours, which is being spread by those trying to topple the coalition government," said the Chief Minister's office in a statement in Kannada.
9:00 am IST
Supreme Court may take up independent MLAs plea
Independent MLAs H Nagesh and R Shankar moved a plea in the Supreme Court on Sunday in which they claimed that the structure of the Constitution is being violated in Karnataka.
"A minority government, which does not have the confidence of the majority, is being allowed to continue in office by delaying tactics," the petition read.
The Supreme Court may take up the plea today.
8:45 am IST
In 225-member assembly, coalition has support of 100 MLAs
In the 225-member Karnataka assembly, the BJPhas 105 members while the Congress-JD(S) coalition has the support of 100 MLAs excluding the speaker KR Ramesh Kumar.
If the speaker accepts the resignation letter of rebel MLAs, Kumaraswamy led coalition government will be in a minority.
8:25 am IST
Not clinging onto to power: Kumaraswamy
Karnataka chief minister HD Kumaraswamy slammed BJP saying that they had set a new benchmark for "immoral politics."
"I want to make it amply clear that I am not trying to cling onto power. My only intention of seeking time for debate on trust vote is to let the entire country know how the BJP, which talks of morality, is trying to subvert the very principles of democracy as well as Constitution," he said in a statement.
8:15 am IST
'Last day of the government': Yeddyurappa
Karnataka BJP chief on Sunday said that the coalition government should face the trust vote instead of wasting time.
"By taking crucial decisions inspite of not having a majority, they are harming the democratic traditions… tomorrow will be the last day of the government," he said.
8:05 am IST
Trust vote today
The Karnataka government led by HD Kumaraswamy will face a trust vote as the Assembly reconvenes on Monday. The Congress- JD(S) coalition has been in a political crisis since 16 MLAs- 13 from the Congress and three from the JD(S)- submitted their resignations roughly two weeks back.
8:00 am IST
Last attempt to persuade rebel Karnataka MLAs
Karnataka 's Congress-JD(S) coalition government held emergency meetings and made a last attempt to win back rebel MLAs as it is set o face a trust vote in the Assembly on Monday.