'Keeping a close eye on Chinese presence in Indian Ocean,' says Admiral Lanba
Mar 13, 2019 05:37 PM IST
Indian navy chief Admiral Sunil Lanba said China's presence in the Indian Ocean is unlikely to go away and no nation can match the productivity of Chinese shipyards.
India has been keeping "a very close eye" on China's presence in the Indian Ocean, whose growth in recent years includes six submarines ostensibly for anti-piracy patrols, Admiral Sunil Lanba, chief of the naval staff, said here on Tuesday.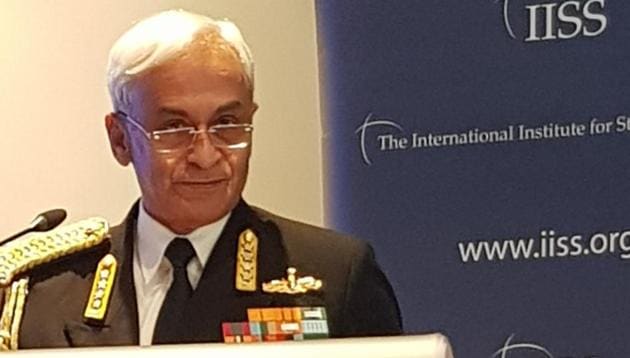 Addressing policy-makers, researchers and officers from the British and Indian navies at the International Institute for Strategic Studies, Lanba said China's presence in the Indian Ocean is unlikely to go away. He shared the interaction with Admiral Philip Jones, first sea lord and chief of Royal Navy.
"The Chinese presence in the Indian Ocean started in 2008. It has grown over the years. At any given time, there are six to eight Chinese units in the northern part of the Indian Ocean. They are permanently present and they have three to four survey vessels or hydrographic vessels".
"The largest numbers were about 14 ships which were there in about middle of 2017. They also deployed submarines; there have been total six deployments of submarines, started in 2015…for anti-piracy patrol, which is the most unlikely platform for them to do," Admiral Lanba added.
Noting that China now has its first overseas base in Djibouti, Admiral Lanba, who is also chairman of the chiefs of staffs committee, said: "We keep a very close eye on their presence and their deployments. I don't think the Chinese presence in the northern Indian Ocean is going to go away".
On China's growing naval infrastructure, Lanba said no country had invested so much as China. In the last five years, China had commissioned 80 new ships, he said, adding: "No nation can match the productivity of their shipyards. So it is a challenge, we keep a close eye".
Rahul Roy-Chaudhury, IISS senior fellow for south Asia, said: "In a powerful message to India, the UK's First Sea Lord for the first time jointly shared a panel with India's naval chief at the IISS, which had only happened twice before with his US and Australian counterparts. And, in a strong message to the UK, the visit of India's naval chief took place despite India's ongoing tensions with Pakistan."
During Lanba's four-day tour of the UK, he is scheduled to hold discussions with the chief of defence staff, UK, and top navy officers at Portsmouth. He will also visit the Royal Navy Submarine Rescue Facility at Glasgow and interact with the organisers of the Royal Edinburgh Military Tattoo.
Official sources said the Indian Navy has traditional links with the Royal Navy. With the constitution of the Indo-UK Defence Consultative Group and the Military Sub Group in 1995, a two-tier structure of cooperation was established to progress various areas of defence cooperation.
The Indian Navy and Royal Navy are also partners in the Indian Ocean Naval Symposium, a maritime cooperation construct conceptualised and pioneered by Indian Navy in 2008. The two navies conduct regular exercises in both countries.