Kerala CM Pinarayi Vijayan gets an earful from flood survivors at relief camps
Kerala flood survivors say Chief Minister Pinarayi Vijayan's visit to relief camps was "customary in nature" and policemen prevented them from airing their grievances.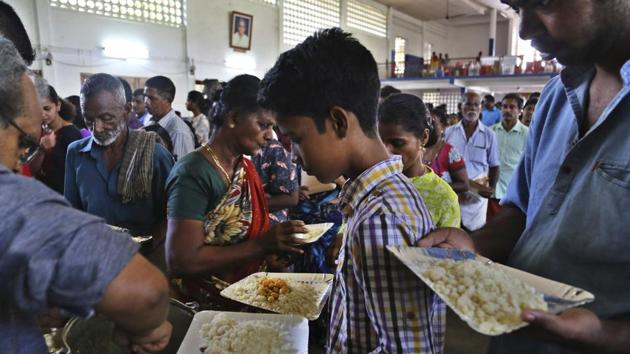 Updated on Aug 23, 2018 08:52 PM IST
Kerala Chief Minister Pinarayi Vijayan on Thursday ran into the fury of flood survivors who complained about shortage of facilities in the relief camps and accused him of coming late to hear from them.
Vijayan visited several relief camps in different parts of the state assuring the people who have lost everything that the government will help them rebuild their lives.
But it was anger that greeted him at the camps. While many complained about his arrival was very late, others complained about poor distribution of food, lack of toilet facilities, snake menace and contaminated drinking waters. The CM 10-15 minutes in each camp and returned to the state capital in two hours after a whirlwind helicopter tour. The short time he spent in the camps also angered residents.
"His visit was only a ritual. In a sense it was touch and go. We could not tell him about our mounting problems," said Meenakshi Amma at a relief camp in North Paravur.
He visited camps at some of the worst-affected areas in Chengannur, Kozhencherry, Alappuzha, North Paravur and Chalakudy. He said since rescue operation was over now and that the government will concentrate more on rehabilitation. But many complained that his visit was "customary in nature" and policemen prevented them from airing their grievances.
A woman was heard shouting that there were only four toilets in the camp of 800 people. Vijayan said he will make arrangements for more.
"The government is committed to alleviate the suffering of people in relief camps. We will help them construct their houses and ensure their livelihood. Different agencies are working hard to ensure better facilities at camps," said Vijayan after visiting a camp in Christian College in Chengannur.
He conceded that in a disaster of such magnitude there would be some flaws and the government would correct them. "The government is with you. We will do everything possible to help you get back to your feet," he said in another camp.
The government is facing a Herculean task as more than 10 lakh people have been accommodated in 6000-odd relief camps in the state. Since many camps lack proper sanitation facilities, the fear of an epidemic of water borne disease is also looming large.
Even as in many areas clean-up operations began on war-footing, people in some of the affected areas complained that they were not getting dry places to bury decomposed animals carcasses. At many places soiled clothes, empty water bottles, plastic waste and destroyed electronic gadgets have mounted. With no way to dispose them in an eco-friendly way, in some areas people have re-deposited them in water bodies.
The government has set up a control room to co-ordinate cleaning operation across the state. Civic and local bodies have been entrusted with the task of managing the work. Besides local bodies, the state's famed women's self-help group 'Kudumbasree' will also be roped in, said a senior revenue official. The government and local bodies have roped in plumbers, electricians and carpenters in a big way to help repair damaged houses.
Meanwhile, the opposition Congress reiterated its charge that poor dam-management led to the disaster and sought a judicial probe into the role of electricity department officials. Since most of the dams are power generating centres, the state electricity board manages them.
Opposition leader Ramesh Chennithala said Kerala's worst calamity in a century was a man-made disaster. "The situation would have been different if dam management was done properly. Leave alone experts, even common people pleaded with dam authorities to release water gradually but they kept on waiting to generate maximum power," he said.
But Vijayan and power minister MM Mani denied these charges.
Close Story
Personalise your news feed. Follow trending topics