'Love jihad': Hadiya back in college, dean says she'll study under Hindu name
Nov 29, 2017 07:52 AM IST
The Hadiya case put the spotlight back on 'love jihad', a controversial term coined by fringe outfits to describe cases of what they believe are forced marriages between Muslim men and Hindu women.
Hadiya Jehan is back in college.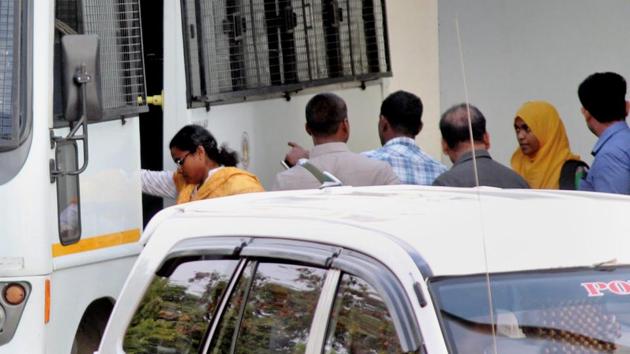 The 24-year-old Hindu woman who converted to marry a Muslim youth reached Sivaraj Homeopathy Medical College in Tamil Nadu's Salem on Tuesday night amid tight security.
This was possible after the Supreme Court asked Hadiya on Monday to return to her college, freeing her from the custody of her parents in Kerala.
A crowd of students and teachers waited to greet her late in the evening. The college security was beefed up in accordance with the top court's order that directed Tamil Nadu to ensure her safety.
A group of people gathered at the gates and shouted slogans when she reached the girls hostel, but police dispersed them quickly.
Teachers and staff remember the shy and introvert Akhila Ashokan who joined their college for a bachelor's degree in homeopathy in 2011. She completed her four-and-a-half-year course, but couldn't complete the 11-month house surgeon internship mandatory for the degree.
They said they have little knowledge about her journey from Akhila to Hadiya.
"She left the college in 2015 citing personal problems. We have no issues in welcoming her back. We are in touch with the district administration and police authorities to ensure foolproof security to her," said Kalpana Sivaraj, the managing director of the college.
College dean G Kannan, who was appointed her local guardian by the top court, said her stay and other arrangements will be sorted out after consulting her and civic officials.
"I will ensure she completes the course without a hitch," he said.
According to Kannan, she will be registered as Akhila Ashokan in the college and no special treatment will be accorded to her in the hostel, news agency PTI reported.
Hadiya's conversion and wedding had triggered widespread controversy and put the spotlight back on "love jihad", a controversial term coined by fringe outfits to describe cases of what they believe are forced marriages between Muslim men and Hindu women.
Retired military man Ashokan KM, her father, alleged there was a "well-oiled systematic mechanism" for conversion and Islamic radicalisation. Hadiya was allegedly recruited by the Islamic State terrorist group and her husband, who she married last December, was only a stooge.
On the father's plea, the Kerala high court annulled her marriage with 27-year-old Shafin Jehan and sent her to her parents in Thiruvananthapuram. The husband challenged the order in the top court.
The Supreme Court sought to hear from Hadiya her views and she went there for a hearing on Monday. "I want freedom … I want to complete my studies and live my life according to my faith and as a good citizen," she told a bench led by the Chief Justice of India, Dipak Misra.
The court didn't say anything on her husband plea against the high court order annulling their marriage. The case will be heard in the third week of January.
Shafin, who returned to Kozhikode in the morning, said it was a big victory for him and the court did not give any order preventing him from meeting his wife.
"I don't think there is any problem in meeting her at the college. Throughout her trip to New Delhi she insisted on meeting me. I hope our separation will end gradually," he said.
Before leaving for the national capital, Hadiya wished to meet her husband.
The college authorities are not keen on this subject. "We will go by the police advice. It is our responsibility to maintain her security," the dean said.
Hadiya's father insisted that the top court did not stay the Kerala high court verdict annulling their marriage and Shafin has no right to trouble her.
"If he continues to harass my daughter, I will move the court again to restrain him," he said in New Delhi before returning to Kerala.
He said he was not worried over the security of his daughter as she is under the observation of the country's highest court.
Speaking of Shafin, the father said: "I cannot have a terrorist in the family."
Her mother, Ponnamma, reiterated her allegation that two of her classmates indoctrinated and converted her with the help of fundamentalist groups.
"We were cheated. What makes us sadder is that she was forced to marry a man with extremist links," she said.
According to Kerala police, security for Hadiya's parents would continue as they face threats from fundamentalists.