Kerala Muslim woman who led Friday prayers now faces threat
Updated on Jan 31, 2018 02:18 PM IST
Fundamentalists have threatened to eliminate Jamida, 34, a school teacher, who led Jumu'ah, the congregational prayer service of Muslims held every Friday, at a mosque in Wandoor in Malappuram district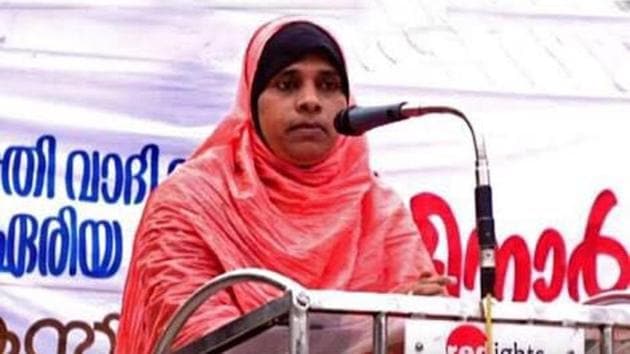 A Muslim woman who led Friday prayers in a mosque for the first time defying the age-old customs is now facing the heat.
Fundamentalists have threatened to eliminate Jamida, 34, a school teacher, who led Jumu'ah, the congregational prayer service of Muslims held every Friday, at a mosque in Wandoor in Malappuram district. According to them, she "defiled the religion".
Jamida, the general secretary of Quran Sunnath Society, an organisation striving hard for reforms in the religion, led a group of believers at a mosque donning the role of an Imam, and has claimed to be the first woman to do so in the country's history.
Around 80 people, including women, gathered to attend the prayers, led by the woman 'Imam', the Society sources said.
Her action initially drew praise as everyone lauded her for the "good beginning" but soon threats started coming in.
Worried, Jamida has now sought police protection.
The Society was founded by reformist preacher Chekanur Moulavi who was allegedly murdered by extremists in 1993 for questioning some of the customs and practices in the religion.
"I have received many threatening calls. On social media, too, people are openly speaking against my decision," Jamida said, adding that she will do it again if she gets an opportunity.
"It's written nowhere in Islam that women will be barred from leading prayers. We have to wean the religion from the hands of a patriarchal band of Imams and preachers," she said.
She said Quran has been interpreted differently for the convenience of men so that they hold the reins of power and discriminate against women.
"Quran is not discriminatory against women. People who interpret it do this. There is nothing in the holy book that prevents a woman from being an Imam," she said, adding that change will come in the religion gradually and she has made a beginning for this.
Jamida, a staunch critic of triple talaaq, says she is a huge fan of US-based scholar Amina Wadud who is the first Muslim woman to lead Friday prayers.
"Changes are visible in the community. Women will have to come forward to end the dominance of the clergy who interpret religion as per their own way to enjoy an upper hand," she said.
Close Story
Personalise your news feed. Follow trending topics