Leaderless but more united, farmers set to force change in political discourse
Despite the lack of a central leadership, the farmers movement spread rapidly through Mandsaur and nearby districts of Madhya Pradesh, mainly through social media.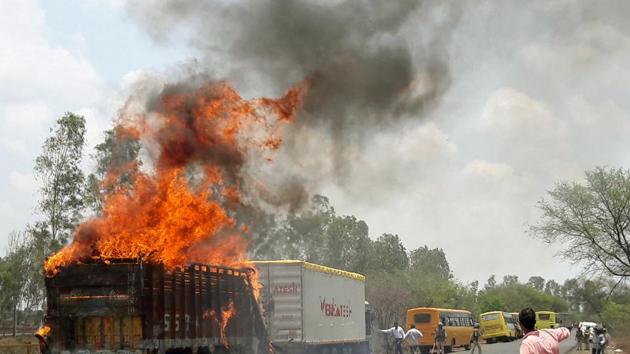 Updated on Jun 13, 2017 02:09 PM IST
After six deaths, thousands of liters of spilt milk and destruction of tonnes of vegetables, the 10-day farmers' agitation in Madhya Pradesh has seemingly gained less than it bargained for.
But a close look reveals that the political discourse is set to change and that the leaderless farmers have become more united than ever, thanks to social media.
Detractors of the agitation say that two main demands of the farmers – loan waiver and implementation of the Swaminathan report which among other things, says that the government should ensure that farmers get 50% plus production cost, remain unaddressed. The arson in Mandsaur and other places in Madhya Pradesh during the 10-day agitation gave the farmers a bad name, say detractors.
But on the ground, things are changing. This was by far a leaderless movement, bypassing the traditional farmer leaders and political parties and led by the Patidars in the state. The movement was largely fuelled by social media with various WhatsApp and Facebook groups interacting and dictating its pace and direction.
Patidar Samaj state president Mahendra Patidar says they have gained much when it comes to networking with other farmer's organizations across the state. "From now on it will be a more coordinated nation-wide agitation. Our fight is far from over," he insists.
The Patidar Samaj represents the 40 lakh strong Patidar community spread over 18 district of Madhya Pradesh. Patidars are mainly well off farmers with clout in their local community and have been traditional BJP supporters.
"Eighty per cent of Patidars are BJP supporters but we have been shortchanged over the years. We are what the Muslims are to Congress, a community that is being taken for granted. Five deaths for our community are hard to digest. We won't vote for BJP," Mahendra Patidar told HT.
And that is something that is worrying the ruling party in Madhya Pradesh.
A senior BJP leader who did not want to named said that the party fears that its strong base in the state will erode if such movements spread, bypassing the established political channels. "New farmer leaders like Shiv Kumar Sharma alias Kakkaji, an ex-RSS man, are coming up and so we have been asked to reach out to all farmers at the local level, take them into confidence so that all their grievances are channeled through us," he said.
The same leader lamented that BJP has lost much due to the recent agitation. "In the field of agriculture Madhya Pradesh was known for its five Krishi Karman awards given for high rate of agriculture growth, but now the narrative has changed to the farmer's deaths and distress, putting us on the defensive," the leader said.
Narendra Nahata, former minister in the Congress government and a resident of Mandsaur said the BJP's communal agenda through cries of cow protection and conversion will be replaced and the farmer will take centre stage. "The aggressive BJP has been pushed to the back foot, Shivraj's halo has gone" Nahata insists.
He also pointed out that the agitation did not have big leaders and was being led by farmers which will give them confidence that they can fight for themselves.
"Though the BJP is giving us credit for the agitation, in reality it was the small farmer's groups who were leading it and the Congress was only supporting their cause," he admitted candidly.
That the farmers are united across the country is borne out by Rashtriya Kisan Mazdoor Sangh (RKMS) member secretary Binod Anand, who said that the Sangh had a meeting with 62 other farmers' organization under the banner of Rashtriya Kisan Mahasangh a couple of days back in Delhi and chalked out a detailed plan for further action. Taking up the farmer's cause, the Mahasangh has also moved the NHRC to investigate the farmer's deaths due to shootings. RKMS is led by Kakkaji, an ex-RSS man.
The state's intelligence agencies who see the agitation through their own prism say that though it was administrative failure that allowed things to go out of hand, the movement is not dead. "The farmer was always important in Madhya Pradesh, but now it (farmers' agitation) has grabbed centre stage," a senior intelligence officer said.
Close Story
Personalise your news feed. Follow trending topics