Leave Valley, says J&K govt to Amarnath pilgrims, tourists amid terror threats
Updated on Aug 02, 2019 07:50 PM IST
The Jammu and Kashmir's home department had advised Amarnath Yatra pilgrims and tourists to curtail their stay in Kashmir valley and leave the region.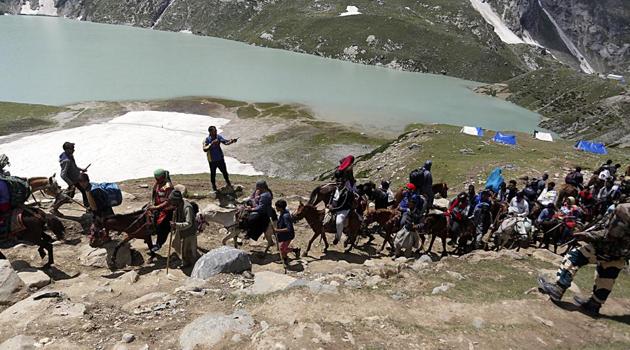 Hindustan Times, New Delhi |
Sudhi Ranjan Sen
The Jammu and Kashmir government on Friday asked Amarnath Yatris and tourists in Kashmir to "immediately" curtail their stay and leave the valley. The advisory, issued by the state's home department, cited intelligence inputs about terror threats.
"Keeping in view the latest intelligence inputs of terror threats, with specific targeting of the Amarnath Yatra, and given the prevailing security situation in the Kashmir Valley, in the interest of safety and security of the tourists and Amarnath Yatris, it is advised that they may curtail their stay in the Valley immediately and take necessary measures to return as soon as possible," the Jammu and Kashmir government order said.
The home department's came minutes after top army and police officers spoke about intelligence inputs that terrorists in the state had been ordered to carry out bomb blasts targeting Amarnath Yatris.
Also Watch: 'Pakistan based terrorists plotting attack on Amarnath yatra': Army
Lt Gen KJS Dhillon, Corps Commander of Srinagar-based 15 Corps, said the threat of improvised explosive devices in the Valley is "more pronounced" but is being tackled effectively by security forces by conducting regular searches.
Lt Gen Dhillon told a joint briefing that security forces had been carrying out intensive searches along the yatra route for the last three days after confirmed intelligence reports about terrorist plans to disrupt the pilgrimage.
Former Jammu and Kashmir chief ministers Omar and Farooq Abdullah meet PM Narendra Modi
During these searches along the route, security forces had seized a mine with Pakistan Ordnance factory stamp and an American sniper rifle M-24. Both, security forces believe, reached Kashmir via Pakistan.
He said searches were still going on in Shopian where an attempt to attack security forces was made on Thursday night.
The unusual directive to tourists and pilgrims to leave the Kashmir valley comes against the backdrop of a central effort to scale up the presence of security personnel in the state. Over the last week or so, the Union Home Ministry in Delhi had ordered deployment of about 10,000 central forces personnel to Kashmir to strengthen the counter-insurgency grid and law and order duties.
"A hundred companies had been ordered for deployment about a week ago, which are in the process of reaching their destinations. This has apparently led to speculations of induction of additional forces," an official in the home ministry, who did not want to be named, said.
Nearly 85,000 troops of the paramilitary - the Central Reserve Police Force (CRPF), Border Security Force (BSF), Sashastra Seema Bal (SSB) - are deployed in Jammu and Kashmir.
According to counter-terrorism operatives, there are a total of 300 terrorists in the valley currently, of which 115 are of Pakistani or Afghan nationality.
The focus of security agencies is to not allow these numbers to go up by stopping replenishment from across the border and putting an end to the recruitment of local young men in South Kashmir.
According to experts, terrorists in Kashmir are increasingly using vehicle-borne IEDs, or VIEDs, given the fact that the hardcore cadre strength of JeM has been culled to a mere 50-odd while the cadre strength of the Lashkar-e-Taiba, another Pakistan-based terrorist group, in Kashmir is around 30-40.
"The VIED gives total deniability to both Pakistan-based groups though in these cases the group behind the attacks is Jaish. Rather than lose trained terrorists to Indian security forces, the best option is to pack explosive into a stationary car and leave it on rural roads with timed explosion. It is an act of desperation to survive and continue jihad against India," a senior J& K police officer told HT earlier.