Life term until death to Father Aind, five others, in Khunti gang rape case
Hindustan Times, Ranchi |
Bedanti Saran
May 18, 2019 03:06 AM IST
The incident hit the national headlines on June 19, 2018, when five anti-human trafficking activists, engaged with an NGO supported by a Christian missionary, were abducted by motor-cycle borne armed men while they were performing street corner play
A local court in Khunti on Friday awarded life term until death to Father Alphonse Aind, a member of a missionary institution, and five others held guilty in the infamous Kochang gang rape incident occurred last year in the district.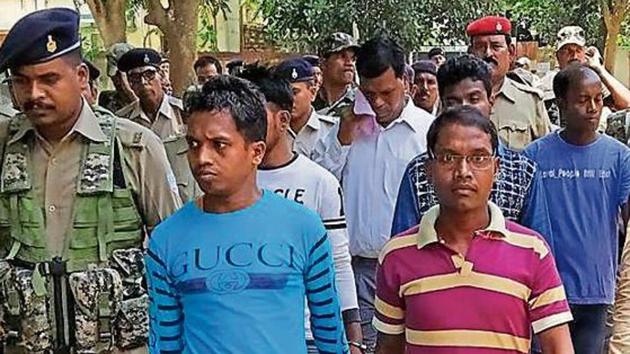 The incident hit the national headlines on June 19, 2018, when five anti-human trafficking activists, engaged with an NGO supported by a Christian missionary, were abducted by motor-cycle borne armed men while they were performing street corner play (Nukkad-Natak) at RC Mission School in Khunti's Kochang block, about 90 kms from the state capital. They were taken to a nearby forested area where the abductors raped them, video-graphed the carnal act and forced the victims to drink urine.
The court of additional district and sessions judge Rajesh Kumar sentenced life imprisonment until death to Fr Aind and other five accused – Baji Samad alias Takla, Ajub Sandi Tirkey, Junas Mundu, John Jonas Tiru and Balram Samad – after holding them guilty under Section 376 D (gang rape) read with section 120 (B) (conspiracy) and other sections of the Indian Penal Code.
The court also slapped ₹2 lakh fine on each of the convicts that would be paid to the victims. It asked the district legal services authority to take steps for payment of the compensation to the victims as the guidelines of the Supreme Court.
Delivering a 204 page judgment, the court observed that the heinous crime was perpetrated not to satiate the sexual lust. Worst that it was done under a triangular pact to take revenge from the innocent women, who dared to venture in a Pathalgadi village (a village which declared its gram sabha supreme and rejected the authorities of democratic government) to spread awareness against the evil practice of human trafficking, the court said.
Categorical evidences against each of the accused, one of them was a member of a missionary institution, three were members of rebel outfit People's Liberation Front of India (PLFI) and two were Pathalgadi leaders, were presented that proved the nexus between them, the court said in its judgment.
The case relates to the FIR registered with the women police station in Khunti.
According to the police, Fr Aind of the RC Mission School, from where the women were abducted, was accused of hatching conspiracy and not reporting/informing the police about girls' abduction and subsequent rape. It was alleged that when the miscreants raided the school premises and were abducting the girls, Fr. Aind had intervened and got the two nuns associated with the school released and asked the victims to go with them.
The police had submitted charge sheet in September last year and trial was commenced on October 24, the same year. The court recorded testimonies of as many as 19 prosecution witnesses and three defense witnesses during the trial.