Lingayat controversy: Don't divide Hindus, says RSS chief Mohan Bhagwat
The Congress government in Karnataka, earlier this month, granted separate religion status to the Linagayat and Veerashaiva communities.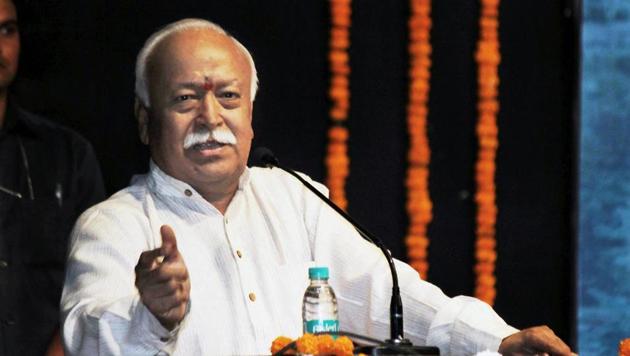 Updated on Mar 30, 2018 10:02 PM IST
Rashtriya Swayamsevak Sangh (RSS) chief Mohan Bhagwat on Friday criticised what he said were attempts to divide the Hindu community, in an apparent reference to the Congress-led Karnataka government's move to grant separate religion status to Lingayat and Veerashaiva communities.
Without naming the Congress and Karnataka chief minister Siddaramaiah, Bhagwat said a section of the people with "devil thinking" were trying to divide the Hindu community.
"We should oppose such designs tooth and nail and ensure that our great religion does not succumb to such designs at any cost," he said.
Read | Minority status for Lingayats: Who they are and how they affect Karnataka elections
Earlier this month, the Siddaramaiah-led Karnataka cabinet approved minority status for the Lingayat and Veerashaiva community, days after accepting the suggestions of the Nagamohan Das committee. The state government subsequently wrote to the Centre recommending the official recognition of the two communities as religious minorities.
Bhagwat was speaking at a valedictory function of the Hindu Dharma Sanskruti Mandir in Nagpur on Thursday evening.
"Religion is a path that one follows which should be respected by other faiths too. But 'dharma' is the element that binds humanity in entirety which augurs well for building a strong society," said Bhagwat.
Praising the work of the Hindu Dharma Sanskruti Mandir, he insisted that there is a need to establish such organisations in all states across the country to make people aware about the 'Dharma' and 'Sanskruti' of India.
Close Story