4,000-km long padayatra, a chance to Lokesh to prove calibre
Jan 27, 2023 08:24 AM IST
Christened as "Yuva Galam" (voice of youth), the padayatra would cover over 150 out of 175 assembly constituencies across the length and breadth of Andhra Pradesh and end up at Ichapuram in Srikakulam district over a period of 400 days.
Telugu Desam Party general secretary and party president N Chandrababu Naidu's son Nara Lokesh will be facing a challenging task to prove himself as a leader of calibre, as he embarks on a marathon 4,000-km-long padayatra (foot march) starting Friday.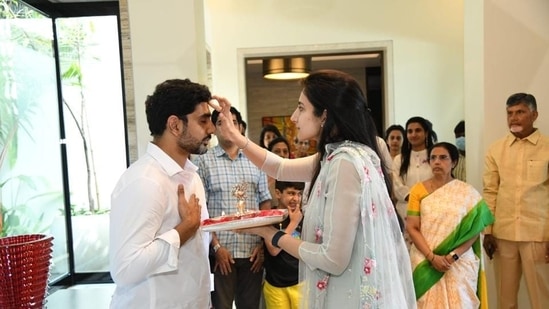 After taking blessings of his parents and paying floral tributes to his grandfather and TDP-founder late N T Rama Rao at NTR Ghat at Tank Bund on Wednesday, Lokesh flew down to Kadapa where he performed special prayers at the famous "pedda dargah", Lord Lakshmi Venkateshwara temple and Roman Catholic Church at Mariyapuram. He had the darshan of Lord Venkateshwara at Tirumala in the early hours of Thursday before going to Kuppam.
"The TDP general secretary would begin his padayatra from Kuppam, the native constituency of his father Chandrababu Naidu on Friday morning," a TDP official release said.
Christened as "Yuva Galam" (voice of youth), the padayatra would cover over 150 out of 175 assembly constituencies across the length and breadth of Andhra Pradesh and end up at Ichapuram in Srikakulam district over a period of 400 days.
"The padayatra will conclude ahead of the assembly elections in the state scheduled early next year," TDP politburo member Varla Ramaiah said.
A chance to prove his leadership qualities
It has been nearly 10 years since Lokesh entered active politics in Andhra Pradesh, but till date, he has not got a chance to prove his leadership abilities. Though he had headed the youth wing of the TDP and later became the general secretary of the party, he has not got the acknowledgement as a strong leader in the party.
"Unlike Chandrababu Naidu, who has been a shrewd politician and a successful chief minister for over 14 years, Lokesh has never been a mass leader and so, doesn't have the acceptability among the common people, at least till now. All these days, he has been basking in the glory of his grandfather late NTR and father. His leadership credentials are highly disappointing to say the least," says political analyst Ramu Suravajjula.
Secondly, Lokesh's electoral record is disappointing, as he has never won an electoral battle. He directly became a minister in his father's cabinet and later nominated to the state legislative council under the MLAs' quota. He fought his first election in 2019 from Mangalagiri assembly constituency but lost to YSR Congress party candidate Alla Ramakrishna Reddy with a considerable margin.
That turned out to be a big negative factor for Lokesh. Obviously, his electoral debacle has given an opportunity to his detractors, particularly the YSR Congress party leaders, to run him down by coining sobriquets like "Chitti Naidu" and "Pappu Naidu."
"Lokesh is a failed politician. He is more than a sarpanch, but less than an MLA. Nobody takes him seriously. If he thinks people will throng him to see during the padayatra, he is mistaken," says YSRC leader and state minister for tourism R K Roja, who often refers to Lokesh as "Pappu Naidu."
Survajjula says Lokesh doesn't have the mass appeal, unlike his contemporaries like K T Rama Rao, who proved himself an able successor of his father – Bharat Rashtra Samithi president and Telangana chief minister K Chandrasekhar Rao -- or for that matter Y S Jagan Mohan Reddy, who carries the legacy of his father Y S Rajasekhar Reddy, and floated a new regional party and catapulted to power within seven years.
"The biggest drawback for Lokesh is that he lacks oratory skills to attract masses, unlike his father. He has to struggle hard to prove himself and the present padayatra might as well give him such an opportunity to hone his skills as a leader," Survajjula said.
He is of the view that the padayatra might attract people because of the prevailing political situation. "Anti-incumbency factor and the TDP cadre's do or die situation will come in handy for him," he said.
Suravajjula, however, says Lokesh should appoint a set of good content providers rather than relying on off-the-cuff remarks. He should do proper homework during the yatra.
A senior TDP leader, who preferred anonymity, said many party leaders, particularly seniors, are still sceptical about Lokesh padayatra and its impact on the party prospects in the next elections. "We are not able to say whether Lokesh padayatra will turn around the fortunes of the party or turn out to be a negative factor for the party," he said.
He pointed out that it was obvious that by encouraging Lokesh to take up the padayatra, Naidu wants to promote his son as his heir apparent in the party. "At the same time, Naidu is keen on having an electoral alliance with Jana Sena party headed by popular actor Pawan Kalyan, who is also nurturing the ambitions of becoming the chief minister. It may lead to conflict of interests," he said.
Suravajjula agrees with this viewpoint. "Naidu promoting his son may not be taken kindly by Pawan Kalyan, who is also going to launch his own yatra shortly. The equations between the two parties might depend on the people's response to their respective yatras," he added.