Latest from n chandrababu naidu
'I have fought many opponents in the 40 years of my public life. But what we're facing today is unprecedented, be it corruption, misuse of power and victimisation of the people and the political class opposed to Jaganmohan Reddy'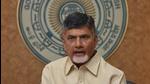 By
Vinod Sharma
, Hindustan Times, New Delhi
"Yes, Chandrababu Naidu's condition, and that he is in frustration, is known not only to me, but also to everyone in the state," Jagan said.

TDP spokesperson K Pttabhi Ram earlier in the morning, objecting to police notices to former minister Nakka Ananda Babu, made caustic remarks against Jagan Mohan Reddy.

Kuppam gram panchayat is represented by former chief minister N Chandrababu Naidu.