Mani Shankar Aiyar, Karan Thapar play the devil's advocate at Khushwant Singh Lit Fest
In keeping with the fest's theme, the strength of the nari (woman), Aiyar decided to focus the session on the prominent women Thapar knew and interviewed.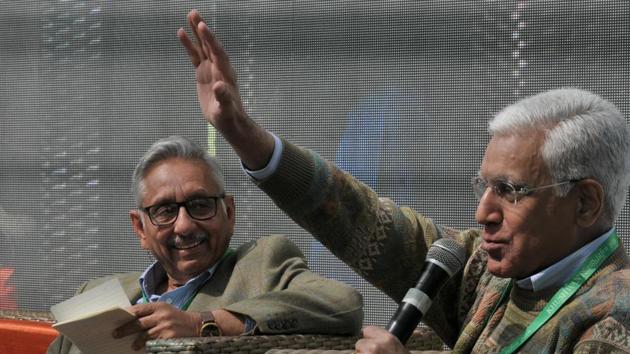 Updated on Oct 14, 2018 10:02 AM IST
Hindustan Times, Kasauli |
, Kasuali
Aishwarya Khosla
On the second day of the Khushwant Singh Literary Festival, the audience at Kasauli on a chilly morning was ruddy-faced with laughter as diplomat-turned-politician Mani Shankar Aiyar played the devil's advocate to political interviewer and columnist Karan Thapar.
Taking a leaf out of Thapar's book, Aiyar turned on the heat as Thapar sat on the hot seat. A witty repartee ensued.
In keeping with the fest's theme, the strength of the nari (woman), Aiyar decided to focus the session on the prominent women Thapar knew and interviewed.
Benazir Bhutto
Thapar's association with the former Pakistan prime minister Benazir Bhutto dates back to their student days in England. The two first met in 1977 when Thapar was the vice-president of the Cambridge Union Society at that time and Benazir was the treasurer of its Oxford counterpart. It so happened that in 1976, before her father's election fell, they happened to be on the opposite sides of a debate. Benazir proposed the motion, "This house would have sex before marriage." Indeed, this was dangerous territory for an aspiring Pakistani politician to tread on but Benazir wasn't one to be cowed down. In an attempt to ruffle her, Karan said, "I see, madam, you are proposing sex before marriage. Would you care to practise what you preach?" Benazir waited for the thundering applause that followed to subside, swivelled her chair and removing her spectacles, promptly said, "Certainly, but not with you."
Jaya Bachchan
Aiyar took Thapar to task about the time he embarrassed Jaya Bachchan. Taking a stray remark by actor Amitabh Bachchan about American actor Warren Beatty, who had recently been pointedly interviewed about the ladies in his life, as an invitation to use the same tactics on him, he went on to question Amitabh about his affairs with Rekha and Parveen Babi. Amitabh categorically denied the allegations. Undeterred, Thapar turned to Jaya, who was sitting behind the scenes, and brazenly asked her, "Do you believe him?" Taking a long hard look at her husband, she replied, "I always believe my husband."
Later, Thapar was invited to stay at lunch but unfortunately Amitabh's volcanic anger at being probed in such a brusque way was displaced onto Jaya. He made apparent his displeasure over being offered rice instead of chapattis by thundering at Jaya.
Jayalalithaa
Aiyar went on to grill Thapar about his bullying tactics and questioned him about not allowing BJP leader LK Advani and former Tamil Nadu chief minister Jayalalithaa to re-record parts of their interviews. He also asked that since he had made a conscious decision to take a hard stance based on "a manufactured principal of journalistic integrity", why was he now ruing not getting any interviews? Thapar allowed that he could have been a bit more mature about it.
Battle of wits
Aiyar: Karan, you had said I was the best interviewee you ever had. Why am I not in your book?
Thapar: As nice as you are Mani, you are not a woman.
Aiyar: Why are you not seen on TV anymore?
Thapar: The BJP government has decided to forsake me.
Aiyar (amid laughter): So you're waiting for us to win.
Aiyar: Let me do a Karan Thapar and interrupt you.
(When woman from audience raises hand to ask question) Aiyar: I hope you put him on the mat.
Aiyar: You steal politicians of their honour despite being glib on some subjects.
Thapar: Speaking glibly has stood me a great stead in life.
Close Story
Personalise your news feed. Follow trending topics