Manipur rights activist Nepram alleges police intimidation, tweets up a storm
May 13, 2017 08:51 PM IST
A heavily armed group of Manipur police personnel reportedly landed at her parents' Imphal residence on Friday, a day after she tweeted on a road-rage case involving chief minister N Biren Singh's son.
A prominent human rights activist from Manipur has accused the state police of using intimidation tactics to prevent her from helping victims of rights abuse.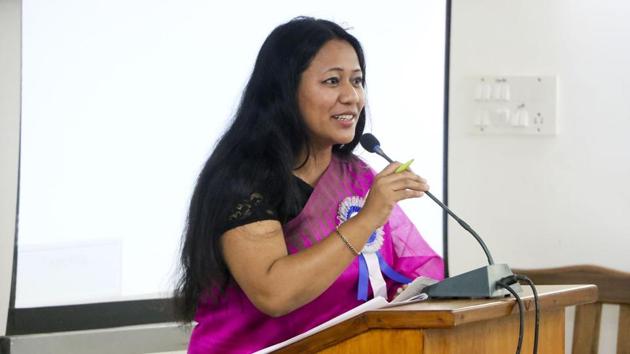 "A heavily armed group of Manipur police personnel landed at my parents' Imphal house around 1.30 pm on Friday. I was away, but my 87-year-old father and 84-year-old mother were badly shaken by the incident," Binalakshmi Nepram told HT.
Stay tuned with breaking news on HT Channel on Facebook.
Join Now
Nepram is the founder of the Manipur Women Gun Survivors Network, an NGO that works for female survivors of violence. She is also the convenor of the Northeast India Women Initiative for Peace.
The activist said the police were trying to prevent her from providing relief and legal assistance to victims of rights violations by state forces. "This is a clear case of threatening and intimidating a rights activist. We have been working with survivors for so many years, but this is the first instance of the state police force harassing us," she added.
The incident comes days after a Supreme Court lawyer received death threats from an underground outfit for representing the family of a student allegedly killed by Ajay Meetei, son of Manipur chief minister N Biren Singh, in an incident of road rage. "Very sad what's happening to Manipur now — a mother's fight for justice for her dead son has become a tragic issue about threats/intimidation," Nepram had tweeted on Thursday.
The police team reportedly landed at her parents' residence the next day.
Nepram, however, remains unfazed. "We are not going to be bogged down by such threats. We will continue our work with renewed vigour," Nepram told HT.
She also referred to the incident in a series of tweets addressed to Prime Minister Narendra Modi, Union home minister Rajnath Singh and his deputy Kiren Rijiju on Saturday morning. "Manipur police should not be used by some corrupt politicians to cover crimes committed by them/their families," one of them read.
Efforts to contact senior police officers for their version of the incident went in vain.