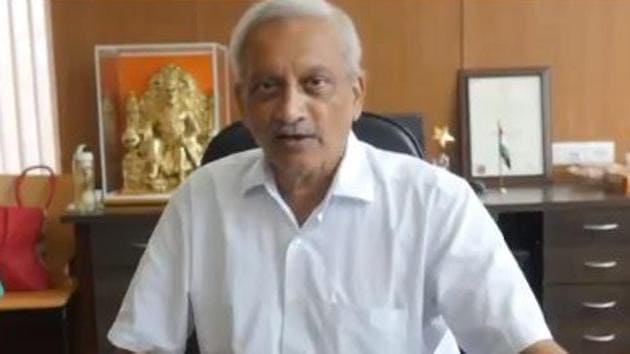 Goa CM Manohar Parrikar attends first official event since returning from US
Sixty-two-year-old Parrikar returned from the US last week after undergoing medical treatment for a pancreatic ailment for three months.
UPDATED ON JUN 18, 2018 06:14 PM IST
Making his first appearance at an official event following his return from the US, chief minister Manohar Parrikar on Monday attended a function to mark the Goa Republic Day in Panaji.
The chief minister, who returned to Goa on Thursday evening after receiving medical treatment in the US for three months, walked without any support at the function at Azad Maidan.
He received Governor Mridula Sinha, remained present throughout the one-hour-long function and also walked on wet ground to offer flowers at the memorial of martyrs of the Goa liberation struggle.
In his two-minute speech, however, his voice showed weakness and exhaustion.
Freedom fighter Ram Manohar Lohia had given a call for a fight against the Portuguese regime on this day in 1946.
Parrikar (62) was admitted to a local hospital in February for stomach pain and was diagnosed with a pancreatic ailment. He flew to the US for treatment in the fist week of March.
Upon return, he resumed work the very next day.
He held a meeting with chief secretary Dharmendra Sharma and principal secretary to the chief minister P Krishnamurthy on Friday.
Before that he visited the Devki Krishna Temple and the Mahalaxmi Temple.
He also announced a cabinet meeting on Monday and a tentative schedule of the monsoon session.
Sources close to the chief minister said he has cut down on activity, doesn't speak for long and avoids physical exhaustion.
Officials had earlier said that he would avoid public interactions, but he held a meeting of the BJP's Panaji unit on Saturday and interacted with over 30 senior party workers.
While Parrikar's immediate resumption of work won him praise on social media, cabinet colleague Vijay Sardesai advised him to take it easy.
"He is all raring to go. The go-getter spirit in him is not letting him take rest. But I advised him to take it easy," said Sardesai, chief of the Goa Forward Party.
"Parrikar has a huge willpower. It is this power which got him back recovered from the US," he said.
"Infections spread during monsoon. He should be cautious as it can affect his health," Sardesai said.
Goa BJP chief Vinay Tendulkar said Parrikar's return has cheered up party workers.
"He should take care of his health. But knowing Parrikar, it is difficult to expect him to go slow. He has got Goa in his heart," Tendulkar said.
(This story has been published from a wire agency feed without modifications to the text. Only the headline has been changed.)
Close