AIADMK merger on Monday? Party may accept OPS camp demand to sack Sasikala
Party's general council set to meet on Monday, may formalise Sasikala's ouster to meet precondition set by former chief minister O Panneerselvam for merger.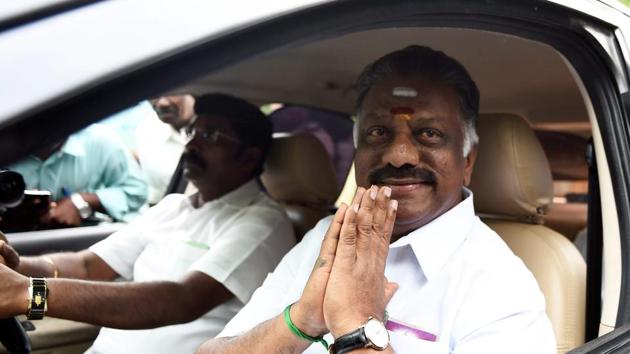 Updated on Aug 20, 2017 11:11 PM IST
Hindustan Times, Chennai |
KV Lakshmana
Tamil Nadu's ruling AIADMK is likely to sack its general secretary Sasikala on Monday to merge with a breakaway faction led by former chief minister O Paneerselvam, according to sources.
The AIADMK will hold a crucial meeting on Monday where it may complete talks of a merger between two factions that formed following a dramatic succession war triggered by the death of party matriarch J Jayalalithaa late last year.
Sources said AIADMK's leaders will meet on Monday and pass a resolution to scrap the appointment of Sasikala — who briefly wrested control of the Dravidian party before she was imprisoned over corruption — as the party's general secretary. Her ouster is one of the conditions that breakaway faction's leader O Pannerselvam (OPS) has set to agree to a merger with the party.
"Proposal to make Dinakaran's appointment as deputy general secretary illegal is also likely to be ratified by the crucial AIDAMK meet tomorrow," the sources said on Sunday.
The merger could be announced by Monday evening.
Sasikala was considered close to Jayalalithaa, who died in December. OPS too was one of Jayalalithaa's trusted lieutenants.
Since Sasikala was convicted in a disproportionate assets case and sent to prison in February, the government and party has been largely controlled by E Palaniswami (EPS), who has indicated a patch-up with the OPS faction in recent weeks.
On Saturday, EPS, the chief minister, said the merger between the two factions will happen as soon as some issues are ironed out. OPS too said the two factions were on the verge of patching up.
The process was held up by some "issues", which include Sasikala's formal ouster from the party and the appointment of some OPS camp members to key ministerial posts.
Sources said on Friday that the chances of OPS being made the deputy chief minister and being given the important finance portfolio were bright.
Sasikala's nephew Dinakaran, who was recently sacked by chief minister from a party post, has threatened to activate "sleeper cells" and destabilise the party and government.
Dinakaran's supporter Najil Sampath, a member of AIADMK's ruling faction, blamed the BJP for the political game in Tamil Nadu and said that it would fail in its efforts.
Close Story