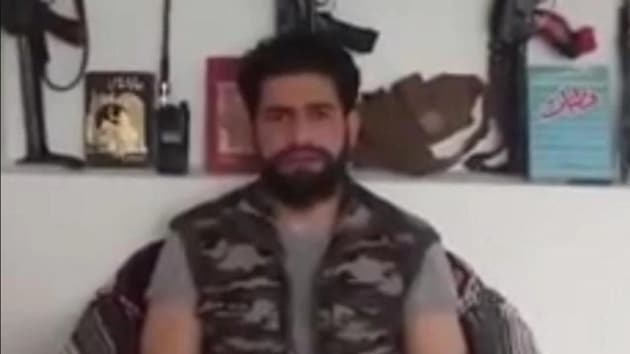 Militant leader Zakir Musa named al-Qaeda commander in Kashmir
The announcement, made by an Al-Qaeda-affiliated propaganda channel, represents the first time a major international militant group has declared its presence in Kashmir.
UPDATED ON JUL 27, 2017 10:54 PM IST
Zakir Musa, one of the most prominent faces of the Kashmir militancy, has been named by the al-Qaeda as the head of its first branch in the Valley, according to The Guardian.
The announcement, made by an al-Qaeda-affiliated propaganda channel, represents the first time a major international militant group has declared its presence in Kashmir, which saw one of its worst periods of violence since the last year.
According to the Guardian, the Global Islamic Media Front said the cell will be called Ansar Ghazwat-Ul-Hind and it was set up as a step "taken after Burhan Wani's death''.
Jammu and Kashmir director general of police, SP Vaid confirmed the announcement by the social media cell of the militancy group. "Something has come on social media, we are looking into the matter,'' he told Hindustan Times.
"This is a first but for us it doesn't change anything... For us a terrorist is a terrorist, no matter what organisation he belongs to," Vaid said.
So far, Kashmir police has denied the presence of any international terror outfits, be it Al-Qaeda or the Islamic State, the flag of which was often used by stone-pelting protesters in the Valley
Not welcome, says Hizbul Mujahideen
Musa, who was regarded as being close to Wani and belonged to the same outfit Hizbul Mujahideen, has been an advocate of establishing Islamic law — Sharia — in Kashmir.
Hours after the Qaeda announcement, Syed Salahuddin — the current leader of Hizbul and the head of United Jihad Council — said, "there is no scope or room for any international organisations like Daesh (Islamic State) and Al Qaeda, we don't need them nor is there any necessity for their presence".
The UJC is an umbrella body of militant organisations in Kashmir.
"We fight for azadi and Islam. We denounce those who are creating hurdles and misguide people in the name of sharia and sahadat," Salahuddin said, alleging that groups like Qaeda are harming the "freedom" movement.
Musa broke away from the Hizbul Mujahideen on May 14, a week after he drew criticism from within for calling for the beheading Hurriyat leaders. Since his exit, he has advocated for "sharia or sahadat (establishing Islamic rule or attaining martyrdom)". His comments against the Hurriyat leaders – seen as the political face of the Kashmiri separatism – came after they said the "struggle in Kashmir has nothing to do with ISIS and al-Qaeda".
Before his falling out with Hizbul leadership, which is based in Pakistan, Musa reportedly held the reins of the group after the killing of Wani by security forces last year. Wani's death sparked violence that lasted for months, leading to the deaths of at least 100 civilians.
Musa is in his early twenties, and studied engineering at a college in Chandigarh before he took up arms against the Indian administration. He belongs to an educated family as his father is an engineer and brother an orthopaedic surgeon at a Srinagar hospital.
Close