Govt plans to evacuate 10,000 laid off Indians in Saudi amid food crisis
Hindustan Times |
, New Delhi
HT Correspondent
Jul 31, 2016 10:28 PM IST
The Indian consulate and community in Saudi Arabia distributed food on Saturday night among Indians who lost their job and were on the brink of starvation on the foreign soil.
The government is considering evacuating about 10,000 Indian workers laid off in Saudi Arabia and Kuwait, who are grappling with hunger as they have little money to buy food, let alone for tickets home.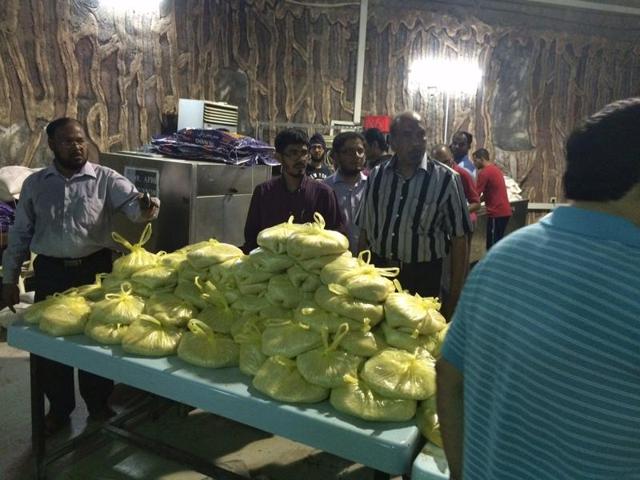 Foreign minister Sushma Swaraj said the condition in Saudi Arabia was worse and the government had asked the consulate in Riyadh to provide free ration to the unemployed Indians.
Sources said a decision on airlifting the stranded workers will be taken after junior foreign minister VK Singh visits the west Asian kingdom, possibly next week.
"Thankful dat Saudi authorities hv assured @IndianEmbRiyadh Exit visas of our Indian workers will be processed Wage claims will be registered," tweeted MJ Akbar, the second junior minister in the external affairs ministry.
The consulate in Jeddah distributed more than 15,000kg of food to their distressed countrymen over the past three days in association with the Indian community.
"Necessary assistance continues to be provided to our distressed citizens with the heartening support of Indian community in Saudi Arabia," Akbar tweeted.
The crisis happened after low oil prices have forced the Saudi government to slash spending, putting pressure on the finances of local construction firms which rely on state contracts. As a result, struggling companies laid off thousands of foreign workers, leaving many with no money.
The Saudi government says it investigates any complaints of companies not paying wages and if necessary, obliges them to do so with fines and other penalties.
India has a history of evacuating its nationals from Gulf countries, mostly from conflict zones — more than 175,000 people during the Kuwait war, and about 6,000 people from war-torn Yemen recently.
But this will be the first time an economic crisis may force the government to explore the option.
The government is facing political expediency in the current crisis. Many of the jobless workers are from Uttar Pradesh, where the BJP is making a concerted effort to win the 2017 state elections. A sizeable number is from Rajasthan, a BJP-ruled state.
"Large number of Indians have lost their jobs in Saudi Arabia and Kuwait. The employers have not paid wages closed down their factories. As a result our brothers and sisters in Saudi Arabia and Kuwait are facing extreme hardship," foreign minister Swaraj tweeted.
The hardships faced by Indian migrants are often exacerbated by the illegal ways agents employ to hire them. Oil-rich Saudi Arabia has often been criticised for human rights violations and difficult working conditions for migrant workers, a charge its government denies.
The kingdom has the largest number of Indian passport-holders outside India, and most of them are employed as blue-collar workers.
(With agency inputs)