Modi govt messed up economy, mismanaged Jammu and Kashmir dispute: Manmohan Singh at Congress plenary
Former Prime Minister Manmohan Singh accused the NDA govt of having "messed up" the economy and mismanaging the dispute in Jammu and Kashmir.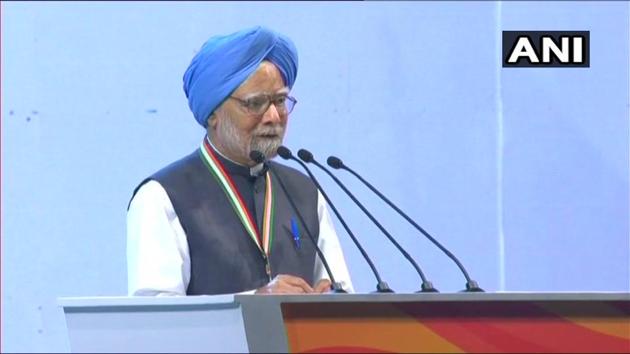 Updated on Mar 18, 2018 01:32 PM IST
The Congress on Sunday accused the Modi government of mismanaging the Kashmir dispute, messing up the economy and following a foreign policy that was "personalised, confused and bereft of focus and direction".
On the second day of its 84th plenary session, the Opposition kept up its attack on Prime Minister Narendra Modi, with his predecessor Manmohan Singh questioning the government's economic policies.
"Modi said farmers' income will be doubled in six years, it is a jumla-type statement unlikely to be achieved," Singh said, as he expressed doubts over the government's key agrarian agenda of doubling farmers' income by 2020.
Singh again came down hard on the government over its demonetisation decision and "hurried" implementation of the goods and services tax (GST). "The BJP-led government messed up the Indian economy. The ill-considered demonetisation and hastily implemented GST have destroyed small-scale enterprises," said Singh, who is widely credited with opening up the Indian economy as the finance minister.
The 85-year-old Congress leader was also critical of the government's handling of Kashmir. "The government mismanaged the Jammu and Kashmir dispute like never before. The atmosphere in the state has been deteriorating day by day," he said.
The criticism came a few hours after five civilians were killed in Pakistani firing along the line of control in Jammu's Balakote.
Singh said the UPA government, which he led from 2004 to 2014, could achieve a lot because of Sonia Gandhi's guidance. Sonia Gandhi, who stepped down as the Congress president in December, continues to be the chairperson of the much-depleted United Progressive Alliance.
The party also attacked Modi for pursuing a "personalised foreign policy", saying it was "confused and bereft of focus and direction".
Modi's tendency to disparage his predecessors and diminish India's achievements since Independence had undercut the country's credibility abroad, it said.
"It is not an insult to the Congress party or its leaders, but an insult to the nation," senior party leader Anand Sharma said while moving a resolution on foreign policy.
"The government is carried away by its own propaganda, and has mismanaged India's relations with major partner countries. Its foreign policy is confused and bereft of focus and direction."
"The Prime Minister was pursuing a personalised foreign policy. The foreign policy engagements and (Modi's) visits abroad had been reduced to "being purely transactional".
The official Indian speeches omitted all mention of Jawaharlal Nehru's and India's contributions to the Non-Aligned Movement, it said.
In a rapidly changing and uncertain global landscape, national security strategy should be carefully crafted, the resolution said.
(With agency inputs)
Close Story
Personalise your news feed. Follow trending topics