Modi likely to speak on economy at BJP national executive meet that begins on Monday
Updated on Sep 24, 2017 07:49 AM IST
Prime Minister Narendra Modi may seek to dispel concerns over the state of economy and lay down his government's economic and political agenda as a two-day BJP national executive meet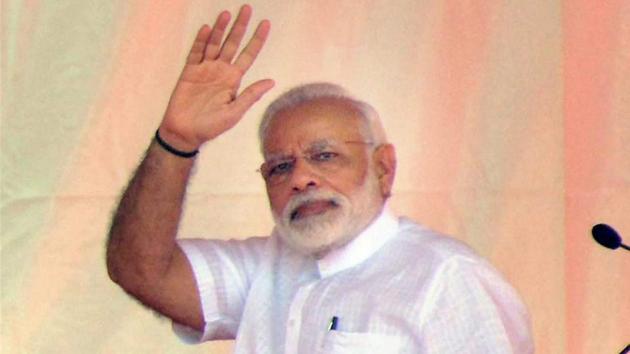 Hindustan Times, New Delhi |
HT Correspondent
The BJP's conclave in New Delhi on Monday will seek to dismiss apprehensions about the state of the economy and reaffirm its commitment to the welfare of the poor and deprived social groups.
More than 2,000 BJP leaders, including MPs and MLAs, will attend an extended meeting of the party's national executive in New Delhi on Monday, the birth anniversary of Sangh ideologue Deendayal Upadhyaya.
The party is likely to adopt a resolution reposing faith in the government for taking "bold decisions" such as recall of high value currency notes and roll out of the Goods and Services Tax, which have been criticised by the Opposition.
Former Prime Minister Manmohan Singh recently suggested the two decisions adversely affected India's gross domestic product figures.
The GDP growth slid for the sixth quarter in a row to hit a three-year low at 5.7% in the June quarter.
However, BJP chief Amit Shah attributed the slowdown to "technical reasons", while finance minister Arun Jaitley said last week that the government was looking for ways to lift economic growth.
BJP sources said the resolution was likely to reiterate that the impact of GST and note ban on growth will be for a brief period and GDP figures will soon become robust.
Prime Minister Narendra Modi, who will deliver the concluding speech at the event, is also likely to touch on these points. He may also address concerns about fewer jobs.
The executive meeting of the ruling party comes ahead of the assembly elections in Gujarat and Himachal Pradesh, where the BJP has set ambitious targets. The party will reiterate its commitment to welfare of the poor and marginalised sections of society, a new vote base that it has tried to build.
At its national council meeting in Kozhikode last September, the BJP had announced that it will observe the birth centenary year of Deendayal Upadhayaya as Garib Kalyan Varsh (year for the welfare of poor).
The celebration comes to end on Monday and the party will review the activities it undertook last year to reach out through programmes such as free LPG to BPL families and loans for Scheduled Castes.