Modi asks BJP to start dialogue on triple talaq
At the BJP's national executive meet, Prime Minister Narendra Modi called on party members to reach out to the Muslim community through dialogue and work towards their empowerment.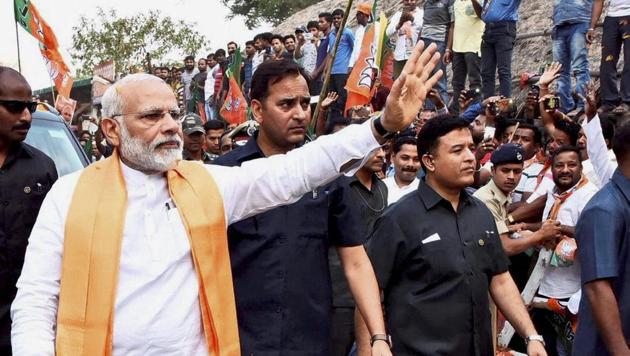 Updated on Apr 17, 2017 07:51 AM IST
Prime Minister Narendra Modi on Sunday sought to expand his OBC outreach by asking party colleagues to attend to weaker segments within the Muslim community and push for resolution of such issues as triple talaq through dialogue, and not conflict.
He spoke on triple talaq in his concluding address at the BJP's national executive meeting while his remarks on backward Muslims were made in an intervention during the discussion on a resolution that hailed him for providing constitutional status to the National Commission for Backward Classes.
Last week, the lower house of parliament passed a legislation making the NCBC a constitutional body, making its decisions on inclusion or exclusion of a caste in the OBC list binding on governments and all government-run entities. So far, the NCBC has worked in an advisory role. "An empowered OBC commission will benefit backward community, including Muslims. We must reach out to backward Muslims," Modi said.
However, the NDA government's proposal has yet to take shape because opposition parties have stalled its passage in parliament's upper house, the Rajya Sabha, where the ruling coalition lacks majority.
Sunday's resolution at the national executive of BJP also reaffirmed Modi's commitment towards building a "society of equal opportunities" where nobody would be treated as "inferior".
"Justice needs to be delivered to every citizen without any bias or prejudice," it read. "Party workers should... make efforts towards making backwards aware about their constitutional and legal rights."
On triple talaq, Modi told BJP leaders: "Sangharsh nahi samjaha kar samajik parivartan lana hai (We have to bring social change through dialogue not conflict)." Modi asked workers to stand by Muslim women who want to fight the practice of triple talaq, saying dignity is guaranteed to all under the constitution.
The Modi government has, through an affidavit in the Supreme Court, supported a ban on triple talaq, much to the displeasure of the All Indian Muslim Personal Law Board. The government position on triple talaq has been that it denies Muslim women the basic fundamental rights and leads to their exploitation.
The two-day executive meeting didn't delve much into economic issues and challenges facing the country, although the PM reiterated his vision of a "new India" and asked BJP leaders to prepare for a "long jump" to achieve socio-economic development on the pillars of social justice to change the tide of history.
Social justice is the new mantra of the BJP, which helped it win Uttar Pradesh with a two-thirds majority. The BJP's concept of social justice includes its effort to shed a pro-upper caste tag, build a new constituency among the most backward communities through their political empowerment, and a series of pro-poor policies under its government. "Poor was the main plank for the Congress under Indira Gandhi. Today, that plank has shifted to the BJP," HRD minister Prakash Javadekar told reporters on the sidelines of the meeting.
Close Story