Modi told me to shut up when I asked questions, says Maharashtra BJP MP
Sep 02, 2017 10:53 PM IST
Remarks by Nana Patole, Lok Sabha member from Gondia-Bhandara, are the first instance of a sitting BJP parliamentarian hitting out at the Prime Minister in this manner
A BJP Lok Sabha member from Maharashtra said Narendra Modi does not like being questioned on the government's plans from his own party colleagues, the first time a sitting parliamentarian from the party has openly criticised the Prime Minister.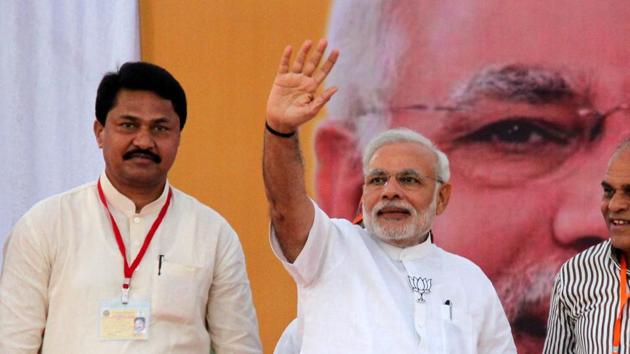 Nana Patole, MP from Gondia-Bhandara, launched a salvo at the PM during a function on Friday where he said Modi once got angry at him for raising issues such as problems being faced by farmers during a meeting of parliamentarians.
In the meeting, he said, he had made suggestions such as raising green tax, increasing centre's investment in agriculture sector and creating an OBC ministry but instead of appreciating his suggestions, Modi got angry and asked him to shut up.
"When the Prime minister is asked questions, he asks you if you have read the party manifesto and are aware of various government schemes," he said.
Patole is seen to be unhappy with the party for "hobnobbing" with the senior NCP leader Praful Patel, his arch-rival in the region. A former Congress legislator, he joined the BJP during the 2014 general elections and defeated Patel from Gondia-Bhandara constituency.
The state BJP chief did not comment on Patole's statements, maintaining that any action against the MP would need to come from the central leadership of the party.
Defending his outburst, Patole said on Saturday, "I know that I am in the hit list of the party. But I hardly bother about it. I am not scared of anyone. I did not wish to be a minister because the union ministers live in a state of fear."
In his tirade the day before, Patole was unsparing in his criticism of not just Modi but also chief minister Devendra Fadavis.
He said Fadnavis had failed to handle mass protests by farmers properly, and did not pursue the matter with the union government effectively.
"Lot of irrigation projects in backward Vidarbha region were pending because of lack of funds. But the state government miserably failed to pursue the issue with the union government," he said.
He added that only Nagpur, Fadnavis's constituency, gets funding.
"When Nagpur is getting a metro rail and new industries, waters of Bhandara and neighbouring areas were being polluted."
Justifying the statements, Sanjay Pugalia, a trusted lieutenant of Patole, said that whatever the BJP leader said was the harsh reality that no one from within the party wants to say it in public.
But Sudhir Munganttiwar, a senior state minister, disagreed and said he has good experience with Modi. "In fact the Prime Minister Modi gives chances to party workers to speak and he always tries to understand the issue," he added.