More than 40 cases of swine flu reported in Bengaluru
Updated on Oct 08, 2018 07:27 PM IST
More than 207 cases of swine flu were reported across Karnataka in September, 46 of them in Bengaluru in one week.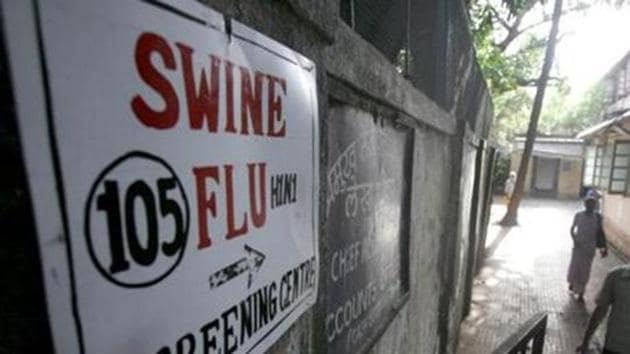 Hindustan Times, Bengaluru |
Sibi Arasu
Health department officials in Karnataka are on a high alert after 207 cases of the H1N1 virus, also known as swine flu, as well as chikungunya and dengue, were reported from across the state, including Bengaluru.
The capital city, especially the Information Technology (IT) corridor in Bengaluru East, has been badly affected with 46 cases of swine flu reported over one week between September 29 to October 5.
"This is the biggest outbreak since September 2015. The virus is already in the community and those who have lost their immunity are particularly susceptible to falling ill," Dr Sunanda Reddy, district surveillance officer (Bengaluru Urban), said.
The highly-contagious respiratory disease is caused by a strain of the influenza A virus and was initially found to have been transmitted to humans from pigs. The first cases of the viral infection were reported in 2009 in Mexico. It spread at a great pace around the world and was referred to as a pandemic then.
Swine flu can sometimes be fatal and its symptoms include a cough, sore throat, fever, headache, nausea and vomiting.
In 2015, nearly 32,000 cases of the H1N1 virus were reported across India, out of which 2,733 were in Karnataka alone. Eighty-two people succumbed to the virus in Karnataka in that year.
"Thankfully, no deaths have been reported this year yet and no new cases have been reported either since last Friday (October 5, 2018)," Reddy said.
Health officials have distributed 150 tablets of the antiviral medication, Tamiflu, across the worst affected areas and city staff is undertaking door to door health surveys as well as awareness campaigns in anganwadis (child care centres) to prevent further incidents of swine flu. Officials said they have surveyed over 3,000 houses across the city so far.
"We have not confirmed yet but many of the affected have travelled to Kerala recently for relief work after the floods. Other reason for the cases might be the recent heavy rains, and poor hygiene in these areas," Dr GA Srinivasa, district health officer (Bengaluru Urban) said.
"We are conducting Information, Education and Communication (IEC) activities across all of Bengaluru and have also reached out to the local media regarding this. We are determined to limit the number of cases," Dr Srinivasa said.
The health officer advised people to take precautionary measures to prevent falling ill.
"It's really very simple but some basic measures such as drinking only hot water, abstaining from eating out, consuming healthy food etc. can go a long way in preventing the virus spreading," he said.
Most of the cases were diagnosed in Columbia Asia Hospital, Manipal Hospital and the Avalahalli CHC.