'Mowgli girl' may not have been raised by monkeys: Experts
The 'mowgli' girl behaved like monkeys, walked on all fours, ate like animals by picking up food with her mouth, and screeched like monkeys to communicate.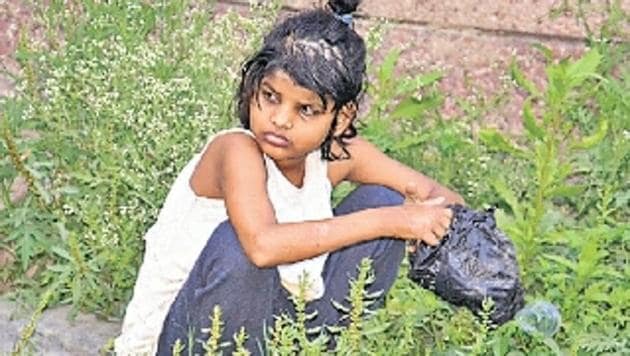 Updated on Apr 08, 2017 11:34 AM IST
Hindustan Times, Bahraich | By Gaurav Saigal and Shariq Rais Siddiqui
The "girl Mowgli" of Uttar Pradesh may not have been brought up by a troop of monkeys, as was previously thought.
The girl, possibly eight, was found abandoned in Katarniyaghat wildlife sanctuary in January. She had matted hair, wounds on her body and was wearing underwear when a forest patrol spotted her.
But she behaved like monkeys — walked on all fours, ate like animals by picking food with her mouth, instead of using her hands. Also, she whooped and screeched like monkeys to communicate.
Her behaviour prompted people to call her "girl Mowgli" — after the wolf-raised boy protagonist of Rudyard Kipling's iconic children's tale The Jungle Book.
"It's not possible that a girl spends years in the forest and no staff or hundreds of cameras installed for security and animal census notice her. She might have been dropped here sometime before being spotted by the patrol team." divisional forest officer Gyan Praksh Singh said on Friday.
The rescuers brought her to Bahraich district hospital on January 25, where she is being treated in an isolation ward.
Paediatrician KK Verma has his doubts that she is a feral child raised by monkeys.
"The girl might have been left in the jungle by her parents because of mental illness. But it was probably not long before police team rescued her. The theory that she was brought up monkeys seems absurd," he said.
Doctors believe she needs psychiatric evaluation and treatment.
Sarbajeet Yadav, the head constable who was in the rescue team, said: "She was found near Khapda forest outpost. There were no monkeys around. She refused to come with us initially, but cold and hunger probably drew her to us."
Ms Mowgli is now named Van Durga, and she has become a celebrity of sorts as droves of people are visiting the hospital to see her.
The girl remains reclusive, hiding under her bed to avoid the curious visitors.
She reluctantly follows instructions of hospital matron M Bhalla and sanitation worker Renu Devi, who have been with her since her first day in hospital.
She mostly eats fruits and chapattis served to patients. She likes biscuits offered by attendants of other patients in the isolation ward.
"Her wounds have healed. No medication is being given now. In these two months, she has also learned to mumble a bit when hungry. Often, she throws a glass to the floor to indicate that she needs water," Renu said.
The girl is learning to be human. Initially she could not differentiate between food and excreta, but now signals with her hands when she is hungry.
"She is now toilet trained, too," Renu said.
Chief medical superintendent DK Singh believes the girl's imitated the monkeys in the forest.
"She might have seen monkeys screaming and eating during her stay in the forest and she imitated this, as any other child of her age will do," he said.
According to experts, the child needs behavioural, communication and intelligence tests that will help determine her mental faculties or if she suffered any trauma or torture.
"Involvement with other children of the same age group can help her," said Pooja Mahour, assistant professor in child psychology, department of psychiatry at the King George's Medical University.
"In case of torture, proper evaluation can reveal if she has undergone psychological trauma."
The girl will be taken to Lucknow on Saturday for psychiatric evaluation and treatment in accordance with a juvenile court order.
Close Story