MP tigress sent to Odisha's Satkosia reserve as part of inter-state relocation drive
Another big cat was sent from Madhya Pradesh's Kanha National Park to the Satkosia Tiger Reserve in Odisha a week ago. It has already been released into the wild.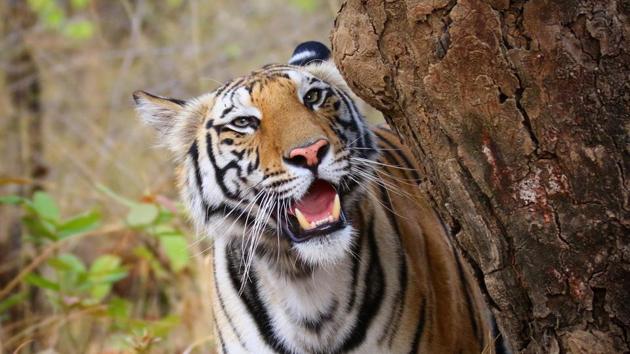 Updated on Jun 28, 2018 03:42 PM IST
Hindustan Times, Bhubaneswar |
Debabrata Mohanty
A week after a three-year-old Bengal tiger called MB-2 was relocated from Madhya Pradesh's Kanha National Park to the Satkosia Tiger Reserve in Odisha, another tigress from Madhya Pradesh has been sent to give it company.
The 27-month-old tigress, called Sundri (T-412), was packed off from the Bandhavgarh tiger reserve in Madhya Pradesh's Umaria district in a special vehicle along with around 30 officials on Wednesday evening. It was expected to reach the Satkosia tiger reserve the following afternoon.
The country's first inter-state tiger relocation drive was launched with the transfer of MB-2 to Satkosia on June 21. Part of a joint project of the Union ministry of environment and forests, National Tiger Conservation Authority and Wildlife Institute of India (WII) in Dehradun, it involves the transfer of six tigers from various reserves across Madhya Pradesh to Odisha.
Mridul Pathak, field director of the Bandhavgarh tiger reserve, said Sundri was one of the three cubs delivered by a full-grown tigress called Spotty (T-40). "It was tranquilised by our officials before being put in a special cage. WII experts are also accompanying the tigress," said Pathak.
Bandhavgarh-based wildlife photographer Ravi Pathak said Sundri – weighing an estimated 190 kg – was the most camera-friendly feline of its kind in the whole of Bandhavgarh. "Unlike others, Sundri was every photographer's delight. She would even climb up small trees," he added.
Meanwhile, MB-2 has already been released into the wild after undergoing acclimatisation procedures in a specially designed enclosure. WII scientists, who are keeping a close watch on its activities through a radio collar, said it preyed on a 60-kg wild boar after reaching the reserve.
Odisha chief wildlife warden Sandip Tripathy said four more tigers would be transferred from forest reserves in Kanha, Bandhavgarh and Panna after October.
Close Story
Personalise your news feed. Follow trending topics