Murder, ATM loot, extortion: 27-year-old Jaipur woman accused of killing man she lured on Tinder
Priya Seth, a college dropout and daughter of a college professor, allegedly got into flesh trade six years ago to make easy money and grew fond of an extravagant life.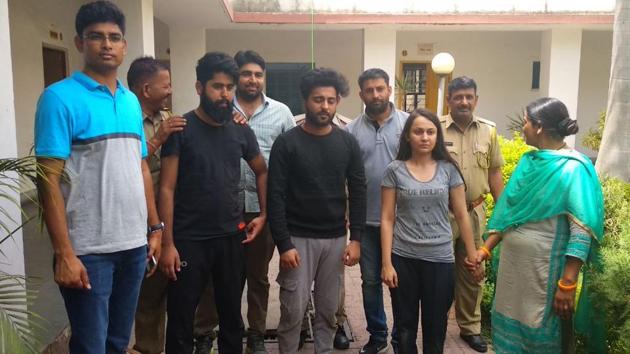 Updated on May 07, 2018 11:29 PM IST
Hindustan Times, Jaipur |
Nitika Kakkar
When a 29-year-old man from Jaipur swiped right on the profile of a woman on Tinder, he would not have expected to end up dead days later — chopped up into pieces and stuffed in a suitcase.
The man, Dushyant Sharma, was held captive by 27-year-old Priya Seth, her boyfriend and a friend at a rented flat in Bajaj Nagar last week with the motive to extort money, according to the police.
On May 2, Seth allegedly invited Sharma to her flat and asked him to pay R10 lakh. With the help of Dikshant Kamra (20) and Lakshya Walia (21), Seth also robbed Sharma of his ATM card after tying him up with wires and calling his father for a ransom.
"The father said he did not have the said amount and agreed to deposit ?3 lakh into his son's bank account," Jhotwara station house officer Gur Bhupendra Singh said. The police said Sharma appears to have misrepresented his details on the dating app. The profile said his name was Vivan Kohli, a Delhi resident who earned crores of rupees every month.
"Seth got friendly with him with an intention of robbing him because he appeared wealthy," said an officer interrogating the three at the Jhotwara police station, where they are in police custody until May 11 after being arrested last Friday.
"But when Sharma visited her, she found out that he was from Jaipur and did not have much money in his account. They thought if he was allowed to go away, he may blow the lid on them so they killed him," the officer said. The three accused allegedly strangled Sharma and chopped his body into pieces on Wednesday morning. Seth then visited an ATM and withdrew ?20,000 from Sharma's card, the police said. The suitcase the accused used to dispose of Sharma's body was found in Amer near Jaipur on May 3. The police said the accused had been involved in several other criminal cases including extortion and ATM theft in the past.
Hindustan Times had spoken to Seth on March 21 in connection with an extortion charge by a man she was in a live-in relationship with in Noida. She had denied the extortion charge after being accused of faking a pregnancy. "I loved him but he left me in the lurch. He even beat me when we lived in Noida," she said.
Seth is the daughter of a lecturer at a government college in Pali. She moved to Jaipur in 2012 to get enrolled at a college.
The police said she came in contact with an agent through an advertisement for a part-time job. The agent asked her to rent an apartment that would be used for prostitution and assured her of good money in exchange, a charge Seth has denied.
"She would befriend wealthy people through dating platforms and escort service websites and invite them to her flat. When the men arrived, she would… threaten to register a rape case against them if they did not give her money," a police officer investigating the case said on condition of anonymity. The officer said that during the course of their investigation, they found she had a history of drug use.
Close Story