Muslim League supremo Hyderali Shihab Thangal dies
Panakkad Hyderali Shihab Thangal's relatives said his body will be buried in the burial ground in Panakkad in Malappuram district on Monday.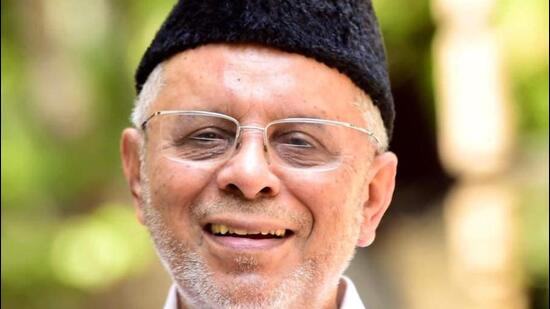 Published on Mar 06, 2022 04:18 PM IST
THIRUVANANTHAPURAM: The Indian Union Muslim League (IUML) national chairman and a prominent spiritual leader of the community Panakkad Hyderali Shihab Thangal died in a private hospital in Angamalli in Ernakulam district on Sunday. He was 74. His relatives said his body will be buried in the burial ground in Panakkad in Malappuram district on Monday.
A tall and affable leader, Thangal always stood for secular values and exhorted community members that education is the prime mover for development of the community. He took a middle path and always batted for communal amity and brotherhood in the state. In Kerala, IUML is known for its moderate face and the party played a crucial role in maintaining a healthy communal balance in the state.
State president of the IUML since 2009, Thangal was an integral part of the Congress-led United Democratic Front (UDF) and leaders always rushed to him when problems plagued the coalition. League is one of the oldest and trusted allies of the Congress and its late leader E Ahmed was a junior minister in the Manmohan Singh cabinet twice.
Once former Prime Minister Jawaharlal Nehru called the Indian Muslim League a "dead horse" but the League retorted it was a "sleeping lion". Ironically, the League later turned one of the trusted and oldest allies of the Congress in Kerala.
Kerala governor Arif Mohammad Khan, chief minister Pinarayi Vijayan, Goa governor P S Sreedharan Pillai, Congress leader Rahul Gandhi, former defecne minister A K Antony, former chief minister Oommen Chandy and many others condoled the death of the veteran.
"Kerala lost a tall leader," said Arif Mohammad Khan. "He always stood for communal harmony. Besides politics, he headed many educational, religious and charity organisations in the state," said the chief minister in his condolence message. "He was a strong secular voice supporting brotherhood, respect and progress for all. He will be dearly missed," Gandhi tweeted. "His demise is really painful. Panakkad family stood firmly to support brotherhood and amity in society," said Antony.
Close Story
Personalise your news feed. Follow trending topics