Nagaraj, man behind Cauvery protests in Karnataka, has 'staged' 10,000 protests
Sep 12, 2016 06:19 PM IST
Whether it's about films, farmers, languages, or civic amenities, Nagaraj — popularly referred to as 'Vatal'-- says he has staged 10,000 protests for the cause of Karnataka and Kannada.
When 67-year-old Vatal Nagaraj takes to the streets, he turns every conceivable item — donkeys, commodes, vegetables, fire lamps, cattle, vehicles, footwear — into political expression. His talent for curating grounds for protest could give an inferiority complex to most activists.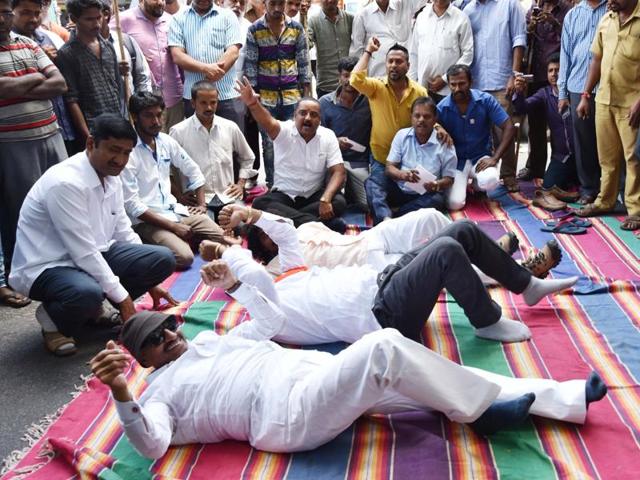 As leader of the Kannada Para Okkoota, a federation of pro-Kannada organisations, Nagaraj has called for a state-wide bandh on 9th September. Nagaraj called this particular bandh after the Supreme Court asked Karnataka to release 15,000 cusecs of water from the river Cauvery to Tamil Nadu. By his own estimate, he plans 200-250 protests every year and has called 2,000 successful state-wide bandhs. Whether or not that's true, Nagaraj has been at the forefront of Kannada nationalist events for decades.
Whether it's about films, farmers, languages, or civic amenities, Nagaraj (also popularly referred to as 'Vatal'), says he has staged 10,000 protests for the cause of Karnataka and Kannada. "I plan about 200-250 protests every year and ensure these protests are heard. I've called for about 3,000-4,000 bundhs and they have been heeded by over 2000 pro-Kannada organisations across the state. In recent times, I have had 350 cases foisted on me for fighting for people's causes. But that doesn't deter me," he says gleefully.
Nagaraj is nimble, accessible and high-profile. His career would have been different had he taken the conventional route of identifying himself with any popular political party. Instead, he is one of those rare politicians who can represent Chamarajanagar (one of the most impoverished, rural constituencies of Karnataka) of which he was MLA for three terms and of Bengaluru for two, and not feel out of place at these socially-and-politically contradictory areas.
"I grew from the grassroots. I became Bengaluru City Corporator in 1964. Eventually, Nijalingappa, one of the most humble and popular chief ministers of Karnataka, wanted me in Congress. Had I joined, I could have been a CM too. But, I chose the road of activism," he says. Ask him if he regrets not getting his due in politics, and he says: "No way! Look at the massive support I get for my causes. They are not my causes, they are people's causes!" he goes on, all excited about the impending Cauvery bandh.
In 2009, his plans to urinate in front of the Raj Bhavan were foiled by alert police. Nagaraj told the media in front of Raj Bhavan in 2013, while resting on a cot surrounded by Indian toilets, that the plight of people who do not have access to public rest rooms in Karnataka 'pained him to no end'. He vowed that he wouldn't rest till 15,000 public toilets were constructed in Bengaluru. But that was only till the next cause came along. When he chanced upon the next issue (with the mandatory Kannada flavour) to 'protest' about, Nagaraj forgot he had posed like a billionaire flaunting his wealth, albeit with Indian toilets in the background. In the past, he has headed to Bengaluru's main bus-stand with a buffalo to protest the hike in bus fares, ridden to the State legislature in a bullock cart to protest against fuel price hikes, dressed in a burqa to protest against rape, he has protested the lack of public toilets, irregular power supply during summer's peak, the Cauvery issue, the Mahadayi and the Kalasa-Banduri issues that get north Karnataka burning — Nagaraj covers it all.
Read | Cauvery water row explained: Why Tamil Nadu, Karnataka fight over river usage?
When issues of the beleaguered state (as he imagines Karnataka to be) aren't making his heart bleed, he never misses an opportunity to spell out his dream for a just and fair society that's open to modern ideas. When pro-Hindutva groups called for a ban on Valentines' Day in 2009, and threatened young people going too far with this 'western culture', Nagaraj sent out a message in support of young people. This pugnacious man with massive fan following turned up on a horse-drawn chariot on Mahatma Gandhi Road in central Bangalore to play cupid and assure 'safety' to lovers and sent out a strong message against 'pyaar ka dushman'.
His love for Karnataka is like an infinitely replicable meme. In July 2016, he protested against the "undue" importance given to the release of Kabali, a non-Kannada film. Across genres, Nagaraj is the man for Kannada causes who has single-handedly worked for Karnataka and Kannada — ranging from the entertainment industry, politics, education or even changing the social realities of Karnataka politics. When he identifies the adequately solid cause that can turn into a mass-appealing psychosis of sorts, this Nagaraj turns out to be his own brand specialist-cum-PR-cum-media relations expert. Tamil Nadu is his favourite target, since this gets the goat of Southern Karnataka much easily than anything else. Whether it is the forest border issue, or water sharing agreements despite court orders, whipping up a frenzy is child's play, and Nagaraj knows it too well.
While politicians teach themselves to be media-friendly, Nagaraj came readymade. Those dark glasses seem like the extension his face grew to cover his eyes. There's hardly a soul (except his wife) who can claim to have seen him without that bucket cap he wears. But never let that caricature and genial manner fool you.
Nagaraj may seem comical or counter-intuitive to the reigning urban middle-class political ethos of Bengalureans, who are growing away from the ideas of linguistic chauvinism that underpin Nagaraj's work as leader of the Kannada Chaluvali Vatal Paksha. They are not sure why when he calls for a bundh (sometimes on the weekend), there's a resounding response in southern part of the state. (North Karnataka calibrates its reaction more carefully.)
Read | 'With a heavy heart', Karnataka will release Cauvery water to Tamil Nadu: CM
In 1960, when a 21-year-old Nagaraj consciously branded himself around the cause of Kannada, the road ahead was misty. Hailing from Vatalu, the village that's about an hour away from Mysuru, Nagaraj has centered his life around Mysuru, Chamarajanagar and Bengaluru districts with his influence covering most parts of the state. Not to forget Mandya and Hassan districts, where his followers have never let him down when he calls them to action.
But his entry couldn't have been timed any better. Karnataka had been unified for just four years. The new state was going through the pain of teething, and litterateurs were beginning to sew together the dream of 'Kannada' and 'Karnataka' where language was the unifying factor for people to accept, form and grow their identity in the years to come. It was supposed to be a consolidated effort by politicians, statesman, writers and thinkers putting together the concept of an ideal state based on regional identity. Much like the aberration he is now, Nagaraj simply catapulted into the scene and upset the equation for genteel Kannada champions at the time, by taking the route of mass protests. Since then, Kannada, the emotional aspect of Karnataka, has never failed him. It is the 'asmita' (identity) of the wounded Kannadiga, who would like to
believe that he/she has been handed a raw deal from the Centre and its agencies, that Nagaraj stands for. Through the years of what is seen as remote-controlled high-command managed rule of Karnataka, Nagaraj has singularly championed the Kannada cause with his unique protests, much to the chagrin of the swanky IT corridor that Bengaluru has turned out to be.
Nagaraj's protest plans are usually high on comical elements, some sort of satirical take on the problem rather than anything else. Politicians and writers who don't agree with his ways of protest have spoken about him trivialising issue by going overboard on innovative ways of protesting. Though his histrionics are high-decibel, Nagaraj's protests have a smaller life span, mostly till the next issue comes along. Nothing here reaches a logical end, say those who have seen him walk a lot on the path of activism, because that is never the intention to begin with.
The lone politician has grown into a league of his own. During his formative years, political parties tried getting him on their side. In many of his interviews, he has been candid about his decision to not align himself with any party. "I have my own party. The Kannada Chaluvali Vatal Paksha that I am loyal to. Every other party will try to use the image to push their own interests. I may not be in a high office, but I have a voice that resonates in all of Karnataka." he says.
It may seem like Nagaraj is riding on gall and wit alone. As a long-standing politician with his political activities centered around Chamarajanagar district and Bengaluru, he has dared many chief ministers such as JH Patel, SM Krishna, and recently, even Siddaramaiah to visit his constituency and defy the superstition that they may lose their chair if they visit Chamarajanagar. Unfortunately, not many have taken up the dare.
But Nagaraj is probably the most well-informed politician that Karnataka has today on the language issue, and also on the issues that have threatened the sovereignty of Karnataka such as border issues, or issues of people facing any imposition of language or culture from adjoining states, such as the Maharashtra Navanirman Sena strong-arming the Belagavi City Corporation.
Read | Cauvery dispute: Conflicts, gaps and institutional spaces for reconciliation
What works greatly in his favour is that his followers have direct access to him and his plans for protest. And he always takes the lead. Even today, the day before the Cauvery bandh, at age 67, Nagaraj is on the ground hamming it up for the cameras, walking around Bengaluru and talking to reporter after reporter. Today when he calls for a bundh in Karnataka, he has the attention of nearly every pro-Kannada organisation across the state. Farmers' groups, industrialists' associations and the entire film industry have voiced their support for the bandh.The last time Karnataka saw a unifying personality like this was when Karnataka's most loved actor, the late Rajkumar took to the streets on the issue of Kannada in the early 1980s.
Nagaraj has a deeply introspective side, great command over language, facts and has stayed an activist. He doesn't bank on his stardom. The dark glasses and the bucket cap hide him in plain sight, but Nagaraj declares that unlike other politicians, he has nothing to hide.
Published in arrangement with GRIST Media