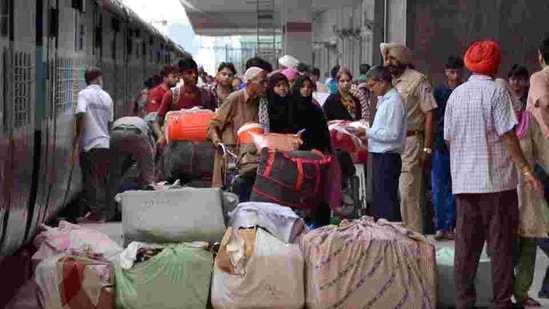 New hope to unite Geeta with family, 5 years after repatriation from Pakistan
Geeta went missing 20 years ago and reached Lahore, where she was found sitting alone in Samjhauta express in the year 2000.
PUBLISHED ON MAR 04, 2021 01:10 PM IST
There is a possibility of speech and hearing impaired Geeta, repatriated from Pakistan in 2015, finding her family finally. An official of Madhya Pradesh's social justice department on Wednesday said the birthmark information provided by a woman from Marathwada in Maharashtra has matched with that of Geeta. However, the DNA test to ascertain the parentage is yet to be done.
If the DNA test comes positive, Geeta, 29, would be known as Radha Waghmare, a resident of Jintur village of Parbhani district in Maharashtra, said Suchita Tirkey, joint director of MP's social justice department.
Geeta currently lives in an Anand Foundation's home in Indore and its convenor, Gyanendra Purohit, said, "Now a resident of Naigaon, Meena Dinkar Pandhare, 71, is 100% sure that Geeta is her daughter from her first marriage."
"Everything Geeta shared from her childhood memories --- sugarcane fields, maternity home in front of a railway station, diesel engine and food habits --- matched with that of Pandhare's village," he said.
He added that they believed Meena's claim when she said Geeta must have a burn mark on her stomach. "Geeta was not keen to confirm the birthmark but when a woman police constable checked, she found the exact mark on her stomach," he added.
Purohit said they started searching for her parents in July last year with the help of her facial features, food habits and childhood memories.
They got the clue that Geeta could possibly be from Maharashtra, when in October 2020, they rescued a girl from an ashram from MP's Dewas district.
"The girl also had a right nose piercing like Geeta. We asked for her whereabouts and the girl said she was from Marathwada. We got in touch with Pahal Foundation of Parbhani in Marathwada, which also works for speech and hearing-impaired people, and sought their help to find Geeta's parents," said Purohit.
"In December, Meena, who is illiterate and knows only Marathi, contacted us, saying her daughter went missing in 1999-2000. Geeta also confirmed everything Meena said but when she came to know about her economic condition, she was reluctant to move with her. However, Mina visits the shelter frequently with food," he added.
Also Read:US welcomes steps taken to return J-K to full economic, political normalcy
Pahal foundation convener Aniket Salgaoncar, who is also hearing and speech impaired, said through sign language, "We are happy that Geeta found her mother. But she doesn't want to move with her mother, and it is obvious because she has met her after 20 years. She wanted to do a job so we are providing skill training to her."
Geeta went missing 20 years ago and reached Pakistan in 2000. According to documents provided by Edhi foundation of Pakistan, who looked after her for 13 years, she was found sitting alone in Samjhauta express in Lahore in 2000.
Former foreign affairs minister (late) Sushma Swaraj played an important role in her repatriation in 2015. More than 24 couples have claimed to be her parents in the past but failed to establish their parenthood due to DNA mismatch.
Topics
Close