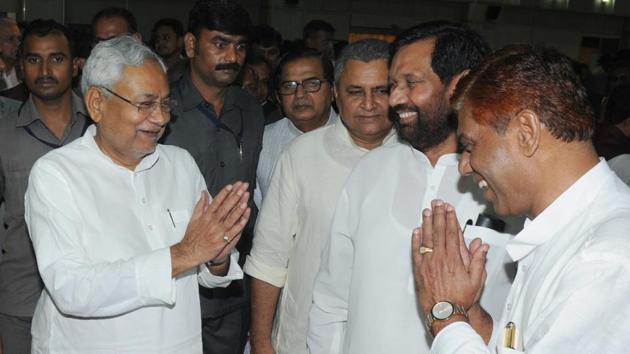 Nitish expands Bihar cabinet to induct 27 ministers, BJP gets highest-ever share
Of all those who took oath of office on Saturday, 14 are from CM Nitish Kumar's party, 12 from the BJP and one from National Democratic Alliance partner LJP.
UPDATED ON JUL 30, 2017 08:23 AM IST
Bihar chief minister Nitish Kumar inducted 27 ministers on Saturday, giving the Bharatiya Janata Party the highest-ever representation in his government as well as the plum portfolios the saffron party held before he broke his party's alliance with it four years ago.
Of those who took oath of office, 14 are from Kumar's party, the JD(U), 12 from the BJP and one from the Lok Janshakti Party, an NDA constituent.
The government in Bihar changed dramatically on Wednesday after Kumar decided to dump his previous allies, the Rashtriya Janata Dal and the Congress, and partner with the BJP over an alleged corruption case that embroiled his then deputy chief minister Tejashwi Yadav. A day later, he took oath as chief minister and BJP's Sushil Kumar Modi as his deputy to form the new NDA government.
The last time the BJP had a coalition government with Kumar's party — in 2010 — it had 11 ministers. BJP then had 91 lawmakers, compared to 53 now. In the first JD(U)-BJP coalition government — from 2005 to 2010-- the saffron party had seven ministers from among its 55 legislators.
The increased heft of the BJP reflected the changed political equations in Bihar, with Kumar depending more on the NDA-led central government to deliver on his promises of development. The allocation of portfolios also gave a glimpse of the coalition partners' priorities.
Kumar will hold home, general administration and vigilance departments, among others, while his deputy from the BJP will be in charge of finance, forest, commercial taxes and IT. Bijendra Yadav of the JD(U) was given the portfolios of energy, excise and prohibition. Law & order and prohibition have been the two planks of Kumar in his endeavour to expand his mass base.
The other portfolios given to the BJP ministers — agriculture, road construction, health, urban development & housing, art & culture, and backward and extremely backward classes, among others – will help the party expand its social and political base in a state that sends 40 MPs to the Lok Sabha. Kumar's Cabinet has one woman and one minority community member– both from the JD (U).
In caste-ridden Bihar, the BJP maintained a careful configuration to represent all communities important to its base, giving the maximum of four berths to EBC categories and one each to Kushwaha, Yadav and SC communities.
There were two ministers from the Brahmin community and one each from Bhumihar and Rajput groups.
According to the formula worked out between the two coalition partners, the JD(U) will have – when the council of ministers is expanded – a total of 19 ministers, BJP 13 and one each from the other NDA partners: Ram Vilas Paswan's LJP, Jitan Ram Manjhi's Hindustani Awam Morcha (HAM), and Upendra Kushwaha's RLSP.
Union minister Upendra Prasad Kushwaha-led RLSP, which got one berth, was asked to suggest someone for a ministerial position that is yet to be allotted. From LJP, Pasupati Paras — brother of Paswan — was accommodated, though he is not a member of either house.
Jitan Ram Manjhi, the lone representative of his party, turned down a post, but recommended a member from outside the house over which no decision has yet been taken.
According to BJP sources, Sushil Modi and Bihar BJP president Nityanand Rai shortlisted the names, which were vetted by the party's central leadership in New Delhi. BJP president Amit Shah, Union minister Arun Jaitley and senior party leader Bhupendra Yadav were involved in the selection, they said.
Close