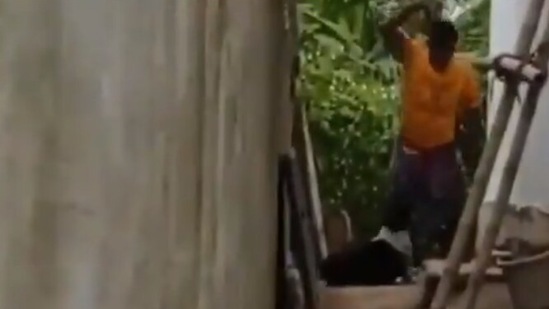 Odisha man hacks dog to death; arrested after gruesome video goes viral
The Odisha man who is seen killing a dog in a disturbing video was been arrested and remanded in judicial custody by a magistrate
By Debabrata Mohanty
, Hindustan Times, New Delhi
UPDATED ON MAY 30, 2021 12:10 AM IST
A man from Kendrapara district seen killing a street dog in a widely-circulated video has been arrested, the Odisha police said on Saturday. The man was identified as Babula Singh, a resident of Praharajpur locality in Pattamundai town, just about 50 km from Odisha capital Bhubaneswar.
In the 15-second grisly video, Babula Singh, 50, is seen approaching the dog, one arm raised to hide the sharp-edged weapon from the animal lying on the ground. The dog looks up. And then, comes the deadly blow.
The weapon, presumably a large knife, slashed the dog's abdomen. It was an agonizing death that outraged many. Some reached out to the district's police chief.
Police said a case of cruelty was registered under various provisions including section 429 of the Indian Penal Code and section 11 (1) of the Prevention of Cruelty to Animals Act 1960.
The 1960-vintage special law to deter cruelty to animals prescribes a fine of ₹10-50 for the first offence of cruelty to animals, and for a repeat offence within three years of the first, a fine of ₹25-100 and up to 3 months jail.
Section 429 of the penal code, which prescribes the punishment for mischief by killing or maiming any animal, provides for a jail sentence of up to a maximum of five years.
It was on account of this section in the FIR that Babula Singh was remanded in judicial custody by a judge.
Inspector Rakesh Tripathy at the Pattamundai police station said Babula Singh told the police that he was angry that the dog had killed two of his roosters.
Earlier this month, a retired bank official in Bhubaneswar was arrested by police on charges of animal cruelty after a video clip emerged in which he was seen throwing three kittens, which had entered his house, in front of street dogs. The dogs killed the kittens.
The accused, identified by the police as a retired bank official Prahallad Behera, was arrested on charges of animal cruelty
In May 2020, a pregnant dog was mercilessly beaten to death by a woman in Bhubaneswar. Despite all attempts, she could not be saved and her two premature puppies who were delivered after surgery also succumbed later.
Topics
Close