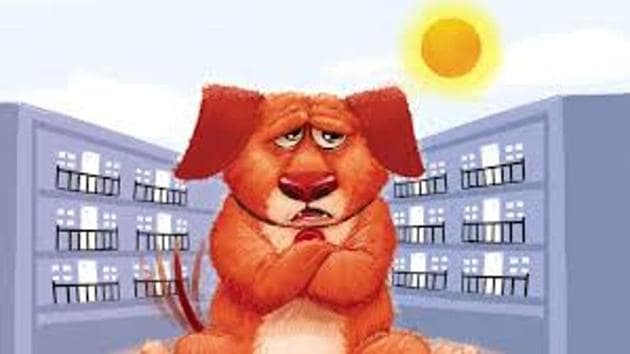 Cruelty to animals: Low conviction numbers, meagre fines to blame
Mumbai's animal welfare activists said the number of cases could be only a fraction of unreported incidents
UPDATED ON FEB 19, 2018 10:22 AM IST
Even though the number of cases (2,406) registered under the Prevention of Cruelty to Animals (PCA) Act, 1960 in 2017 are the lowest since 2011, animal welfare activists say the law is a poor deterrent, with fewer convictions and paltry fines ranging from Rs10 to Rs100.
The more stringent Wildlife Protection Act, 1972 provides for fines up to Rs25,000. "There have been zero convictions across Mumbai and Maharashtra for animal cruelty, and not more than 48 hours of jail time," said Gauri Maulekhi, director and trustee of the animal rights group, People For Animals (PFA). "Nobody wants to report these cases anymore because the penalties are laughable. There was a spike in such cases when people became more aware and began filing complaints, but now everyone is disillusioned," said Maulekhi.
Others activists agreed. "The data incorrectly portrays the current scenario in Mumbai as two cases of sexual abuse and one murder of a stray dog were witnessed last year. Incidents like this have not happened since 2014. These incidents are only increasing day-by-day," said Meet Ashar, animal welfare officer and emergency response coordinator, People for the Ethical Treatment of Animals (PETA) India. "When it comes to care for animals, Mumbai is much more intolerant than other cities. In spite of awareness and large number of pet owners, PETA issued 324 notices to different housing societies in the city for animal cruelty cases."
Lt. Col Dr. JC Khanna, chief executive officer in-charge, Bombay Society for Prevention of Cruelty to Animals (BSPCA), which released the data on cases registered under the Prevention of Cruelty to Animals Act, said conditions have become more humane for animals in the past few years. "The central and state governments are playing a critical role by introducing a ban on slaughtering of animals and discouraging the use of Victorias. All of these have helped safeguard large animals much better."
He said another example of increased awareness could be seen from a drop in animal accident cases. "We have witnessed a 20% decline related to animals killed in road or train accidents in Mumbai. There is also an impact of sterilisation measures being taken the civic body, which has reduced the number of stray dogs on roads, especially in south Mumbai," said Khanna. "Additionally, we recorded sporadic rabies case in 2017 as opposed to daily cases in previous years."
Dadasaheb Murkute, vice-president and member secretary, Maharashtra Animal Welfare Board said, "The data is accurate according to discussions during our meetings over the past few months. There is awareness among masses to refrain from carrying out such heinous acts. At the same time, for increased deterrence, we identified guidelines for societies, slum areas, local civic body and police personnel, to handle cruelty cases better. The details have been shared with the state and centre. They will be release as a notification once approved."
Animal welfare activists said the number of cases could be only a fraction of unreported incidents. "We tend to think only pelting a stone at a dog or acid on a cow are cruelty, but cruelty is beyond and deeper," said Anand Siva, Chembur-based animal welfare activist. "The land of ahimsa is seeing unimaginable growth in meat consumption, chicken and dairy, none of which come without cruelty. What we measure and boast of as drop in cruelty is superficial. And if cruelty numbers have to be believed, ask people like us who witness it regularly on the streets."
In September last year, a security guard at a Chembur housing complex was arrested by the police on charges of sexual assault on a dog. A similar incident was reported from Powai in early 2017. During Ganeshotsav last year, frightened by the noise of firecrackers and loudspeakers on the 12th day of visarjan, a one year-old stray dog entered a Deonar house and hid under the bed. This angered the 45-year-old owner of the house who allegedly beat the dog to death using a bamboo stick. He was booked but never arrested for his actions.
The number of incidents where animals were rescued from dangerous and cruel situations has been growing, with 1,171 rescue cases in 2017, compared to 2013, when only 316 cases were reported from the city. Thereafter a gradual rise has been recorded every year with 459 cases in 2012, 740 in 2014 and 1,013 in 2016.
Officials from the Animal Welfare Board of India (AWBI) said they will be issuing a notification to the Ministry of Environment, Forests and Climate Change and various state governments to carry out detailed investigations for each animal cruelty case, levy stricter fines and submit reports to AWBI on a monthly basis.
"It is our mandate to make sure cruelty cases both in the poultry and domestic sector need to be controlled, and bring the PCA at par with the implementation of the Wildlife Protection Act, 1972. As a body of the central government, we are trying to push for more stringent action against offenders and regular interactions with MoEFCC is underway. However, the process will take time," said SP Gupta, chairman, AWBI. "Cities like Mumbai and Delhi need to lead by example for the entire country by setting standards for proper care and handling of pets and strays, and AWBI will provide all support for the same."
BMC says that 78% of Mumbai's street dogs are neutered; animal welfare question the claim
While the Brihanmumbai Municipal Corporation (BMC) officials claim they have neutered three-fourth of the city's dogs under their animal birth control (ABC) programme, animal welfare groups say according to them the number is as low as 50%.
Yogesh Shetye, general manager, Deonar abbatoir and head of veterinary services, BMC, said, "With growing awareness towards protecting animals, be it pets or strays, we are focusing on our ABC programme to ensure their population is controlled. We neutered more than 25,000 stray dogs in 2017. Since 2009, we have handled almost 15,000 dogs a year. We had managed 75% sterilisation in 2014. As of now, over 78% of the current stray dog population has been neutered."
The BMC has six ABC centres in the city – two each at Malad and Mahalaxmi, and one each at Mulund and Deonar. "We have 12 dog-catching vans that pick up strays from different parts of the city. They are kept at these centres for 5-7 days, after which they are dropped back to the same spot," said Shetye. "We neuter than and provide post-operative care according to the rules of the Bombay high court and Animal Welfare Board of India (AWBI)."
According to the BMC's dog census of 2014, of the 95,172 dogs existing then, 25,933 were not sterilised. Of them, 14,671 were male and 11,262 female. Shetye, however, said, there has been a 20% increase in the population so far. "It is estimated that there are more than 1,14,000 stray dogs in Mumbai, of which 25,000 are yet to be sterilised under our ABC programme. The population of pet dogs in 2012 was 34,000. This has doubled and is currently close to 70,000," he said. "We will know the exact figures after the census results are out later this year."
Meanwhile, members of People for the Ethical Treatment of Animals (PETA) India said sterilisation rate is not more than 50%. "Stray dogs are being picked up from mostly residential areas, but dog vans are not moving close to slums located along Andheri, Versova, Mulund, Dharavi or even some pockets of Deonar," said Meet Ashar, animal welfare officer and emergency response coordinator, PETA India. "We need to follow the Dehradun, Uttarakhand model of neutering with better technology and facilities for neutering, get at least 10 ABC centres across Mumbai, more dog vans and conduct a detailed mapping of the stray dog population annually."
Anand Siva, Chembur-based animal welfare activist, said, "The BMC issues new figures every year without studying the authenticity. For a city the size of Mumbai, the kind of facilities and operations BMC is talking about is ridiculous."
Officials from the Bombay Society for Prevention of Cruelty to Animals (BSPCA) in Parel, is one of the NGOs appointed by BMC for sterilisation, said they had been getting 350-400 dogs a month for sterilisation and over 4,500 strays in 2017 alone. "There is a significant improvement. While the dog population is slowly declining, the civic authorities need to focus on sterilisation of cats now, which has been at a stagnant 40-45% over the past three years," said Lt. Col Dr. JC Khanna, chief executive officer in-charge, Bombay Society for Prevention of Cruelty to Animals (BSPCA).
SP Gupta, chairman, AWBI, said, "Large municipal corporations such as Mumbai and Delhi that have no dearth of money should not have any issues to carry out effective sterilisation and achieve a 100% success rate. We are closely monitoring the activity in megacities."
In its annual budget released earlier this month, the BMC has released Rs14.55 crore for development of three crematoriums at Mahalaxmi, Deonar, and Malad for house pets, operating on Compressed Natural Gas (CNG), construction of a zoonotic disease laboratory at Khar for early detection of diseases transferred from animals to human beings, among others. "Animal health is directly related to human health, and it is essential to take preventive actions," said Shetye.
Close