Parents can track whether their children are fishing for Blue Whale: Here's how
The Blue Whale Challenge is believed to be behind the deaths of three teenagers – one each in Maharashtra, Bengal and Kerala – who came under the influence of the curators of the game.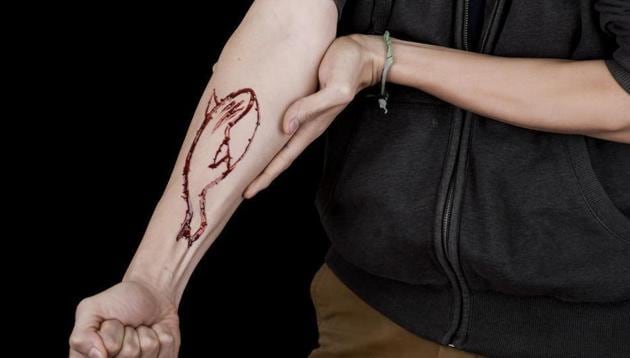 Updated on Aug 16, 2017 06:22 PM IST
The government of India may have asked internet majors Google, Facebook, Yahoo, Twitter and Instagram to remove all links of the lethal online game Blue Whale challenge but it does not make Indian youths, especially teenagers, completely secure from the reach of the game's administrators/curators.
However, parents can try to keep track of whether their children are trying to get in touch with the administrators of the game or have already got addicted to it.
HT spoke to hackers and dug the cyber world to access the advisories issued by government agencies in Russia and Kazakhstan – where the game earned maximum curiosity and witnessed maximum casualties – to find out what parents can do.
Here are the 10 commandments they can follow:
1. Link your social media profile with your children's and watch out if she/he is using the hashtags #Iamawhale, #IAmWhale, #curatorfindme, #f57, #f58, #SeaOfWhales, #wakemeat420am, #silenthouse, #quiethouse, #iaminthegame.
2. The game is also known by the name "Quiet House", "Sea Whale", "Wake me up at 4:20," "Silent House", "f33", "f40", "F57", "F58", "Whales float up", "Nyapoka", "50 days before my …". Watch out if the teenager is member of such groups on social networking sites.
3. Also keep track if these Russian words are being used with hashtag #Tihiydom, #Siniykit, #50dneyDoMoego, #mlechnyyput, #yavigre, #Razbudimenyav420
4. The game requires the player to wake up at 4.20 am. So, if the teenager is unusually waking up around that time, parents need to be cautious.
5. The game requires continuous self-harming. So, watch out for cut marks on arms and legs, especially veins, and if she/he has inscribed "f40", "f57", "f58" with cut marks with razors on arms, or have drawn a whale on an arm with cut marks.
6. Watch out if the teenager is drawing blue whale, unicorn and butterflies on papers, notebooks.
7. This game requires the player to maintain utmost secrecy. So, keep watch if she/he looks completely removed from the world.
8. If the teen, despite having an existing social networking profile, has opened new ones, especially if on the English version of Vkontake, which comes as https://vk.com/club200. HT found out several teens have opened account on this site in August, possibly with fake identity and profile photo, only to draw the attraction of the game's curators.
9. If the teen suddenly closes public or friends' access to his page on the social networking sites.
10. If the teenager is seen walking or sitting on the edge of roof, especially of multi-storeyed buildings.
So far three Indian teenagers – one each in Maharashtra, Bengal and Kerala – are suspected to have killed themselves under the influence of the curators of the game. Two deaths have been prevented in the country.
Hackers pointed out that since it is an underground game, it is not accessible through search engines. The game exists in closed groups. Administrators of the game, who are also called curators, choose players and contact them through direct messages on various social networking sites. The link to download the game is generally shared through direct messages.
People who intend to play the game can also draw the attention of the game's administrators by using certain hashtags from their social networking profiles. It then depends on the administrators whether to choose the intended person as a potential player or not.
"Moreover, those who in India have the game already downloaded can share the link through such sharing apps as SHAREit and Xender," said Jins K Sebastian, a Kerala-based ethical hacker who is associated with hacking groups i-hos, Mallu Cyber Soldiers and Lulzsec India.
Incidentally, apart from various government agencies in Europe, hacktivist group Anonymous has also launched a drive against the game in March and vowed to end the menace. It seems, none of them have fully succeeded yet.
Searches through social networking sites revealed that an increasing number of Indian youths are trying to draw the attention of the game's curators since early August 2017. Many have opened new accounts on Facebook, Twitter, Instagram and even VKontakte, where the game originated from and is mostly played.
The Indian government is yet to announce any advisory so far.
Archismita Chaudhury, a youth from north Bengal, claimed to have tracked down several teenagers by searching #iamwhale hastag on Facebook and sent messages to some of them.
"I did this today and got many posts and texted 4 fellows....one child was of 15 years....And more three.... All were teens. I got reply from one of them.....He said he stopped playing the game yesterday as he understood how harmful it is....He was in 11th task," Chaudhury posted on Facebook on August 15.
Close Story