Alcohol will ruin our youth, society in next 25 years, says PM Narendra Modi
Narendra Modi spoke of the crucial role the Umiya Sansthan could play in fighting alcoholism among the younger generation and creating awareness about cleanliness and environment conservation.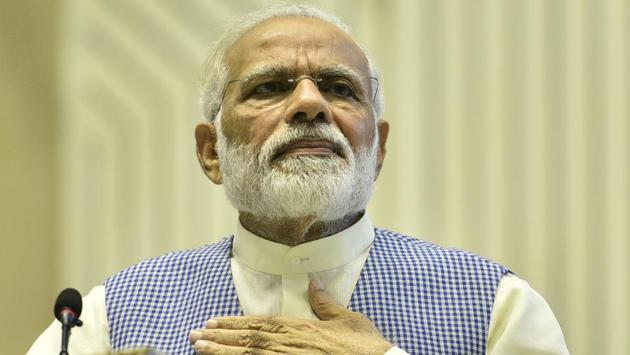 Updated on Oct 05, 2017 03:16 PM IST
Prime Minister Narendra Modi voiced on Thursday concern over the growing problem of alcoholism among youth and said society will be "ruined" in the next 25 years if the menace was not checked.
Modi was addressing people associated with the Umiya Sansthan, a socio-religious organisation, in Haridwar through video conference on the inauguration of Ma Umiya Dham Ashram.
Praising the Sansthan for according priority to social causes, he spoke of the crucial role it could play in fighting alcoholism among the younger generation and creating awareness about cleanliness and environment conservation.
Remembering how the institution had lent him a helping hand in stopping female foeticide and providing succour to quake-hit people when he had just taken over as Gujarat chief minister, Modi asked the Sansthan to save the younger generation from falling victim to alcoholism besides inspiring devotees to keep the environment clean.
"I am sharing this concern with you as someone who has grown among your midst and not as the Prime Minister. Don't you hear news about the younger generation especially our boys falling victim to alcoholism and things our ancestors hated. If we let this tendency grow in 20-25 years our society will be ruined.
"Considering your contribution to social causes in the past I shall appeal to you to stop the younger generation from going astray," the Prime Minister said.
Modi suggested that devotees coming to the ashram should be asked whether or not they had made toilets at home and offered a sapling each to plant and nurture with the same devotion which they show while worshipping Ma Umiya.
"It will help get rid of open defecation and keeping the environment clean and green," he said.
He said the 'dharamshala' opened by the Umiya Sansthan will tremendously boost tourism in the whole of north India especially Uttarakhand where major pilgrimages like Haridwar, Rishikesh, Badrinath, Kedarnath, Gangotri and Yamunotri are located.
Modi said circuit tourism may be a modern coinage but the concept has been part of India's traditions for ages as people in this country have long been undertaking long journeys to visit major centres of faith.
The Prime Minister congratulated the Sansthan for setting up such a large dharamshala in Haridwar for devotees, saying people visiting the Himalayan shrines of Uttarakhand will benefit immensely from the facility which will boost religious tourism in the state.
He also recalled the enthusiasm with which he used to take part in Ma Umiya Devi festival celebrations as a young volunteer in Gujarat.
Close Story
Personalise your news feed. Follow trending topics