PM Modi's US visit: Will the NASA-ISRO satellite pass the Trump test?
Jul 08, 2017 06:45 PM IST
The world oldest democracy, the US, and the world's largest democracy -- India -- seem to be on two poles on the issue of climate change.
Space scientists in India and America are on tenterhooks as Prime Minister Narendra Modi and US President Donald J Trump meet for the first bilateral in Washington on Monday.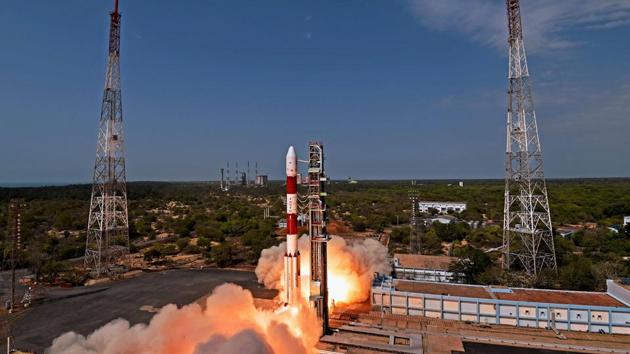 At stake is the world's most expensive earth-imaging satellite till date being jointly made by the NASA and the ISRO.
Climate change seems to be a red rag for the current American administration.
If there is one thing that divides India and America big-time today, it is climate change. In all likelihood climate change would be a point that would figure in the Trump-Modi discussions.
Trump had called climate change a hoax created by China and said that "the concept of global warming was created by and for the Chinese in order to make US manufacturing non-competitive".
On the other hand, Modi has penned a pictorial book -- "Convenient Action: Continuity for Change" -- that compiles his actions and beliefs on climate change.
The US walked out of the Paris Climate Change Treaty earlier this year while India continues to honour its commitments.
Trump said, "India makes its participation contingent on receiving billions and billions and billions of dollars in foreign aid from developed countries", while Modi said failing to act on climate change would be "a morally criminal act".
Can a middle ground be found or can the jointly-made satellite escape President Trump's anti-climate change gaze?
The world oldest democracy, the US, and the world's largest democracy, India, seem to be on two poles on the issue of climate change.
This is what is worrying scientists at Pasadena, a suburb of Los Angeles where at the Jet Propulsion Laboratory work has begun in full earnest to realise the NASA-ISRO Synthetic Aperture Radar satellite called NISAR.
Scientists at the Space Applications Centre in Ahmedabad are also anxious as they go about fabricating unique components for the massive satellite.
Together Indian and American scientists are making what is possibly the world's most expensive earth imaging satellite that will cost the countries over $1.5 billion.
Paul A Rosen, the satellite's project scientist at Pasadena, recently stated, "NISAR is the first big collaboration between NASA and ISRO, certainly on RADAR but just in general as well. This is two frequency RADAR, it is an L-band 24 centimetre RADAR and S-band 13 cm. S-band is being built by ISRO and L-band by NASA. It is a major collaboration both in terms of the technical building of the satellite as well as working together across the Pacific between India and US.
"We are going to be making snapshots of earth every week using these two radars that gives us a time lapse image of the motion of the tectonic plates, of the ice sheets, of the changes in vegetation over land in agriculture and forests."
Rosen said the scientists are looking at time variability of the earth over the life of the mission to understand how disasters evolve, how earthquakes occur, how volcanoes occur, how the ice sheets are changing and affecting sea level rise, and how forest fires and changes in the forest cover affect the atmosphere.
"It is very relevant to what society cares about which is changes in our climate, changes in our environment and how it affects society," he said.
If all goes on well, the NISAR satellite will be launched in 2021 from India using the Geo-synchronous Satellite Launch Vehicle (GSLV).
According to NASA, "the dedicated US and Indian mission is optimised for studying hazards and global environmental change... the mission will make global integrated measurements of the causes and consequences of land surface changes".
"NISAR will provide a means of resolving highly spatial and temporally complex processes ranging from ecosystem disturbances, to ice sheet collapse and natural hazards including earthquakes, tsunamis, volcanoes, and landslides."
One of the avowed objectives of the NISAR mission as suggested by NASA is that for over a hundred years, scientists have considered diminishing glaciers and sea ice to be an early indicator of global warming.
"Satellite observations collected over the past three decades now show that the summer sea ice cover is decreasing drastically and may vanish entirely within the next decades. At the same time, ice sheets and glaciers are already melting fast enough to be the largest contributors to sea level rise, with a potential to raise sea level by several tens of centimetres or more in the coming century.
"The loss of sea ice cover will have a profound effect on life, climate, and commercial activities in the Arctic, while the loss of land ice will impact an important source of water for millions of people. Collectively, these effects mean that despite its remote location, changes in ice have global economic and health implications as climate changes."
It is this objective that the scientists are hoping will escape under the RADAR scan of President Trump whose understanding of climate change is quite at variance from this objective.